Moniteau County Missouri



California City Cemetery listings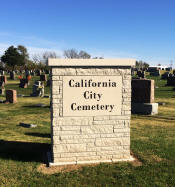 ---
The current California City cemetery has over 2,300 burials and is located on 10 acres along Business Hwy 50 at the east edge of California along with the Burke/Crown Hill, California Evangelical (UCC), California Masonic and Potter's Field cemeteries. The Burke/Crown Hill Cemetery is also referred to as the "Old City cemetery." The first cemetery used and maintained by the city of California is the "Old Town" cemetery.
According to a November 4, 1926 California Democrat article, the California City Cemetery was established when the city ordered a survey of the recently acquired 10 acre tract of land east of the city:
City Prepares For A New Cemetery
Council Orders Survey of 10 Acre Tract Recently Purchased - Only Two Lots Left at Crown Hill
In view of the fact that only two lots remain unsold in the Crown Hill Cemetery, the city council at their meeting Monday night ordered a survey of the 10 acre tract recently purchased from J. H. Miller. The new cemetery lies east of the residence owned by H. G. Rentzsch and runs east between the railroad and the highway to the road that intersects the highway about a mile east of the city.
It is understood that the Evangelical church have an option on the land just east of their new cemetery which adjoins the Crown Hill cemetery, and then the only lap would be the lot on which the house occupies. It is hoped that at some time the different cemetery associations could buy this house and use it for a caretakers home and thereby having all the cemeteries kept up in a systematic manner.
All photos and photos linked to from this page are Copyright © 1997- Alan Sparks - www.moniteau.net, All Rights Reserved.
Please do not use them on other websites (including Find-a-grave) without permission.

The original transcriptions were taken in the early 1970s. James Albin updated the listings in 2006. The pictures were taken by Alan Sparks in 2006 and updated with higher resolution pictures in 2014. This page is periodically updated as new burials are made.
---
[A] [B] [C] [D] [E] [F] [G] [H] [I] [J] [K] [L] [M] [N]

[O] [P] [Q] [R] [S] [T] [U] [V] [W] [X] [Y] [Z]

---
* = Calculated Date based on age; d/o=daughter of; s/o=son of; w/o=wife of; m = married

= Click for picture
Last Name, First Name, Middle, Birth Date, Death Date, Comments

A

Adcock H Marie -- 1935 -

Adcock Howard B -- 1933 - 1997

Albin Charlie V -- 1919 Jan 31 - 2000 Dec 27 -- m 1938 Dec 16

Albin Geneva E -- 1920 Feb 07 - 2007 Nov 13 -- m 1938 Dec 16 to Charlie Albin; d/o C & R Newkirk

Albin Mary J -- 1927 Dec 29 - 1982 Feb 10

Alexander Emma Matilda -- 1878 Mar 21 - 1981 May12 -- m 1907 Sep 29 to James Alexander; d/o L & E Burgi

Alexander James T -- 1878 - 1964 Sep 08 -- m 1907 Sep 29 to Emma Burgi

Alexander Joseph A -- 1917 Oct 10 - 1974 Jun 17 -- T/Sgt US Army

Alexander Maggie O -- 1887 Feb 24 - 1979 Apr 25

Alexander Yolanda -- 1917 Mar 17 - 1991 Nov 24

Alldredge Ambyr Beryl -- 1913 Sep 28 - -- m 1938 Mar 12

Alldredge Herschel Paine -- 1912 Oct 28 - 1996 Jun 16 -- m 1938 Mar 12

Alldredge Herschel Paine -- 1887 Jul 03 - 1945 Apr 21 -- m 1912 Jan 12 to Mable Dunham; m 1926 Sep 02 to Mary Reynolds

Allee Clara Louise -- 1916 Feb 24 - 2001 Apr 07 -- m 1935 Aug 11 to Cleveland Allee; d/o H & M Lachner

Allee Cleveland E -- 1910 May 01 - 2007 Mar 16 -- m 1935 Aug 11 to Clara Lachner

Allee Lisa Linn -- 1963 Oct 12 - 1963 Oct 12

Allen Calvin M -- 1924 Nov 12 - 1988 Nov 15 -- PFC US Army WWII -- Pic 1:

Pic 2:

Allen Dorothy M -- 1924 Oct 25 -

Allen Ella R -- 1867 Jan 23 - 1961 Jan 10 -- m 1883 Dec 24 to James Allen; d/o J & M Melton

Allen H Manfred -- 1880 - 1959

Allen James R -- 1856 - 1937 Jun 27 -- Aged 80y 11m 11d -- m 1882 Dec 24 to Ella Melton

Allen Jennie -- 1881 Jul 18 - 1961 Dec 31

Allen Mary C -- 1878 - 1974

Allen Ray -- 1890 Jan 26 - 1985 Mar 16 -- m 1913 Mar 16 to Edith Siebert
Allen Thomas E -- 1878 Aug 14 - 1958 Jul 23 -- h/o Jennie Allen

Althoff E Frances -- 1930 Oct 23 - -- m 1948 Oct 16

Althoff Eugene A -- 1889 Jan 09 - 1964 Apr 27 -- m 1912 Mar 21 to Rosa Peters
Althoff Leroy H -- 1927 Jan 05 - 1995 Aug 25 -- m 1948 Oct 16; US Army WWII -- Pic 1:

Pic 2:

Althoff Rosa Frances -- 1890 Apr 15 - 1979 Jan 09 -- m 1912 Mar 21 to Eugene Althoff; d/o A & R Peters
Amos Helen -- 1896 Jul 14 - 1980 Apr 14 -- m 1921 Feb 08 to Lee Amos; d/o C & M Schaffter

Amos Lee Albert -- 1898 Apr 21 - 1966 Aug 19 -- m 1921 Feb 08 to Helen Schaffter

Amos Mary Rachel -- 1925 Jun 25 - 1929 Oct 16 -- d/o Lee Amos

Anderson Family Stone

Anderson Kenneth -- 1912 Aug 24 - 1937 Dec 06

Anderson Marvel -- 1901 Feb 08 - 2000 Dec 31
Anderson Paul E -- 1927 Apr 06 - 1990 Jun 30

Anderson Rachel -- 1861 Dec 24 - 1939 Feb 06 -- m 1879 Feb 12 to Andrew Anderson; d/o E & H Mullins

Anderson Ralph Stanley -- 1947 Feb 08 - 1949 Mar 25 -- s/o Edith Murphy Info from news obit
Anderson Timothy Eugene -- No dates listed
Andres Gertrude E -- 1912 Sep 06 - 1996 Jan 16

Andres John H -- 1878 Nov 07 - 1955 Apr 15

Andres Sophia A -- 1884 Jun 20 - 1974 Sep 24

Andres Truman A -- 1914 Nov 19 -

Andres Wilma A -- 1920 Jan 15 - 1997 Nov 02

Antrim Velda -- 1931 May 02 - 1994 Mar 12 -- maiden name Howard

Apperson Family Stone

Apperson Harriet Ann -- 1873 Dec 01 - 1955 Jan 10 -- w/o James Apperson; d/o A & M Dickson

Apperson James M -- 1874 - 1959

Arnold Birdie L -- 1898 Dec 25 - 1986 Jan 01 -- m 03 Jun 1918 -- Pic 1:

Pic 2:

Arnold Earl -- 1896 May 08 - 1973 Oct 27 -- Mo PFC US Army WWI -- Pic 1:

Pic 2:

Pic 3:

Arnold Earl M -- 1914 Jul 18 - 2003 Feb 23 -- m 1933 Feb 06 to Velma Luster -- Pic 1:

Pic 2:

Arnold Velma L -- 1913 Mar 03 - 2006 Mar 26 -- m 1933 Feb 06 to Earl Arnold; d/o J & C Luster -- Pic 1:

Pic 2:

Artelt Helene -- 1908 - 1983

Artelt Herbert -- 1906 Oct 15 - 1982 Nov 01 -- m 1933 Nov 11 to Helene Pistol (cremated)

Asahl Hester C -- 1884 - 1971

Ash Bernice I -- 1925 Apr 28 - 1985 Dec 29

Ash Charles A -- 1877 Jul 07 - 1955 Mar 18

Ash Cynthia A -- 1886 Sep 25 - 1976 Apr 29

Ash Edith L -- 1917 Nov 19 - 1997 Jan 20

Ash Martha M -- 1914 Aug 18 - 1990 Sep 11

Ash Oscar H -- 1918 Oct 10 - 1995 Jul 02

Ash Robert L -- 1940 - 1977

Ash Rosetta -- 1882 Oct 23 - 1975 May 26

Ash Shelia A -- 1944 -

Ash Stephanie Nicole -- 1986 Nov 02 - 1986 Dec 11

Ash Vencil L -- 1924 Feb 17 - 2000 Aug 23 -- Pic 1:

Pic 2:

Ash William P -- 1905 Nov 06 - 1988 Oct 06

Ash William Porter -- 1882 Aug 28 - 1951 Jan 26

Atkinson Elzar Lee -- 1885 Aug 29 - 1952 Sep 29

Atkinson James M -- 1920 Aug 08 - 1990 Sep 14

Atkinson Jean E -- 1926 Aug 16 - -- maiden name Shelton

Atkinson Mary Elizabeth -- 1884 Feb 03 - 1946 Apr 30 -- maiden name Wood

Ayres Helen M -- 1932 Jun 25 - 1975 Jan 30

Bailey Clyde -- 1908 - 1974 Mar 07 -- m 1931 Jun 26 to Wilma Smith

Bailey Erna B -- 1903 Sep 05 - 1954 Jun 26 -- m 1941 Sep 20 to Leslie Bailey; d/o H & M Bertram

Bailey Leslie Herbert -- 1899 Sep 30 - 1950 Nov 13

Bailey S J -- 1935 Jun 12 - -- m 1955 Apr 23

Bailey Vivian E -- 1935 Aug 30 - 1998 Jul 18 -- m 1955 Apr 23 -- Pic 1:

Pic 2:

Bailey Wilma Mary -- 1912 Mar 11 - 1994 Nov 05 -- m 1931 Jun 26 to Clyde Bailey; d/o H & E Smith

Baker Anna Mary -- 1886 - 1971

Baker Arthur W -- 1904 Oct 22 - 1979 Jan 13 -- m 1925 Oct 05 to Clara Schaaf

Baker Charles R -- 1923 Jun 08 -

Baker Clara M -- 1908 Jun 25 - 1980 Nov 04 -- m 1925 Oct 05 to Arthur Baker; d/o C & E Schaaf

Baker Donald E -- 1930 Dec 17 - 1981 Aug 19 -- PFC US Marine Corp Korea

Baker Elmer -- 1906 Sep 26 - 1961 Nov 18 -- s/o William & Anna Baker

Baker Emma Harris -- 1882 Jul 14 - 1960 Jun 17

Baker Emma L -- 1926 Dec 02 -

Baker Harold W -- 1928 Nov 18 - 1983 Sep 17 -- PFC US Army Korea

Baker Henry J -- 1881 Feb 18 - 1961 Nov 03

Baker Martha E -- 1920 Dec 04 -

Baker Paul J -- 1909 Feb 16 - 1988 Feb 14 -- PFC US Army WWII -- Pic 1:

Pic 2:

Pic 3:

Baker Robert L -- 1955 Jan 12 - 1978 Oct 23

Baker Shirley D -- 1939 - 1978

Baker Thelma M -- 1910 May 09 -

Baker Walter L -- 1917 May 27 - 1998 Jul 17 -- Pic 1:

Pic 2:

Baker William Anton -- 1872 Mar 04 - 1951 May 16

Baldwin Lucille M -- 1908 - 1991

Baldwin Richard E -- 1906 - 1964

Bantrup Alvina L -- 1867 Oct 15 - 1931 Apr 24

Bantrup F William -- 1873 May 28 - 1949 May 03

Barbour Catherine W -- 1914 Dec 19 - 1998 Oct 12 -- m 1933 Mar 19 to Raymond Barbour; d/o C & R Burlingame
Barbour Norman S -- 1921 Jul 15 -

Barbour Raymond Estes -- 1912 Jan 16 - 1998 Sep 06 -- m 1933 Mar 19 to Catherine Burlingame
Barbour Viola M -- 1923 Mar 28 - 2004 Feb 03 -- d/o Walter & Cathryn Seitz Less; m 1946 Apr 02 to Norman "Bob" Barbour

Bardwell Elizabeth J -- 1941 Dec 21 - 1942 May 28 -- Pic 1:

Pic 2:

Bardwell John D -- 1934 May 17 - 1934 May 28 -- Pic 1:

Pic 2:

Bardwell Lewis Andrew -- 1889 May 25 - 1958 Feb 12 -- Mo Pvt Co F 30 Inf WWI PH

Bardwell Mary Jane -- 1908 Jul 08 - 1991 May 24

Bardwell Sophia -- 1903 Feb 07 - 1967 Mar 10 -- Aged 64y

Barger Lydia -- 1881 Jan 02 - 1961 Aug 01

Barger Virgil -- 1891 Aug 07 - 1972 Feb 09 -- Pic 1:

Pic 2:

Barker Charles W -- 1871 Aug 20 - 1946 Sep 12

Barker Florence S -- 1872 Nov 13 - 1958 Jul 06

Barlow Marshall A -- 1921 Jul 04 - 1991 Jul 06 -- m 1963 Aug 01

Barlow Mildred J -- 1935 Sep 05 - 1996 Sep 13 -- m 1963 Aug 01

Barlow Tommy R -- 1943 Sep 02 - 1998 Mar 14 -- MSG US Army Vietnam -- Pic 1:

Pic 2:

Barnes Horace -- 1893 May 19 - 1951 Feb 15

Barnes Jasper C -- 1915 Sep 25 - 1936 May 03 -- s/o Horace Barnes

Barnes Job Silas -- 1928 May 11 - 1941 Sep 23

Barnes Muriel -- 1897 Oct 03 - 1962 Feb 11

Barnhart Emma M -- 1893 Dec 01 - 1979 Jun 19 -- m 1918 Jan 27 to Lloyd Barnhart; maiden name Pauli

Barnhart Lloyd H -- 1893 Jul 30 - 1979 Mar 31 -- m 1918 Jan 27 to Emma Pauli

Barry Alfred A -- 1891 Sep 19 - 1984 Aug 09 -- m 1912 Feb 14 to Sallie Hays

Barry Alfred Earl -- 1915 Mar 10 - 2004 Aug 19 -- m 1938 Jan 15; Cpl US Army WWII -- Pic 1:

Pic 2:

Barry Mary Ruth -- 1917 Nov 30 - 2002 Jan 21 -- m 1938 Jan 15 to Earl Barry; d/o L & L Hallford

Barry Sallie A -- 1895 - 1976 Jul 06 -- m 1912 Feb 14 to Alfred Barry; maiden name Hays

Bartlett Anna B -- Died 1890 Aug 08 -- Aged 16y 2m -- d/o J B Bartlett
Bartlett Frances Louise -- 1861 Jun 19 - 1954 Aug 07

Bartlett Lehman A -- 1894 Oct 01 - 1962 Jul 24 -- Mo PFC Co 1 356 Inf WWI PH

Bartlett William Adelbert -- 1846 May 13 - 1916 May 16 -- m 1868 to Mary Meadors; m 1884 Mar 16 to Francis Campbell

Bates Farrie B -- 1902 Jan 26 - 1959 Apr 25

Bechel Frank L -- 1890 Aug 10 - 1944 Dec 17 -- Mo Mech 28 Field Arty 10 Div

Bell Elizabeth -- 1894 Apr 02 - 1951 Sep 17

Bell William L -- 1893 Aug 17 - 1956 Apr 18

Benson Elva Myrtle -- 1903 Apr 08 - 1983 Jul 13 -- m 1936 May 23 to Norman Benson; d/o J & S Christian

Benson Norman Leroy -- 1887 Feb 01 - 1968 May 24 -- m 1936 May 23 to Elva Christian

Beutler Lace C -- 1898 - 1967 Feb 12 -- m 1923 Oct 07 to Rose Siebert

Beutler Lois Jean -- 1926 -

Beutler Minnie H -- 1902 - 1974

Beutler Oscar D -- 1897 Feb 27 - 1953 Mar 30 -- m 1925 Jul 19 to Minnie Oesterly

Beutler Rose M -- 1903 Feb 03 - 1983 Apr 07 -- m 1923 Oct 07 to Lace Beutler; d/o J & J Siebert

Bieri Harry L -- 1921 Mar 30 -

Bieri Phyllis C -- 1929 Apr 25 -

Bieri Ruth -- 1905 Sep 04 - 2004 Apr 09 -- m 1926 Mar 09 to William Bieri; d/o J & A Garrett

Bieri William -- 1896 - 1952 -- m 1926 Mar 09 to Ruth Garrett

Billingsley Josephus E -- 1913 Nov 02 - 1987 Nov 07 -- m 1937 Mar 02

Billingsley Letha Floy -- 1919 Jan 23 - 2004 Jun 05 -- m 1937 Mar 02 to Josephus Billingsley

Bilyeu Gerald Lee -- 1916 Dec 10 - 2005 Jul 27 -- m 1938 Oct 08 to Margaret VanMater; s/o M & E Bilyeu -- Pic 1:

Pic 2:

Bilyeu Infant -- 1943 Sep 30 - 1943 Sep 30 -- d/o Gerald & Margaret Bilyeu

Bilyeu Kenneth Lee -- 1942 Sep 13 - 1942 Sep 28

Bilyeu Margaret L -- 1919 Dec 29 -

Binkley Elmer E -- 1925 May 22 - 1994 Sep 09 -- F1 US Navy WWII -- Pic 1:

Pic 2:

Binkley Thelma I -- 1921 Mar 11 - 1997 May 09 -- Pic 1:

Pic 2:

Birdsong Della F -- 1919 Sep 02 - 2007 Sep 02 -- m 1945 Oct 27 to Floyd Birdsong; d/o D & C Williams

Birdsong Floyd D -- 1917 Oct 12 - 2003 Jul 03 -- Pic 1:

Pic 2:

Birdsong Newton Edward -- 1871 Feb 08 - 1941 Aug 09 -- m 1889 Dec 10 to Olive Allee

Birdsong Olive Francis -- 1873 Feb 13 - 1950 Jun 01

Birge Amanda J -- 1888 Aug 31 - 1959 Jul 20

Birge Joe -- 1880 Sep 23 - 1966 Sep 11

Birge William A -- 1910 Nov 01 - 1997 Feb 10

Birkner Frank Paul -- 1940 Jul 18 - 2001 Jul 18 -- PFC US Army

Birkner Louise -- 1929 Jul 12 - 1990 Jun 14

Birthright Lula F -- 1896 Aug 24 - 1957 Nov 06

Bishop Harold M -- 1910 Apr 10 - 1984 Sep 01

Bishop Rosella M -- 1913 Aug 15 - 1984 Mar 19

Blake Alan Wayne -- 1965 Jul 17 - 1997 Oct 24

Blake Albert Lee -- 1937 Aug 25 - 1999 Dec 29

Blake Barbara Lynn -- 1958 Oct 28 - 1958 Oct 28 -- d/o Albert & Mary Blake

Blake Mary Ann -- 1937 Aug 27 -

Blalock Family Stone

Blalock Henry Deak -- 1902 - 1985

Blalock Mary E -- 1913 Apr 20 - 2005 Nov 01 -- w/o Henry Blalock; d/o Thomas & Alma Lane

Blank Charles Leonard -- 1911 Jan 30 - 2002 Sep 27 -- m to Faye Peters -- Pic 1:

Pic 2:

Blank Faye M -- 1914 Aug 21 - 1970 Feb 05 -- m to Charles Blank; maiden name Peters -- Pic 1:

Pic 2:

Blank Homer Clyde -- 1916 May 26 - 1972 Dec 23 -- Mo Cpl US Army WWII

Blank Louise A -- 1892 Jan 27 - 1981 Mar 25 -- m 1914 May 03 to Oscar Blank; d/o F & M Schilb

Blank Oscar O -- 1881 - 1965 -- m 1914 May 03 to Louise Schilb

Bledsoe Mattie E -- 1919 Dec 01 - 2006 Sep 01

-- m 1935 Sep 21 to Andrew Carver; m 1944 Dec 11 to Thomas Bledsoe; m 1969 Jul 03 to Almon McFarland; d/o E & M Howard
Bledsoe Thomas A -- 1902 Nov 26 - 1968 Jul 29 -- Mo Pvt US Army WWII -- Pic 1:

Pic 2:

Block Esther Marie -- 1922 - 1956
Block Kathryn Laverne -- 1930 Sep 26 - 1930 Sep 28 -- d/o Oscar Bloch
Block Louise A -- 1878 - 1956 Mar 06 -- m 1st 1899 to William Bloch; m 2nd to George Guthals; m 3rd to L L Marsh; d/o F & M Rohrbach

Block Mary Anne -- 1897 Aug 18 - 1968 Jun 11 -- m 1920 Dec 24 to Oscar Bloch; d/o G & L Oesterly

Block Oscar A -- 1900 - 1985

Block William H -- 1878 Jan 15 - 1913 Jan 18 -- h/o Louise Rohrbach

Bodamer Charles H -- 1870 - 1972

Bodamer Elizabeth A -- 1975 - 1936

Boillot Floyd E -- 1888 Nov 16 - 1952 Nov 24

Boillot Harold J -- 1919 Mar 23 - 1973 May 04 -- M/Sgt US Air Force

Boillot Nannie K -- 1890 Aug 06 - 1965 Jan 07

Boillot Rosa Elliott -- 1894 - 1945 -- Pic 1:

Pic 2:

Boillot Victor Orville -- 1892 Aug 21 - 1951 Apr 13 -- Pic 1:

Pic 2:

Boldt John M -- 1932 Nov 03 -

Boldt Norma Jean -- 1932 Nov 22 -

Bolin Family Stone

Bolin Anna Marie -- 1927 Aug 07 - 1928 Aug 12 -- d/o Charles & Susan Bolin

Bolin Brownie Lee -- 1925 Feb 10 - 1974 Nov 18 -- S/Sgt US Army WWII -- Pic 1:

Pic 2:

Bolin Brownie W -- 1898 - 1969

Bolin Charles -- 1902 - 1977

Bolin Charles Marion -- 1922 Nov 20 - 1952 Jul 19 -- m Velma M Bolin; TEC 4 47 Engr Const Bn WWII -- Pic 1:

Pic 2:

Bolin Clifford L -- 1914 -

Bolin Delphan M -- 1940 Jun 25 - 1960 Oct 03

Bolin Emma F -- 1902 - 1993

Bolin Freddie L -- 1905 Jun 30 - 1970 Jan 05 -- m 1925 May 20 to Norma Howard -- Pic 1:

Pic 2:

Bolin Harry T -- 1892 Aug 06 - 1944 Mar 31

Bolin John H -- 1880 - 1936
Bolin Mary Alice -- 1944 - 1946

Bolin Mary E -- 1922 - 1985

Bolin Maurine -- 1910 - 2000

Bolin Mildred M -- 1927 - 1991

Bolin Nellie G -- 1916 - 1941 Feb 13 -- m 1934 to Clifford Bolin; d/o Fred McFarland

Bolin Norma L -- 1906 - 1988
Bolin Norman Lee -- 1931 Jun 14 - 1992 Jan 21 -- Cpl US Marine Corps Korea -- Pic 1:

Pic 2:

Pic 3:

Bolin Paul Wayne -- 1942 Sep 17 - 1951 Jul 23

Bolin Rachel C -- 1893 Oct 25 - 1986 Apr 06

Bolin Susan -- 1905 - 1940

Bolin Velma M -- 1921 Mar 30 - 1952 Jul 16 -- m C Marion Bolin

Bolin Walter E -- 1921 - 1947

Bolinger Bryan Darrin -- 1967 Aug 02 - 1967 Aug 03 -- s/o Darrell & Judy Bolinger

Bolinger Patricia Kaye -- 1969 Oct 04 - 1969 Oct 04 -- d/o Darrell & Judy Bolinger

Borghardt Albert A -- 1934 - 1977 -- SP4 US Army -- Pic 1:

Pic 2:

Borghardt Bonnie L -- 1927 Mar 12 - 2004 Sep 27 -- m 1947 Jan 23

Borghardt Carl H Sr -- 1926 Mar 11 - 1994 Apr 04 -- m 1947 Jan 23; PFC US Army WWII -- Pic 1:

Pic 2:

Borghardt D Elaine -- 1935 - -- d/o Oral & Lucy Schull

Borghardt Daniel Ray -- 1959 Apr 13 - 1959 Apr 13 -- s/o Carl & Bonnie Borghardt

Borghardt Michael D -- 1963 Mar 27 - 2004 Aug 21

Borts Gerald D -- 1939 Oct 10 - -- Pic 1:

Pic 2:

Borts Peggy Ann -- 1943 Jul 03 - -- Pic 1:

Pic 2:

Borts Ricky Lee -- 1974 Feb 21 - 2003 Jul 01

Borts Ronnie D -- 1963 Sep 12 - 1980 Jul 25 -- Pic 1:

Pic 2:

Boss Clara F -- 1886 - 1964

Boss John -- 1882 - 1955

Bowlin Clara Anna -- 1899 Oct 12 - 1996 Feb 22 -- m Earl R Bowlin 01 May 1918; d/o S & A Howard

Bowlin Earl Raymond -- 1897 - 1976 Jul 09 -- m 1918 May 01 to Clara Howard

Bowlin Jack -- 1876 - 1946

Bowlin Martha W -- 1875 - 1943

Bowlin Myrtle L -- 1878 - 1946

Brady Billy Jean -- 1937 - 1953 -- s/o James & Stella Brady

Brady Gail M -- 1896 - 1983

Brady James A -- 1888 - 1962

Brady Lelia Ann -- 1890 Mar 10 - 1932 Mar 19

Brady Norman -- 1922 - 1941
Brady Opal L -- 1901 - 1972

Brady Stella F -- 1903 Feb 02 - 1984 Jun 14

Bratten Arthur Roscoe -- 1890 Mar 08 - 1958 Aug 29 -- m 1913 Dec 08 to Dollie Hess; m 1924 Jun 28 to Elizabeth Schaffner

Bratten Elizabeth M -- 1903 Nov 08 - 2005 Mar 28 -- m 1924 Jun 28 to Arthur Bratten; d/o H & A Schaffner

Bratten Gerald L -- 1912 - 1971

Bratten Martha E -- 1913 - 1959

Breer Edward Angelous -- 1892 Mar 28 - 1984 Dec 25

Breer Mae Lea -- 1892 Aug 31 - 1984 Jan 10

Bridgford Mary M -- 1932 Jul 15 - 1997 Jun 05 -- d/o Oscar & Minnie Beutler

Brizendine Allie C -- 1886 - 1975

Brizendine Carl C -- 1905 - 1988 -- Pic 1:

Pic 2:

Brizendine Carolyn J -- 1944 Feb 24 - 2002 Mar 30

Brizendine Clyde E -- 1912 Jan 23 - 1997 Jul 18 -- m 1934 Jan 26 to Kathryn Pace

Brizendine Earl Eugene -- 1915 Mar 19 - 1997 May 19 -- Pic 1:

Pic 2:

-- m 1st 1936 to Hattie Carroll; m 2nd 1950 Sep 23 to Sallie Murphy; m 3rd 1979 Jun to Mable Green; Pvt US Army WWII
Brizendine Gertrude -- 1910 - 1962 -- Pic 1:

Pic 2:

Brizendine Harry R -- 1920 -

Brizendine Hattie Belle -- 1918 Jan 24 - 1948 Oct 12 -- w/o Earl Brizendine; d/o A & L Carroll

Brizendine Inez -- 1918 Jun 06 - 2003 Feb 03

Brizendine Jackie H -- 1938 Sep 24 - 1996 Nov 27 -- m 1962 May 05 to Carolyn Peters

Brizendine Jesse Edward -- 1942 Dec 08 - 1971 Sep 14

Brizendine Kathryn L -- 1914 Sep 28 - 1997 Aug 16 -- m 1934 Jan 26 to Clyde Brizendine; d/o J & C Pace

Brizendine N Viola -- 1924 Apr 16 - 1985 Jun 08

Brizendine Nora G -- 1927 -

Brizendine Ray -- 1918 May 02 - 1998 Apr 17 -- m 1944 Jul 22 to Inez Atherton

Brizendine Sallie D -- 1909 Aug 08 - 1968 Apr 03

Brizendine Virginia Alice -- 1886 Jan 18 - 1970 May 18 -- m 1920 Mar 11 to Allie Brizendine; d/o J & M Medlin

Brooks Lylah Doris Katelyn -- 2003 Mar 11 - 2003 Mar 11 -- d/o Thomas Brooks & Deborah West

Brown C Edward -- 1953 May 06 - 2000 Oct 18 -- m 1986 Jun 21

Brown Christopher Lee -- 1976 Oct 24 - 1976 Oct 24 -- s/o Lyle & Judy Brown

Brown Ellen Sue -- 1963 Apr - 1963 May

Brown Fred W -- 1911 Feb 03 - 1978 Apr 06 -- m 1938 Jan 29 to Katherine Meyer

Brown Jackie L -- 1965 Mar 15 - -- m 1986 Jun 21 maiden name Crawford

Brown James W -- 1928 Apr 07 - 1997 Nov 24

Brown Jana Irene -- 1955 Nov 13 - 2007 Mar 29 -- m 1972 Jul 17 to Lee Roy Brown; d/o G & D Miller
Brown Juanita -- 1928 Jan 05 -

Brown Katherine Rebecca -- 1912 Jan 16 - 1987 Apr 02 -- m 1938 Jan 29 to Fred Brown; d/o H & E Meyer

Browner Darla Sue -- 1959 Jun 03 - 1959 Jun 03 -- d/o Donald Browner

Broyles Dow E -- 1906 Nov 03 - 1996 Dec 05

Broyles Katherine E -- 1907 Jul 19 - 2001 Jan 06

Bruce Albert Curtis -- 1875 Aug 14 - 1949 May 07 -- m 1922 May 05 to Fannie Wilson

Bruce Alfred B -- 1883 Dec 08 - 1968 Sep 07 -- h/o Maggie Shannon

Bruce Bland S -- 1911 May 19 - 1999 Jul 29 -- m 1931 Aug 29 to Ripley Bruce; d/o C & D Stevens

Bruce Fannie W -- 1888 Jun 23 - 1978 Jan 25

Bruce George W -- 1922 Aug 15 - 1996 Mar 08

Bruce Lula May -- 1921 Jan 29 - 2001 Jul 27

Bruce Maggie Shannon -- 1883 Dec 08 - 1963 Aug 06 -- m 1905 Dec 09 to Alfred Bruce; d/o J & N Shannon

Bruce Ripley S -- 1909 - 1987

Bryan Bert R -- 1889 - 1960

Bryan Dot B -- 1894 - 1969

Bryan James W -- 1892 Aug 24 - 1984 Nov 13

Buffington Cecil W -- 1936 - 1973

Buffington Shirley J -- 1933 - 2000

Bunch Ann McCollester -- 1904 Jul 30 - 1987 Oct 10

Bunch James McCollester -- 1929 Oct 15 - 1989 Oct 02

Burch Eliza M -- 1875 - 1944

Burger Alta L -- 1937 Jul 09 - 1997 Aug 15 -- m 1956 Apr 28

Burger Amelia A -- 1893 Jan 18 - 1980 Feb 07 -- Pic 1:

Pic 2:

Burger Carl Ernest -- 1898 Jan 14 - 1985 Feb 10
Burger Frances A -- 1905 Apr 07 - 2000 Aug 11
Burger Gertrude M -- 1908 Jan 30 - 1999 Apr 13 -- m 1937 Jun 01 to Herman Burger; d/o J & A Derendinger -- Pic 1:

Pic 2:

Burger Herman W -- 1898 - 1965 -- m 1937 Jun 01 to Gertrude Derendinger -- Pic 1:

Pic 2:

Burger John G -- 1891 Aug 21 - 1971 Jan 26 m 15 Nov 1916 -- Pic 1:

Pic 2:

Burger Michael Roger -- 1957 May 26 - 1957 Oct 10

Burger Roger Lee -- 1933 Apr 16 - 1999 Mar 09 -- m 1956 Apr 28; Sgt US Marine Corp Korea -- Pic 1:

Pic 2:

Burgi Raymond -- 1911 - 1941

Burgi William -- 1875 - 1937

Burrus Charley E -- 1907 Jan 31 - 1990 Mar 20

Burrus Juanita J -- 1916 Aug 12 - 1999 Dec 07

Busch Arthur Frank -- 1916 Jan 02 - 1985 May 19 -- TEC 4 US Army Air Corps WWII -- Pic 1:

Pic 2:

Busch Louise H -- 1908 Jul 16 - 1986 Oct 13 -- Pic 1:

Pic 2:

Butts Agnes I -- 1909 - 1991

Butts Bernetta E -- 1902 Oct 18 - 1993 Feb 28 -- m 1927 May 25 to Floyd Butts; d/o B & M McDonald
Butts C Floyd -- 1903 Aug 17 - 1970 Mar 03 -- m 1927 May 25 to Bernetta McDonald
Butts Charles Newton -- 1878 Mar 24 - 1952 Mar 17 -- m 1900 Sep 11 to Monna Boucher
Butts Monna P -- 1881 Mar 12 - 1956 Jun 20 -- m 1900 Sep 11 to Charles Butts; d/o J & M Boucher
Butts Paul R -- 1901 - 1967

Bybee Benjamin F -- 1883 - 1965

Bybee Charmion D -- 1886 Oct 02 - 1957 Sep 22 -- m 1905 Sep to Benjamin Bybee; d/o J & M Hill

Bybee Edwin Roscoe -- 1880 Aug 13 - 1966 May 11 -- s/o James & Lovella Bybee

Bybee James Edward -- 1853 Apr 07 - 1935 Dec 05 -- m 1879 Oct 29 to Luella Dickson

Bybee Louella -- 1856 - 1942

Byler Annie -- 1886 - 1987 -- Pic 1:

Pic 2:

Byler Walter L -- 1886 - 1969 -- Pic 1:

Pic 2:

Cable Anna Mae -- 1913 Mar 23 - 2003 Jan 08 -- m 1939 Jan 16 to Fred Cable; d/o J & M Unglaub

Cable Frances Elizabeth -- 1946 Jan 14 - 1946 Jan 14 -- d/o Fred & Anna Cable

Cable Fred -- 1911 -

Caldwell Barbara A -- 1945 Feb 04 - -- Pic 1:

Pic 2:

Caldwell Elizabeth -- 1923 Oct 09 - 2001 Jul 23 -- Pic 1:

Pic 2:

Caldwell Robert L -- 1921 Aug 01 - 1997 Jun 13 -- Pic 1:

Pic 2:

Pic 3:

Calhoun A Laura -- 1879 Oct 27 - 1970 Jan 20

Calhoun Annie Laurie -- 1909 Sep 08 - 1931 Mar 17

Calhoun Charles G -- 1901 Dec 06 - 1997 Mar 08

Calhoun David B -- 1861 - 1941

Calhoun David C -- 1912 Oct 07 - 2000 Apr 04

Calhoun Jennie R -- 1877 - 1946

Calhoun Margaret -- 1916 Oct 29 - 2001 Oct 31 -- Maiden name Malee

Calhoun Mary Helen -- 1918 Dec 14 -

Calhoun Ruth G -- 1916 Jun 17 - 2005 Apr 04 -- d/o David & Jennie Calhoun

Calhoun William H -- 1906 Jan 18 - 2002 Jan 23

Calhoun William P -- 1864 Apr 02 - 1945 May 08

Campbell Albert Emery -- 1889 Dec 16 - 1951 Jan 21

Campbell Charles L -- 1917 - 1942

Campbell Minnie E -- 1889 - 1973

Carey Benjamin Ryan -- Died 1986 Nov 06 -- Aged 3m 20d
Carey Grace E -- 1919 Aug 04 - 1997 Apr 17 -- Pic 1:

Pic 2:

Carey Nelson Olive -- 1920 Jul 12 - 2000 Aug 02 -- PFC US Army WWII -- Pic 1:

Pic 2:

Carr Family Stone

Carr Albert P -- 1894 - 1964

Carr Mabel G -- 1908 Jan 24 - 1995 May 02

Carr Minnie Victoria -- 1889 Nov 06 - 1953 Mar 21

Carroll Doris M -- 1933 Aug 15 - 2005 Oct 27 -- m 1951 Aug 18 to William Carroll; d/o C & J Sorenson

Carroll William Henry -- 1931 Jan 26 - 1989 Jan 06 -- EMFA US Navy -- Pic 1:

Pic 2:

Carter Edward Jr -- 1929 Aug 12 - 2005 Nov 16 -- m 1960 Nov 01 to Rose Dority; s/o E & E Carter -- Pic 1:

Pic 2:

Carter Rose -- 1931 Mar 06 - 2007 Sep 08 -- m 1960 Nov 01 to Edward Carter; d/o E & R Dority

Cary Henry Thompson -- 1879 Jun 15 - 1970 Dec 01 -- m 1912 Nov 13 to Minnie Woodard

Cary Leona -- 1918 Apr 05 - 1989 Oct 07

Cary Minnie Mae -- 1893 Sep 12 - 1970 Aug 22 -- m 1912 Nov 13 to Henry Cary; d/o J & S Woodard

Cassidy Bettie L -- 1900 Oct 30 - 1968 May 27 -- m 1919 Nov to James Cassidy; d/o J & N Russell

Cassidy James A -- 1885 - 1959 -- m 1919 Nov to Bettie Russell

Cassidy Juanita Allene -- 1936 Oct 26 - 1950 Dec 07 -- d/o J A Cassidy

Cassidy Lloyd D -- 1933 Mar 12 - 2002 Mar 31 -- A2C US Air Force Korea -- Pic 1:

Pic 2:

Cassidy Loretta J -- 1933 Jun 18 -

Cassidy Maurice E -- 1931 Mar 14 - 1981 Jan 11

Cassidy Sharon Kay -- 1956 - 1967

Cassidy Wayne S -- 1920 - 1937

Cassil Alice M -- 1905 Apr 05 - 1982 Jul 13

Cassil Arnold L Jr -- 1925 Nov 16 -

Cassil Arnold L Sr -- 1901 Sep 11 - 1988 Aug 21 -- m 1924 Jul 27

Cassil C Eugene Sr -- 1909 Apr 05 - 1960 Dec 22

Cassil Donald E -- 1942 Oct 11 - 1943 Oct 16

Cassil E Wilbur -- 1917 Jun 29 - 1989 Jun 30

Cassil Hazel L -- 1917 Aug 05 - 1962 Oct 23

Cassil Leland B -- 1906 Feb 15 - 1984 Dec 13

Cassil Lois E -- 1911 Dec 17 - 1982 Apr 11

Cassil Ruth V -- 1924 Mar 06 - -- maiden name Knierim

Cassil Wilbur E -- 1917 Jun 29 - 1989 Jun 30

Cellar Bertha O -- 1884 - 1966

Cellar Herbert A -- 1894 - 1971

Chambers A Brooks -- 1921 Nov 24 - -- m 1945 Feb 02

Chambers Alma Belle -- 1926 Dec 23 - -- nee McFarland

Chambers Aubrey -- 1899 - 1977 -- m 1920 Mar 02

Chambers Helen -- 1903 Mar 16 - 1981 Jul 24 -- m 1920 Mar 02 to Aubrey Chambers; d/o J & V Ogden

Chambers Margaret L -- 1922 Jun 21 - -- m 1945 Feb 02

Chambers Oscar -- 1885 - 1975

Chambers Richard L -- 1921 Mar 27 - 2006 Jan 08 -- Pic 1:

Pic 2:

-- m 1948 Dec 18 to Alma McFarland; s/o G & V Chambers; PFC US Army WWII
Chaney James A -- 1911 Jan 15 - 1992 Jan 28 -- TEC 5 US Army WWII

Chasen Linda Mae -- 1946 Mar 21 - 2000 Sep 27

Christian James S -- 1884 Dec 23 - 1967 Jun 13

Clark Elah A -- 1891 Dec 22 - 1979 May 16 -- m 1909 Sep 20; maiden name Green

Clark Gertrude A -- 1922 Jul 08 - 2004 Nov 09

Clark James W -- 1979 Jan 08 - 1979 Sep 23 -- m 1909 Sep 20

Clark James W -- 1881 Aug 15 - 1964 Jun 28

Clark Jesse R -- 1917 Mar 01 - 1956 Apr 27 -- Pic 1:

Pic 2:

Clark Mildred C -- 1911 - 1990

Clark Omia F -- 1920 Feb 04 - 1979 Jan 10 -- Pic 1:

Pic 2:

Clark Ricky G -- 1955 Jan 10 - 1963 Aug 01

Clark Victor E -- 1915 - 1991

Clark Viola L -- 1916 - 1971

Clark Wallace L -- 1912 - 1964

Clark William C -- 1913 Jan 26 - 1959 Mar 20

Clay Grace W -- 1913 - -- Pic 1:

Pic 2:

Clay Harold Bernard -- 1913 Sep 06 - 1968 May 15 -- m 1940 Mar 17 to Bernice Kempfer

Clay M Berniece -- 1917 Feb 20 - 1979 Nov 15 -- m 1940 Mar 17 to Harold Clay; d/o J & A Kempfer

Clay Thomas Ewing -- 1892 Jan 12 - 1971 Aug 20 -- Sgt US Army WWI -- Pic 1:

Pic 2:

Pic 3:

Clenin Adelbert J -- 1914 Apr 06 - 1978 Aug 03 -- Sgt US Army WWII

Clenin Edward -- 1885 Dec 26 - 1965 Nov 10 -- m 1912 Apr 10 to Mabel Bartlett

Clenin Infant -- s/o Mabel & Edward Clenin; No dates listed

Clenin J Monroe -- 1910 Aug 08 - 1983 Dec 16 -- s/o Jacob & Mae Clenin

Clenin Jacob J -- 1880 Dec 02 - 1962 Apr 07 -- m 1909 Jun 06 to Mae Wood -- Pic 1:

Pic 2:

Clenin Mabel H -- 1890 May 09 - 1981 Feb 04 -- m 1912 Apr 10 to Edward Clenin; d/o W & F Bartlett -- dates from news obit

Clenin Mae V -- 1884 May 13 - 1962 Apr 09 -- m 1909 Jun 06 to Jacob Clenin; d/o L & M Wood

Clenin Warner E -- 1921 Feb 17 - 1998 Dec 27 -- TEC 5 US Army WWII

Cline Wesley John -- 1949 Jun 19 - 1975 Mar 14 -- Sgt US Army Vietnam

Cloninger Margaret O -- 1903 - 1985

Cloninger Neil C -- 1893 Jul 23 - 1983 Mar 27 -- m 1922 Jan 01 to Margaret Wilson

Coale M Gene -- 1925 Sep 18 - -- Pic 1:

Pic 2:

Coale Robert W -- 1919 Jan 29 - 1982 Dec 31

Pic 2:

Cochran Robert Riley -- 1875 Sep 27 - 1955 Jul 30 -- m 1902 May 05 to Grace Milburn

Cochran Sarah Grace -- 1880 Jan 12 - 1944 May 31

Cofer Cordelia -- 1907 - -- m 1934 Dec 22 -- Pic 1:

Pic 2:

Cofer Stanley W -- 1910 - 1988 -- m 1934 Dec 22 -- Pic 1:

Pic 2:

Cole Clarence W -- 1886 Nov 25 - 1961 Apr 10 -- m 1934 Jun 24 to Emma Bahner

Cole Emma Louise -- 1887 Apr 04 - 1968 May 25 -- m 1st to Ed Bahner; m 2nd to Clarence Cole; d/o J & E Kurtz

Cole Freda L -- 1913 Mar 29 - 2001 Nov 06 -- m 1929 Sep 13 to James Cole; d/o A & L Wells

Cole James David -- 1905 Oct 01 - 1996 Nov 18 -- m 1929 Sep 13 to Freda Wells

Cole Jimmie Junior -- 1930 Apr 13 - 1998 Sep 12 -- s/o James & Freda Cole

Coleman Minnie A -- 1882 - 1964

Collett Family Stone

Collett Anna K -- 1881 Nov 24 - 1944 Jun 25

Collett Beulah P -- 1903 Feb 17 - 2000 Jan 14

Collett Charles -- 1879 Apr 07 - 1966 Sep 06

Collett Clyde A -- 1905 May 20 - 1966 Jul 09

Collett Isaac -- 1877 Mar 13 - 1906 May 09

Collett Nellie -- 1870 Sep 26 - 1957 Feb 15

Collins Annie Barnes Rupard -- 1913 Jun 08 - 1990 Sep 30

Collins James T E -- 1916 Jun 15 - 1993 Mar 31

Collins John E -- 1955 Jun 27 - 2013 May 23

Connell Letha M -- 1889 May 23 - 1983 May 05 -- m 1906 May 17 to Martin Connell; d/o D & L Hedrick

Connell Martin D -- 1878 - 1976 Sep 13 -- m 1906 May 17 to Letha Hedrick

Connell Myrtle G -- 1917 Oct 02 - 1994 Jul 28

Cook Abijah -- 1880 - 1969

Cook Anna M -- 1927 Jun 03 -

Cook Blanche -- 1875 - 1951

Cook Carl B -- 1905 Dec 16 - 1980 May 27 -- Bm 2 US Navy WWII

Cook Jerome -- 1906 - 1931 Jun 07

Cook Leona Virginia -- 1885 - 1965

Cook Mary E -- 1913 -

Cook Raymond E -- 1935 Aug 24 - 1987 Jan 30 -- Pic 1:

Pic 2:

Cook William S -- 1866 - 1938

Cooke Erma Ruth -- 1917 Oct 20 - -- m 1955 Nov 25 -- Pic 1:

Pic 2:

Cooke James E -- 1910 Jan 10 - 1988 Jul 28 -- m 1955 Nov 25 -- Pic 1:

Pic 2:

Coonce Melvin Darrel -- 1949 Oct 18 - 2007 Jan 12 -- m 2000 Apr 22 to Laura Davis
Coons Jerry L -- 1965 Mar 26 - 1965 Apr 02 -- Twin of Larry L Coons

Coons Larry L -- 1965 Mar 26 - 1965 Mar 27 -- Twin of Jerry L Coons

Copas Family Stone

Copas Della B -- 1883 Oct 03 - 1934 May 11

Copas William L -- 1880 Jul 23 - 1946 Sep 17

Coryell James L -- 1936 Apr 22 - -- US Army

Coryell Mary Alice -- 1942 Feb 19 - -- nee Pace

Cowger Flora Alice -- 1914 Apr 29 - 1987 Oct 06

Craig Ferney -- 1891 Jun 22 - 1963 Nov 04 -- Pic 1:

Pic 2:

Craig Opal -- 1894 Jul 22 - 1987 Dec 13 -- Pic 1:

Pic 2:

Cram Hazel Emma -- 1910 Jan 05 - 1971 Jan 16 -- m 1927 Apr 06 to Oscar Cram; d/o A & L Cook

Cram Oscar P -- 1900 - 1965

Crane A Ruth -- 1911 May 18 - 2004 Nov 23 -- m 1928 Jul 06 to John Crane; d/o A & A Francis

Crane John D -- 1909 Apr 08 - 2001 Jun 05 -- m 1929 Jul 06 to Ruth Francis

Crawford Dell -- 1867 May 28 - 1957 Nov 01 -- m 1898 to Effie Dukes

Crawford Edith Frances -- 1900 Apr 29 - 1994 Mar 28 -- Pic 1:

Pic 2:

-- m 1919 to Mike Wilson; m 1946 Oct 04 to Silas Crawford; d/o U & V Crawford
Crawford Ethel A -- 1913 Mar 19 - 2001 Aug 18 -- Pic 1:

Pic 2:

Crawford Glover L -- 1902 Dec 25 - 1992 Apr 10 -- Pic 1:

Pic 2:

Crawford Jack G -- 1935 Mar 08 - 2000 May 02 -- m 1960 Apr 15; A3C US Air Force -- Pic 1:

Pic 2:

Crawford Manerva -- 1879 Jun 15 - 1970 May 16

Crawford Nellie Ann -- 1881 Feb 28 - 1964

Crawford Ola -- 1895 Apr 11 - 1983 Nov 18

Crawford Quincy Lee -- 1868 Aug 07 - 1941 Aug 02

Crawford Roy -- 1895 Nov 12 - 1971 Aug 21

Crawford Silas Earl -- 1900 Mar 29 - 1982 Jan 06 -- m 1947 Oct 04 to Edith Crawford -- Pic 1:

Pic 2:

Crawford Undrell -- 1868 - 1963

Crawford Vinnie J -- 1877 - 1961

Crawford Virginia M -- 1942 Jan 10 -

Crawford William R -- 1871 - 1958

Crisp Basil -- 1901 - 1956

Crisp Merle -- 1913 - 1970

Croy Ada M -- 1910 Mar 01 -

Croy Andy J -- 1906 Sep 29 - 1989 Aug 12

Croy Betty J -- 1929 Mar 17 - 2007 Mar 10 -- m 1948 Apr 17 to Marschel Croy; d/o C & R Newkirk

Croy Kevin M -- 1970 Jul 18 - 1970 Aug 09

Croy Marschel E -- 1929 Mar 20 - -- m 1948 Apr 17

Crum Joe -- 1875 - 1950 Mar 30 -- s/o Nathaniel & Jane Crum -- Info from death certificate
Cummings Arley L -- 1910 May 24 - 1962 Jun 25

Cutt Angel Jean -- 1998 Nov 20 - -- d/o Tim & Christie Cutt

Dale Glen Lawson -- 1908 Jun 28 - 1994 Nov 28 -- m 1933 Oct 27

Dale Lillian Opal -- 1912 Jul 15 - 2001 Jul 27 -- m 1933 Oct 27

Dale Roberta Joan -- 1937 Jul 08 - 2005 Mar 11 -- m 1966 Oct 08 to Jacob Borts; d/o G & L Dale

Dalstein Ethel L -- 1928 Jul 10 - -- m 1950 Feb 13

Dalstein Henry E -- 1866 Aug 20 - 1929 Nov 09 -- Info from death certificate
Dalstein John E -- 1918 Aug 23 - 2001 Apr 04 -- m 1939 Oct 07

Dalstein Mardel -- 1918 May 27 - 1993 Mar 31 -- m 1939 Oct 07

Dalstein Vernon L -- 1927 Feb 04 - 2004 Feb 28 -- m 1950 Feb 13; PTR3 US Navy WWII -- Pic 1:

Pic 2:

Davenport Charley O -- 1880 - 1960

Davenport Elsie M -- 1889 Sep 07 - 1967 Mar 25

Davenport Sterling C -- 1889 Dec 07 - 1953 Feb 21

Davis Carrie A -- 1903 Jan 30 - 1986 Mar 06

Davis Ora Lee -- 1912 Sep 26 - 1979 Apr 09 -- m 1945 Aug 30 to Richard Davis; d/o Dave Jordan
Davis Richard -- 1913 Mar 02 - 1980 Aug 01

-- m 1st to Lottie Coleman; m 2nd 1945 Aug to Ora Jordan; m 3rd 1980 Jan 14 to Pearl Thomas
Davis Vesy Arthur -- 1894 Sep 19 - 1944 Dec 04 -- Pvt US Army WWI

Davis Violet Lee -- 1958 Aug 02 - 1958 Aug 02 -- d/o Edna Luper

Dawson Emmett -- 1885 Sep 24 - 1966 Jan 30 -- m 1938 May 15 to Lena Dawson

Dawson James B -- 1916 Aug 05 - 1995 Nov 26 -- Pic 1:

Pic 2:

Dawson Leman Wilson -- 1912 Sep 27 - 1970 Apr 16 -- Mo PFC US Army WWII

Dawson Lena -- 1891 - 1972

Dawson Mildred A -- 1919 Aug 26 - 2004 Jun 09 -- Pic 1:

Pic 2:

Deakins Ethyl K -- 1896 - 1988

Deakins John Ira -- 1893 Oct 02 - 1959 Feb 26 -- Mo PFC Co M 125 Inf WWI PH

Dearing Family Stone

Dearing Clark -- 1906 Jul 26 - 1975 Feb 05 -- s/o Henry & Stella Dearing

Dearing Eleanor Alice -- 1943 Apr 18 - 1943 Apr 18 -- d/o J L & Leona Dearing

Dearing Henry -- 1882 - 1974

Dearing James Long -- 1899 Feb 18 - 1968 May 04

Dearing John Allen -- 1930 Feb 11 - 2005 May 11 -- m 1955 Jan 01 to Nadine Heinen; SM Sgt US Air Force Korea Vietnam (cremated)

Dearing Leona Grace -- 1912 Apr 16 - 1973 Oct 02

Dearing Lula Blanche -- 1897 Nov 09 - 1930 Feb 16 -- m 1925 Jun 06 to James Dearing; maiden name Francis

Dearing Nadine G -- 1932 Jul 15 - 2006 Apr 29 -- m 1955 Jan 01 to John Dearing; d/o H & G Heinen

Dearing Stella L -- 1883 - 1964

Decker Atha M -- 1893 Oct 19 - 1956 May 01

Decker Edna M -- 1911 May 09 - 1978 Nov 20

Deitz Mary Ann -- 1927 Jun 29 - 1994 May 06

Deitz Willard R -- 1910 Jul 12 - 1980 Mar 07

Denbo Esther M -- 1911 Sep 27 - 2006 Jan 17

Denbo Virgil L -- 1903 Nov 28 - 1989 Jun 18 -- Pvt US Army

Denney Marie Irene -- 1915 May 17 - 2006 Apr 16 -- m 1935 Sep 03 to Victor Denney; d/o J & I Dale

Denney Victor -- 1912 May 22 - -- m 1935 Sep 03

Derby Lena L -- 1912 Aug 06 - 2002 Dec 27

Derendinger Anna E -- 1931 Oct 26 - -- m 1952 Aug 30

Derendinger Louis E -- 1911 Jun 30 - 1989 Sep 07 -- m 1952 Aug 30; PFC US Army WWII -- Pic 1:

Pic 2:

Dexheimer Earl -- 1907 -

Dexheimer Elizabeth J -- 1912 - 1944

Dick David A -- 1952 Mar 19 - 1962 Aug 09

Dick Dora A -- 1898 Aug 15 - 1988 Apr 15 -- m 1915 Oct 03

Dick Elza K -- 1916 Sep 15 - 1964 Mar 05

Dick Frank A -- 1889 Jan 26 - 1970 Jan 07 -- m 1915 Oct 03

Dick Frank L -- 1923 Jan 30 - 1998 Dec 07 -- m 1946 May 05

Dick Franklin L -- 1945 May 25 - 2000 Jun 09

Dick Mary A -- 1924 Mar 15 - -- m 1946 May 05

Dick Norris E -- 1927 Jul 20 - 1992 Dec 08 -- Pvt US Army WWII

Dick Roger K -- 1956 Jan 19 - 2006 Dec 15 -- s/o Frank & Mary Dick
Dicus Carol Fay -- 1955 Sep 11 - 2002 Mar 26 -- m 1994 Aug 08 to Daniel Dicus II; d/o J & V Palmer (cremated)

Dieckriede Edna Rose -- 1916 Dec 24 - 1992 Apr 07 -- m 1936 Jan 15 to William Dickriede; d/o J & R Singer

Dieckriede William Herman -- 1916 - 1960 -- m 1936 Jan 15 to Edna Singer

Dietz Mary Ann -- 1927 Jun 29 -
Dietz Willard R -- 1910 Jul 12 - 1980 Mar 07
Dietzel Barbara M -- 1887 Mar 02 - 1979 Jun 12

Dietzel Earl E -- 1914 Feb 04 - 2003 Jul 04 -- m 1933 Jul 22 to Ruth Wyckoff

Dietzel Effie Mae -- 1905 Dec 13 - 1963 Mar 07

Dietzel Eola B -- 1914 Aug 17 - 2002 Sep 20

Dietzel Everett -- 1922 -

Dietzel John C -- 1911 Dec 23 - 2004 Oct 04

Dietzel John E -- 1970 May 21 - 1970 May 22

Dietzel John H -- 1881 Oct 14 - 1968 Nov 27

Dietzel M Frances -- 1916 - 1991 -- Pic 1:

Pic 2:

Dietzel Mary B -- 1935 May 12 - 1985 Aug 17

Dietzel Paul T -- 1920 Oct 07 - 2002 Sep 07 -- Pic 1:

Pic 2:

Dietzel Roy J -- 1916 Jan 06 - 2002 Mar 13

Dietzel Ruth E -- 1917 Jun 05 - 1998 May 10 -- m 1933 Jul 22 to Earl Dietzel; d/o J & S Wyckoff

Dietzel Urban Edward -- 1903 Jul 22 -

Dodson Rosa -- 1892 - 1987

Dolstein Family Stone

Dolstein Henry -- 1866 Aug 20 - 1929 Nov 09 -- m 1892 May 17 to Margaret Gainer

Dolstein Margaret -- 1863 - 1928 Apr 01 -- m 1st to John Gainer; m 2nd to Henry Dolstein; d/o Frank Blank
Donley Lavern L -- 1927 -

Donley Robert Miller -- 1924 Apr 23 - 1958 Oct 30 -- Mo Arm 3 US NR WWII

Dority Howard -- 1948 Jan 20 - 2007 Sep 03 -- m 1983 Jul 08 to Renee McCoy
Dorzab Grace G -- 1890 - 1974

Dorzab Henry A -- 1886 Jul 14 - 1961 Apr 24 -- m 1911 Jun 08 to Grace Goodall

Downing Barbara Mae -- 1940 Jun 04 - 2005 Aug 18 -- m 1958 Sep 06 to Leroy Downing; d/o C & L Roll

Downing Orville Lee -- 1937 Mar 14 -

Drake Dean Wilson -- 1931 Apr 24 - 1998 Aug 18 -- m 1958 Apr 06 to Lucille Cooper

Drake Lucille M -- 1935 Oct 19 - 1996 May 02 -- m 1958 Apr 06 to Dean Drake; d/o C & M Cooper

Dugger Catherine L -- 1960 -

Dugger Spencer Lee -- 1948 Aug 30 - 1997 Nov 25 -- s/o Earl & Wanda Dugger

Dummermuth Amelia -- 1884 Jun 10 - 1958 Nov 20 -- m 1902 Aug to Charles Dummermuth; d/o L & M Pennington; Info from news obit
Dummermuth Bobbie E -- 1935 Mar 14 - 1945 Apr 19 -- s/o Ernest & Maxine Dummermuth

Dummermuth Charles E -- 1943 Jul 16 - 1992 Jan 03 -- m 1979 Jun 16 to Cynthia Mueller -- Pic 1:

Pic 2:

Dummermuth Clayton -- 1914 Nov 14 - 1948 Dec 31 s/o Charles Dummermuth; Info from news obit
Dummermuth Cynthia E -- 1952 Aug 10 - -- m 1979 Jun 16 to Charles Dummermuth; maiden name Mueller -- Pic 1:

Pic 2:

Dummermuth Ernest C -- 1904 Sep 04 - 1962 Nov 09

Dummermuth Lance Tyler -- 1983 Aug 13 - 1983 Aug 15

Dummermuth Maxine S -- 1914 Jul 11 - 2000 Dec 28

Duncan Dorothy Mabel -- 1922 Jul 08 - 2004 Nov 22 -- m Karney Hackney; m 1985 Apr 13 to Russell Duncan; d/o R & M Bowlin
Duncan Earl H -- 1911 Dec 25 - 1975 Sep 16

Duncan Gaillard -- 1884 Sep 14 - 1962 Apr 22 -- Pic 1:

Pic 2:

Duncan Matilda Kathryn -- 1895 Aug 21 - 1985 Feb 18 -- Pic 1:

Pic 2:

Duncan Nancy M -- 1876 Jul 06 - 1968 Jan 24

Duncan William A -- 1872 Jul 12 - 1951 Sep 15

Dunford John W -- 1902 - 1974 m Nell E Dunford

Dunford Nell Elizabeth -- 1904 Jun 02 - 1983 Apr 19 -- m 1929 Apr 01 to John Dunford; d/o A & D Riner

Dunham Arble Harold -- 1920 May 22 - 1962 Dec 02 -- S Sgt Co A 190 Infantry WWII -- Pic 1:

Pic 2:

Dunham Arnold Namen -- 1914 Jun 11 - 1953 Aug 25

Dunham Carmen A -- 1925 Jan 10 - 1990 Jun 23 -- m 1945 Jun 20

Dunham Carolyn S -- 1945 Nov 24 - -- m 1965 Dec 16

Dunham Charles E -- 1935 Dec 01 - 2007 Oct 07 -- m 1954 Jul 31 to Janice Kunze

Dunham Dennis E -- 1924 Aug 22 - 1990 Aug 18 -- m 1945 Jun 20 S Sgt US Army WWII

Dunham Ercel C -- 1916 Jul 01 - 1981 May 15 -- Tech 4 US Army WWII

Dunham F Marie -- 1914 Nov 03 -

Dunham Helen M -- 1937 Oct 28 - 1995 Apr 24

Dunham James Larry -- 1936 Jun 01 - 2002 Jan 31 -- m 1995 Dec 16; US Navy; SFC US Army Vietnam -- Pic 1:

Pic 2:

Pic 3:

Dunham Janice L -- 1938 Aug 08 - 2000 Dec 23 -- m 1954 Jul 31

Dunham Juanita M -- 1922 -

Dunham Lula J -- 1894 - 1972

Dunham Oma G -- 1915 - 1985

Dunham Ray -- 1896 Sep 09 - 1961 Dec 16 -- m 1915 Aug 28 to Lula Cooper

Dutton Elmer V -- 1911 Jan 15 -

Dutton Pearl Mae -- 1903 Mar 09 - 1953 Aug 17

Duvall John Allen -- 1948 Jul 24 - 1954 Feb 10

Duvall John H -- 1911 Dec 24 - 1994 Jul 01 m 1937 Sep 01

Duvall Mildred M -- 1917 Nov 04 - m 1937 Sep 01

Dyer Bonnie R -- 1935 Oct 15 - 1958 May 05 -- d/o Garland & Marguerite Dyer

Dyer Garland -- 1912 Feb 18 - 1991 Sep 03 -- m 1933 Sep 09 to Marguerite Kays

Dyer Marguerite -- 1913 Dec 23 - 2003 Feb 03 -- m 1933 Sep 09 to Garland Dyer d/o J & N Kays

Eakins Anna N Pirtle -- 1905 Oct 15 - 1981 Oct 16

Eason Sean Christopher -- 1975 Aug 06 - 2005 Jun 19 -- m 1996 Sep 07 to Mindy Parish; s/o T & S Eason

Eaton James Oliver -- 1908 Dec 29 - 1982 Apr 12 -- US AF WWII & Korea

Eaton William A -- 1906 Dec 19 - 1973 Dec 09

Eberhardt Arvel I -- 1886 Aug 14 - 1953 Jul 22

Eberhardt Charles F -- 1927 Jan 05 - -- m 1947 Jun 05

Eberhardt Frances Jane -- 1927 Mar 17 - -- maiden name Harrison

Eberhardt Gertrude Elizabeth -- 1911 Jun 30 - 2006 Apr 19

Eberhardt Lena -- 1886 Apr 04 - 1979 Jun 16

Edwards Florence M -- 1890 - 1974 -- Aged 61y

Edwards J Maxwell -- 1891 - 1992

Edwards Jerry D -- 1972 Apr 18 - 2006 Apr 30 -- s/o Steve & Betty Edwards -- Pic 1:

Pic 2:

Edwards John T -- 1970 Apr 24 - 2006 Apr 26 -- Pic 1:

Pic 2:

Eitzen Family Stone

Eitzen Ida Margaret -- 1910 May 25 - 1999 Feb 28 -- m 1998 Dec 16 to Harold Pewitt; d/o L & M Gainer

Eitzen Olivia Jane -- 1885 Sep 08 - 1952 Mar 14 -- d/o Charles & Bertha Eitzen

Eitzen Walter Julius -- 1882 Oct 13 - 1978 May 22 -- m 1950 Dec 05 to Ida Gainer Elliott

Elliott-Wood Family Stone

Elliott Albert C -- 1894 Feb 05 - 1942 Mar 01 -- Pvt 356 Inf 89th Div

Elliott Barbara Jean -- 1953 Nov 10 - 1953 Nov 10 -- d/o Leonard & Lois Elliott

Elliott Clyde Hall -- 1902 - 1971

Elliott E Elwood -- 1919 Sep 30 - 1942 May 24 -- Pvt Co F 31st Inf

Elliott Ethel K -- 1894 Mar 16 - 1989 May 25 -- Pic 1:

Pic 2:

Elliott Frances L -- 1921 Apr 21 - 2003 Dec 07

Elliott James H -- 1884 Nov 08 - 1963 Dec 12 -- m 1914 Apr 12 -- Pic 1:

Pic 2:

Elliott M Eugene -- 1931 Mar 29 - 2000 Jul 04

Elliott Mollie Dora -- 1865 Jan 08 - 1936 Aug 05 -- m 1912 to Ed Elliott; d/o W & J Wood

Elliott Patricia Ann -- 1949 Mar 14 - 2003 Jul 03 -- maiden name Scrivner

Elliott William Nelson -- 1924 Dec 29 - 1980 Jul 14 -- US Army s/o James & Ethel Elliott

Emery David Franklin -- 1906 Mar 04 - 1990 May 21 -- m 1930 May 28 to Eula Stoller; s/o F & A Emery -- Pic 1:

Pic 2:

Emery Eula Mae -- 1910 Mar 11 - 2005 Mar 05 -- m 1930 May 28 to David Emery; d/o E & A Stoller -- Pic 1:

Pic 2:

Engelbrecht Leo E -- 1917 - 1977

Engelbrecht Lucy May -- 1917 Sep 13 - 1999 Apr 27 -- m 03 Mar 1940 to Leo Engelbrecht; d/o G & S Spears

Enloe Bess P -- 1912 Aug 24 - 1998 Jun 15 -- m 1931 May 29 to James Enloe; d/o A & M Ellis

Enloe James Everett -- 1911 - 1981 Mar 29 -- m 1931 May 29 to Bess Ellis

Ernst John W -- 1907 Mar 20 - 1973 Jul 04

Fain Frank N -- 1922 Mar 30 - 2006 May 21 -- s/o Virgil & Nellie Fain

Fain Nellie F -- 1895 Feb 26 - 1985 Jan 22 -- m Virgil B Fain

Fain Virgil B -- 1887 Apr 25 - 1969 Aug 28 -- m Nellie F Fain 13 Nov 1912

Farmer Daisy Jeanette -- 1909 Jun 03 - 1980 Mar 08 -- m 1927 Nov 06 to Homer Farmer; d/o A & V Senior

Farmer Homer F -- 1899 Aug 26 - 1974 May 19 -- m 1927 Nov 06 to Jeanette Senior -- Pic 1:

Pic 2:

Farrow Jeffrey Bryan -- 1968 Mar 18 - 1987 Mar 01 -- s/o Ronald & Virginia Farrow

Fehrenbach Bernice -- 1900 Apr 07 - 1985 Jan 23

Ferguson Anne M -- 1909 Dec 21 - 1997 Jan 13

Ferguson Curtis A -- 1907 Nov 22 - 1997 Jan 16

Ferguson Elsie P -- 1905 Jul 07 - 2005 Apr 13 -- m 1926 May 08 to Sidney Ferguson; d/o H & E Meador
Ferguson Helen -- 1883 - 1964

Ferguson Sidney R -- 1902 Mar 20 - 1987 Apr 06 -- m 1926 May 08 to Elsie Meador; s/o H & A Ferguson
Ferguson Will A -- 1883 - 1960

Fischer Albert J -- 1883 - 1957

Fischer Biddie -- 1877 Oct 08 - 1960 Mar 25 -- Pic 1:

Pic 2:

Fischer Pauline R -- 1890 Dec 27 - 1970 Dec 31 -- m 1910 Jan 11 to Albert Fischer; d/o J & M Krueger

Fischer William L -- 1872 Jun 06 - 1968 Oct 02 -- Pic 1:

Pic 2:

Fletcher Hazel Lee -- 1924 Jan 27 - -- m 1943 Apr 22

Fletcher Larry Elton -- 1943 Aug 15 - -- m 1977 Jul 23

Fletcher Linda Sue -- 1945 Jun 28 - -- m 1977 Jul 23

Fletcher Robert Elton -- 1923 Aug 16 - 1998 May 06 -- m 1943 Apr 22; TEC 4 US Army WWII -- Pic 1:

Pic 2:

Flippin Anna M -- 1882 - 1948

Flippin Beulah M -- 1908 - 1985

Flippin Cecil Andrew -- 1926 Feb 08 - 1985 Jan 11 -- US Navy WWII

Flippin Cordelia -- 1888 Aug 06 - 1965 Oct 08 -- Pic 1:

Pic 2:

Flippin Gordon -- 1904 - 1971

Flippin Hazel L -- 1927 Oct 09 -

Flippin Herman F -- 1907 Jun 14 - 1987 Mar 28

Flippin Jack -- 1884 Apr 20 - 1972 Jul 10 -- Pic 1:

Pic 2:

Flippin James E -- 1912 Jun 14 - 1982 Nov 14

Flippin Marion F -- 1928 Sep 10 - 2001 Nov 11 -- m 1948 Sep 25

Flippin Tessie M -- 1905 Nov 16 - 1995 Mar 25

Flippin William S -- 1882 - 1962

Foley Betty E -- 1929 - 1985

Foley Hazel C -- 1901 Nov 21 - 1993 Nov 29

Folkert Opal F -- 1893 Jul 25 - 1976 Mar 05 -- m 1914 to John Folkert; d/o J & M Howlett

Folkerts Family Stone

Folkerts George W -- 1858 - 1940
Folkerts Gladys -- 1892 - 1931

Folkerts Lewis J -- 1902 - 1949 Aug 08 -- m 1st to Gladys Williams; m 2nd 1932 Nov 11 to Gertrude Adams

Ford Edna Elizabeth -- 1910 Aug 23 - 2006 Dec 28 -- m 1933 to Wade Ford; d/o L & L Moore
Ford Wade Hampton -- 1910 Nov 15 - 2004 Feb 11 -- Pic 1:

Pic 2:

-- s/o James & Grace Humphreys Ford; m 1933 Mar 25 to Edna Moore
Foster Dorothy J -- 1932 Nov 11 - -- m 1950 May 20

Foster James R -- 1928 Jan 09 - 1995 Jul 12 -- m 1950 May 20

Francis Cynthia -- 1949 - -- Pic 1:

Pic 2:

Francis Dale -- 1937 Sep 01 - -- m 1967 Apr 15

Francis David Barton -- 1945 Apr 11 - 2001 Mar 07 -- Pic 1:

Pic 2:

Francis Donald -- 1948 - 1967 -- Pic 1:

Pic 2:

Francis Harold C -- 1912 Jun 22 - 1979 Jun 14 -- m 1938 Oct 20 to Hester Baker

Francis Hester -- 1915 -

Francis John C -- 1870 - 1947

Francis Marilyn Kay -- 1947 Sep 09 - -- Pic 1:

Pic 2:

Francis Maude S -- 1898 Dec 10 - 1986 Apr 29 -- m 1919 Oct 01 to Wardley C Francis; d/o A & V Senior

Francis Stella R -- 1877 Sep 01 - 1958 Jul 22 -- m 1895 Dec 05 to John Francis; d/o Wilson Allee

Francis Wanda F -- 1934 Oct 06 - 2004 Feb 18 -- d/o John & Nada Allen Henson; m 1967 Apr 15 to Dale Francis

Francis Wardley C -- 1898 - 1962 Aug 08 -- m 1919 Oct 01 to Maude Senior

Frederick Don (Buddy) Jr -- 1934 Feb 10 - 1939 Feb 09
Frederick Don Sr -- 1904 - 1954
Freeman Aubrey A -- 1917 Jul 23 - 1970 Oct 11 -- h/o Katherine Miller

Freeman Katherine M -- 1920 Jun 05 - 1973 Jul 21

Friess Mable J -- 1923 -

Friess William O -- 1914 Mar 03 - 1991 Dec 25 -- 1st Sgt US Army WWII

Fuerst Family Stone

Fuerst Alma Estelle -- 1894 - 1959 -- maiden name Redmon

Fuerst Lorenz Winston -- 1881 Sep 02 - 1968 May 24

Fulks Brian E -- 1971 - 1971 -- s/o Kenneth & Linda Fulks

Fulks Carol Ann -- 1936 - 1993

Fulks Loyd -- 1937 -

Gabbert Jerry Wayne -- 1967 Jun 02 - 1977 Aug 31 -- s/o Jerry & Dorothy Gabbert

Gabert Ada L -- 1926 Sep 13 - 2001 Dec 09 -- m 1945 Mar 17 to Eugene Wingate; m 1967 Mar 04 to Charles Gabert; d/o A & S Barry

Gabert Albert L -- 1896 Dec 02 - 1968 May 06 -- m 07 Nov 1917 to Grace Green

Gabert Charles A -- 1931 -

Gabert Grace E -- 1899 - 1976 -- m 07 Nov 1917 maiden name Green

Gabert Harold E -- 1918 Sep 01 - 1973 Jun 03

Gabert Louis E -- 1940 Aug 22 - 1990 Sep 09

Gabriel Bessie C -- 1895 Sep 24 - 1981 Feb 09 -- m 1923 Mar 25 to Samuel M Gabriel; d/o J & I Oesterly -- Pic 1:

Pic 2:

Gabriel Betty G -- 1936 Nov 14 - -- m 1966 Aug 12

Gabriel Clarence E -- 1931 Jun 14 - -- m 1966 Aug 12

Gabriel Goldie Carol -- 1924 May 25 - 1973 Aug 02

Gabriel Samuel M -- 1896 - 1967 Feb 19 -- m 1923 Mar 25 to Bessie Oesterly -- Pic 1:

Pic 2:

Gailey Janice Lynn -- 1989 Mar 18 - 1989 Mar 18 -- Infant d/o David & Chon "Yin" Chong Gailey

Gainer Bill Michael -- 1940 Jun 06 - 1940 Jun 08

Gainer Jack Chaney -- 1930 Dec 11 - 1951 Jun 06 -- Mo 2nd Lt 32nd Inf 7th Div Korea PH

Gainer Leonard Dean -- 1904 Jun 28 - 1955 Dec 13

Gainer Leonard Frank -- 1882 - 1945 -- Pic 1:

Pic 2:

Gainer Maude Hughes -- 1887 - 1976 -- Pic 1:

Pic 2:

Gallagher Bernard H -- 1913 Jan 16 - 1983 Jan 04

Gallagher Elizabeth J -- 1932 Oct 02 -

Gallagher Elsie L -- 1912 Jun 13 -

Gallagher Jesse Bernard -- 1882 Mar 30 - 1958 Sep 28 -- h/o Lenora Burford

Gallagher Lenora H -- 1891 Jun 11 - 1958 Apr 07 -- m 1910 to J B Gallagher; d/o Edward Burford

Gallagher Lionel M -- 1924 Dec 14 - 1990 Mar 17 -- Sgt US Army WWII -- Pic 1:

Pic 2:

Gallagher Marciel E -- 1922 Apr 03 - 1933 Jun 29 -- d/o J B Gallagher

Galliher Katie M -- 1921 Feb 15 - 2003 Jun 26

Galliher Lelia Fay -- 1943 Jan 23 - 1960 Jan 01

Galliher William R -- 1919 Feb 05 - 2003 Dec 26 -- PFC US Army WWII -- Pic 1:

Pic 2:

Garnett Charles E -- 1894 - 1969

Garnett Deanna L -- 1963 Jul 29 - 1964 Nov 09

Garnett Dorothy Gander -- 1924 Jun 15 -

Garnett Dosia A -- 1896 Mar 10 - 1979

Garnett Luther Owen -- 1923 Nov 07 - 2001 May 09 -- PFC US Army WWII -- Pic 1:

Pic 2:

Garrett Madarine W -- 1904 May 29 - 1974 Sep 13 -- Pic 1:

Pic 2:

Garrett Ralph W -- 1902 Jan 04 - 1992 Jun 15 -- Pic 1:

Pic 2:

Garrison Edward B -- 1891 Dec 13 - 1979 May 09 -- m 1911 Dec 07 to Ida Murray

Garrison Hiram W -- 1921 - 1983

Garrison Ida K -- 1895 - 1965 -- m 07 Dec 1911

Garrison Kenneth Lee -- Died 1940 Apr 27 -- Aged 6w -- s/o Laverne Garrison -- Info from news obit
Geier Family Stone

Geier Charles -- 1883 Mar - 1967 Jan 11 -- m 1914 Feb 04 to Dollie Voight -- Pic 1:

Pic 2:

Geier Dollie -- 1890 Mar 20 - 1978 Jan 26 -- m 1914 Feb 04 to Charles Geier; d/o W & C Voight -- Pic 1:

Pic 2:

Geier Glenn Dorsey -- 1922 Mar 14 - 2005 Dec 17

-- m 1943 May to Norma Schenewerk; m 1957 Oct 27 to Lilly Knedrick; s/o C & D Geier
Geier Hattie Forrest -- 1896 Dec 27 - 1975 Jan 23 -- m 1920 Feb 22 to William Geier; d/o R & L Gray

Geier Kathryn E -- 1918 Feb 04 - 1978 Aug 03 -- m 1947 Apr 06 to Roger Geier; d/o J & E Gentz

Geier Norma Lee -- 1923 Sep 21 - 1944 Apr 25 -- m 1943 May to Glenn Geier; maiden name Schenewerk

Geier Roger W H -- 1916 Jan 26 - 1999 Sep 25 -- TEC 4 US Army WWII -- Pic 1:

Pic 2:

Geier William John -- 1888 - 1940 Dec 11 -- m 1920 Feb 22 to Hattie Gray

Gensler David -- 1955 Jul 19 - 1978 Nov 23

Gensler Joseph William -- 1978 Jul 06 - 1990 Sep 05

Gensler Kenneth P -- 1957 Nov 10 - 2006 Aug 21 -- s/o Harry & Martha Gensler

Gentry Betty -- 1934 - 1980 -- m 1960 Sep 08 to Herman Gentry; maiden name Flippin

Gentry Herman E -- 1920 Oct 29 - 2000 Aug 12 -- m 1960 Sep 08 to Betty Flippin

George B Ruth -- 1904 Apr 29 - 1990 Jan 06

George Carl A -- 1899 Oct 16 - 1983 Dec 17 -- m 1922 Oct 19 to Beulah Hampton

George James Franklin -- 1910 Jul 02 - 1999 Apr 17 -- m 1929 Sep 18 to Nellie Hossman

George Jesse P -- 1880 Mar 12 - 1970 Oct 01 -- Pic 1:

Pic 2:

George Joe S -- 1913 Jan 29 - 1975 Sep 15

George Mary Tuttle -- 1885 Nov 14 - 1966 Mar 02 -- Pic 1:

Pic 2:

George Nellie F -- 1907 Feb 20 - 1998 May 31 -- m 1929 Sep 18 to James George; d/o F & M Hossman

George Ruth Frances -- 1930 - 1964

George Sharon Kay -- 1947 May 13 - 2004 Sep 06 -- d/o Lee & Lottie Inman

Gerhart Anna Ruth -- 1925 Jan 22 - 1998 May 17 -- m 1945 Mar 03 -- Pic 1:

Pic 2:

Gerhart Louis Edward -- 1918 Feb 25 - 2001 Jul 02 -- h/o Virginia Lawson

Gerhart Raymond -- 1927 Apr 02 - -- m 1945 Mar 03 -- Pic 1:

Pic 2:

Gerhart Virginia -- 1919 -

Gerteis Joseph M -- 1907 Oct 30 - 1962 Sep 24

Gertz Apolis -- 1889 Jul 04 - 1980 Mar 15 -- m 1919 Oct 14 to Henry Gertz; d/o J & S Spencer

Gertz Henry -- 1889 - 1963 Mar 04 -- m 1919 Oct 14 to Apolio Gertz

Gertz Velma Nadine -- 1923 Oct 16 - 1923 Oct 19 -- d/o Henry & Apolio Gertz

Gibson Clyde -- 1866 - 1955

Gibson Maudie Mae -- 1932 - 1983

Gillilan Dean H -- 1909 -
Gillilan Margaret -- 1914 - 1974 -- m 1936 Nov 21 to Dean Gillilan
Gilmore Charlie W -- 1903 Jan 29 - 1994 Oct 18

Gilmore Helen M -- 1908 Oct 16 - 1999 Apr 06

Glenn Alferd -- 1875 Jun 19 - 1959 Apr 25

Glenn Clarence Bernard -- 1940 Nov 03 - 1964 Sep 09 -- Pic 1:

Pic 2:

Glenn Dicy Edna -- 1915 Jul 16 - 2001 Aug 02

Glenn Dorsey Lenola -- 1911 Apr 09 - 1991 Sep 10 -- m 1933 to Vera Johnson; m 1943 Dec 02 to Nellie Albin

Glenn Effie E -- 1877 Jul 31 - 1979 Jul 01

Glenn Nellie A -- 1912 -

Goff William E -- 1926 Jul 26 - 2006 Jul 19 -- m 1955 Apr 10 to Darlene Lewis

Gouge Albert O -- 1897 Sep 13 - 1984

Gouge Amelia R -- 1902 Aug 16 - 1961 Feb 02

Graff J Frank III -- 1912 Dec 26 - 1994 Mar 24

Graff Lucille K -- 1911 Aug 19 - 2003 May 28

Green Dorothy King -- 1932 Nov 25 - 2006 Jul 22 -- w/o Donald King; d/o C & W Matonya

Greenwell Rice A -- 1898 Mar 26 - 1973 Jul 10 -- Mo TEC 5 US Army WWII

Greer Opal L -- 1922 Nov 18 - 2005 Jun 28 -- m 1946 Jan 24 to William Greer; d/o R & L Dunham

Greer William H -- 1907 Aug 30 - 1995 Jul 03 -- m 1946 Jan 24 to Opal Dunham; s/o H & B Greer

Gregory Carrie E -- 1909 Sep 24 - 1995 Jul 11 -- m 1949 Apr 09 to George Gregory; d/o J & S Wise

Gregory George -- 1917 Jan 09 - 1983 Sep 30 -- m 1949 Apr 09 to Carrie Wise; PFC US Army WWII -- Pic 1:

Pic 2:

Gregory Leslie Michelle -- 1969 Sep 13 - 2003 Jan 07

Groom Family Stone

Groom A Ward -- 1921 May 12 -

Groom Alta Grace -- 1892 - 1976

Groom Betty Ruth -- 1930 Oct 20 - -- m 1948 Mar 26

Groom Elbert E -- 1902 - 1987

Groom J Ruby -- 1912 - 1962

Groom Jane E -- 1924 Mar 20 - 1993 Sep 03

Groom Kenneth A -- 1928 Dec 12 - 1928 Dec 27 -- s/o Ralph Groom

Groom Linda Sue -- 1956 Jul 31 - 1956 Jul 31

Groom Mary Beatrice -- 1904 Mar 26 - 1992 Apr 27 -- m 1st to Carl Gracy; m 2nd Ray Groom; d/o W & N Crawford

Groom Ralph Ward -- 1887 - 1935

Groom William Gray -- 1928 Apr 21 - 1994 Mar 09 -- m 1948 Mar 26

Groom William Ray -- 1889 - 1973

Grosvenor Clara M -- 1899 Jun 25 - 1977 Sep 26

Grosvenor Fillmore R -- 1896 Sep 05 - 1975 Oct 18

Grosvenor Kenneth F -- 1924 Jul 07 - 1984 Jan 01 -- YNL US Coast Guard WWII

Grotsky Carmen Rose -- 1930 Aug 18 - 2003 Dec 19 -- maiden name Stark

Gunnersau Mary Louise -- 1924 - 1983
Gunnoe William -- 1867 Apr - 1958 Nov 20 -- Info from news obit
Hackney Arch C -- 1875 - 1959

Hackney Clifford H -- 1891 May 09 - 1968 Mar 02 -- Mo Pvt Co C 11th Inf WWI -- Pic 1:

Pic 2:

Hackney Don -- 1895 -

Hackney Dorothy R -- 1922 - 2004 -- Pic 1:

Pic 2:

Hackney Ewing C -- 1907 Dec 05 - 1985 Feb 24 -- m 1931 Sep 17 to Ollie Chambers -- Pic 1:

Pic 2:

Hackney Ida -- 1887 - 1958

Hackney Janet Lee -- 1941 Dec 10 -

Hackney Karney C -- 1918 Sep 19 - 1975 Nov 03 -- m 1940 Apr 20 to Dorothy Bowlin -- Pic 1:

Pic 2:

Hackney Lucy N -- 1891 Nov 30 - 1982 Feb 22 -- m 1920 Mar 30 to Clifford Hackney; d/o E & M Medlock

Hackney Mary M -- 1916 Jan 11 -

Hackney Minnie F -- 1885 - 1957

Hackney Ollie J -- 1912 Dec 01 - 2004 Dec 02 -- m 1931 Sep 17 to Ewing Hackney; d/o G & O Chambers -- Pic 1:

Pic 2:

Hackney Samuel Hade -- 1916 Jun 01 - 1986 May 25

Hackney Seth L Jr -- 1951 May 21 -

Hackney Seth L Sr -- 1921 Aug 01 - -- m 1946 Jun 29 to Velma Jobe

Hackney Velma Pauline -- 1926 Oct 19 - 2006 May 03 -- m 1946 Jun 29 to Seth Hackney; d/o L & N Jobe

Hader Celia Edna -- 1885 May 17 - 1966 Aug 18 -- m 1st to Ed Bliss m 1912 to Elmer Hader; d/o S & M Pruitt

Hader Elmer -- 1893 - 1963

Haldiman Almeda Z -- 1901 Mar 27 - 1965 Jan 22 -- Pic 1:

Pic 2:

Haldiman Carole S -- 1935 - 1981 -- maiden name George

Haldiman Dorothy -- 1933 Feb 16 -

Haldiman Frances M -- 1892 Apr 03 - 1980 Jul 17

Haldiman Herman C -- 1877 - 1963

Haldiman Herman E -- 1900 - 1967 -- Pic 1:

Pic 2:

Haldiman James L -- 1898 Jan 01 - 1978 Feb 22 -- m 1923 Mar 11 to Jessie Cofer

Haldiman Jessie M -- 1905 Jun 11 - 1992 Apr 15 -- m 1923 Mar 11 to James Haldiman; maiden name Cofer

Haldiman John F -- 1929 Nov 08 - 1982 Aug 21

Haldiman Madeline R -- 1927 - 1982

Haldiman Oscar M -- 1891 Aug 19 - 1965 Aug 24

Haldiman R Louise -- 1930 Jun 13 - 2001 Jul 18 -- m 1949 Aug 14

Haldiman Richard W -- 1928 Jul 13 - -- m 1949 Aug 14

Haldiman Theodore M -- 1932 Mar 01 - 1964 Mar 23 -- Mo Sgt 7th Signal Co Korea -- Pic 1:

Pic 2:

Hale Francis A -- 1908 Jan 22 - 1981 Jan 22 -- d/o Alexander & Mattie Hale
Hale Sallie Belle -- 1860 Nov 11 - 1936 Mar 18 -- m 1878 Nov 09 to T F Hale

Hale Thomas F -- 1857 - 1932 Mar 02

Hall Beuford -- 1891 - 1971 -- m 1919 Feb 20 to Edna Rohrbach

Hall Cletus E -- 1926 Dec 31 - 2005 Nov 06 -- Pic 1:

Pic 2:

-- m 1950 May 12 to Margaret Hohman; s/o E & B Hall; Pvt US Army WWII
Hall Edna Cornelia -- 1893 Dec 29 - 1995 Mar 22 -- m 1919 Feb 20 to Beuford Hall; d/o J & R Rohrbach

Hall Leland R -- 1932 Jan 07 - 1990 Jun 29 -- CPL US Army Korea -- Pic 1:

Pic 2:

Pic 3:

Hall Winona M -- 1930 Jan 02 - -- Pic 1:

Pic 2:

Hallford Alfred W -- 1922 Dec 19 - 1988 Oct 27 -- m 1945 Nov 23 to Wanda Schuster

Hallford Alpha Gertrude -- 1892 Feb 22 - 1962 Sep 24 -- m 1919 Mar 05 to Hugh Hallford; d/o A & V Senior

Hallford Hugh V -- 1890 - 1969

Hallford Lena -- 1895 Sep 23 - 1997 Oct 18 -- m 1912 Jun 30 to Leonard Hallford; d/o J & A Hall

Hallford Leonard -- 1892 - 1964

Hallford Wanda L -- 1925 Feb 08 - 2007 Apr 22 -- m 1945 Nov 23 to Alfred Hallford; d/o B & L Schuster

Hamilton Delmer L -- 1901 Jul 10 - 1979 May 26 -- m 1924 Apr 02 to Melba Smith; F3 US Navy -- Pic 1:

Pic 2:

Hamilton Leroy D -- 1949 Jun 30 - 1990 Jun 15

Hamilton Lorene M -- 1913 Dec 12 - 1990 Dec 21 -- maiden name Martin

Hamilton Melba H -- 1909 Aug 15 - 1995 May 18 -- m 1924 Apr 02 to Delmer Hamilton; d/o M & E Smith

Hamlin Family Stone

Hamlin Addison -- 1888 Nov 29 - 1958 Apr 26 -- m 1912 May 12 to Julia Korsen

Hamlin Julia Ann -- 1890 - 1971

Hamlin Mary -- 1914 - 1936 Dec 01
Handley Kell T -- No dates listed

Handley Roy Ashburn -- 1888 Dec 06 - 1970 Aug 06 -- m 1918 Jan 01 to Kell Teel

Handley Roy L -- 1931 Sep 02 - 1978 Aug 28 -- s/o George & Ada Wear; Cpl US Army Korea -- Pic 1:

Pic 2:

Hanstine Doris J -- 1938 Nov 12 -

Hanstine James C -- 1961 Dec 13 - 2004 Oct 28

Hanstine Ronald L -- 1937 Jun 21 -

Harder August F -- 1888 - 1964

Harder Leona Margaret -- 1886 Jan 09 - 1954 Jul 11 -- m 1921 May 28 to August Harder; d/o H & A Kirchner

Harlan Bernice E -- 1921 - 1986 -- Pic 1:

Pic 2:

Harlan Charles -- 1877 - 1958 Apr 27 -- m 1921 Apr 09 to Sadie Uffelman

Harlan Charles F -- 1904 Mar 22 - 1972 Oct 15 -- m 1953 Nov 23 to Geneva Kratzchmar

Harlan Delores Irene -- 1905 Aug 05 - 1996 Feb 07 -- d/o Charles & Bertha Harlan
Harlan Florence M -- 1882 - 1965

Harlan Geneva A -- 1918 Jun 30 - 1995 May 16 -- m 1953 Nov 23 to Charles Harlan d/o B & P Kratzchmar (cremated)

Harlan Irene -- 1905 Aug 05 - 1996 Feb 07

Harlan Max Eugene -- 1916 Jun 07 - 1971 Jun 08 -- Mo Tech 5 81st Eng CMBT Bn WWII -- Pic 1:

Pic 2:

Pic 3:

Harlan Sadie -- 1898 Jul 28 - 1981 Jun 18 -- m 1921 Apr 09 to Charles Harlan; d/o J & H Uffelman

Harlan Wilbur G -- 1878 - 1953

Harmon Brenda A -- 1950 Nov 09 - -- m 1981 Apr 17

Harmon Charles E -- 1899 Nov 13 - 1979 Dec 08 -- m 1921 Jan 16 to Clara Bennett

Harmon Clara M -- 1901 Mar 31 - 1998 Apr 16 -- m 1921 Jan 16 to C E Harmon; d/o J & C Bennett

Harmon Evelyn M -- 1925 - 1981

Harmon Randal Gail -- 1953 Nov 30 - 1973 Nov 21

Harmon Vernon Dale -- 1922 Jun 19 - 2004 Nov 17 -- m 1981 Apr 17

Harrington Leslie Lee -- 1962 Apr 09 - 1962 Apr 09 -- s/o Leslie Harrington

Harrington Ricky -- 1960 Dec 23 - 1961 Mar 05 -- s/o Leslie Harrington

Harrington Ronnie L -- 1964 Jul 05 - 1988 Jan 23

Harris Amelia C -- 1860 - 1948

Harris Annabelle -- 1935 Apr 13 - 1983 Feb 28 -- m 1953 Apr 19 to William Harris d/o R & M Crawford

Harris Elmer R -- 1889 Feb 13 - 1977 Aug 23 -- m 1908 Dec 22 to Jennie W Odneal

Harris Forrest L -- 1902 Aug 10 - 1968 Sep 30

Harris Jennie W -- 1888 Jul 08 - 1975 Jun 18 -- m 1908 Dec 22 to Elmer R Harris; maiden name Odneal

Harris John T -- 1852 - 1931

Harris Pearl E -- 1904 Aug 28 - 1991 Nov 26

Harris Raymond E -- 1939 Apr 24 - 1962 Aug 21 -- SN US Navy -- Pic 1:

Pic 2:

Pic 3:

Harris Ruby Lee -- 1936 Jan 31 - 2006 Feb 02 -- m 1955 Aug 13 to Raymond Harris; d/o M & E Bloomer

Harris William D -- 1930 Jun 11 - -- m 1953 Apr 19 to Annabelle Crawford

Hart Elbert E -- 1902 - 1986

Hart Vera M -- 1903 - 1947

Hatfield Alfred J -- 1922 Sep 15 - 1995 Dec 19 -- S Sgt US Army WWII Korea

Hatfield Edna M -- 1881 Jul 06 - 1949 Dec 16 -- m 1904 Oct 15 to Raymond Hatfield; d/o G & S Scott

Hatfield Raymond S -- 1875 - 1958 Sep 14 -- m 1904 Sep 15 to Edna Scott

Hays Family Stone

Hays Betty F -- 1939 Feb 18 - -- m 1955 Dec 15

Hays Cecil Leroy -- 1932 Nov 13 - -- m 1955 Jun 09

Hays Cecil Roy -- 1904 Jun 22 - 1950 Jan 23 -- m 1927 Feb 26 to Gladys Hall

Hays Frances Sue -- 1937 Jan 13 - -- m 1955 Jun 09

Hays Jerry Wayne -- 1951 Apr 08 - 1951 Jul 15

Hays Letha B -- 1896 - 1960 -- Pic 1:

Pic 2:

Hays M Josephine -- 1911 Oct 22 - 1991 Oct 07 -- m 1928 Jan 19 to Thomas Hays; d/o C & C Miley -- Pic 1:

Pic 2:

Hays Quincy B -- 1896 May 16 - 1966 Jun 03 -- Pvt Co H 20 Infantry WWI -- Pic 1:

Pic 2:

Pic 3:

Hays Russell D -- 1937 Feb 16 - -- m 1955 Dec 15

Hays Thomas W -- 1906 Nov 09 - 1996 Mar 29 -- Pic 1:

Pic 2:

Heather Eliza K -- 1888 Mar 09 -

Heather Ellis -- 1888 Mar 04 - 1966 Sep 07

Heather Granville Otto -- 1917 Dec 11 - 1954 May 11

Heather Mary L -- 1916 Apr 03 - 1957 Mar 10

Heather Nancy Jane -- 1888 Sep 27 - 1930 Sep 02 -- m 1904 Sep 04 to Fod Heather d/o W & A Bonney

Heather Thomas Garrett (Fod) -- 1878 Mar 23 - 1950 Jun 03 -- m 1904 Sep to Nancy Bonney

Heflin Fred L -- 1892 - 1973 -- m Vernie E Helfin

Heflin Grace -- 1890 Sep 17 - 1972 Nov 10

Heflin Vernie Ellen -- 1892 Aug 17 - 1952 May 09 -- m Fred L Helfin

Hegerfeld Paul Wm Christian -- 1925 Jul 06 - 2006 May 02 -- m 1945 Nov 29 to Maxine Fahlsing; m 1994 Nov 29 to Dorothy Heim

Heidbreder Clara M -- 1882 May 11 - 1957 Oct 08

Heidbreder Elsie Wells -- 1905 - 1960

Heidbreder Frederick W -- 1867 Feb 25 - 1944 Sep 24

Heidel Albert William -- 1868 Jul 07 - 1944 Mar 14 -- m 1896 Mar 11 to Margaret Lehr -- Pic 1:

Pic 2:

Heidel Margaret E -- 1873 - 1960 -- Pic 1:

Pic 2:

Henderson Lily L -- 1952 Apr 13 - 1986 Jul 20

Henderson Pettice C -- 1916 Jan 07 - 1999 Aug 14

Henderson Velma R -- 1924 Oct 28 - -- maiden name Reed

Hendrex Otis C -- 1878 - 1965

Hendrickson Herbert F -- 1906 Dec 07 - 1998 Dec 19

Hendrickson Juanita Garnett -- 1923 Jun 05 - 1995 Nov 18

Henry Joseph A -- 1881 - 1965

Henry Margaret Rea -- 1918 Jan 15 - 2001 Sep 04

Henry Martha Pearle -- 1885 Mar 31 - 1970 Feb 08 -- m 1903 Dec 05 to Joseph Henry; d/o J & J Milburn

Henson Ida B -- 1902 Apr 08 - 1989 Dec 13

Henson Lacy E -- 1903 Jul 04 - 1971 Jan 12

Herfurth Frank A -- 1879 Sep 08 - 1977 Apr 30

Herfurth Nancy S -- 1891 - 1972

Herndon Henry Otto -- 1883 Nov 23 - 1955 Sep 22

Herndon Pearl R -- 1883 - 1963

Herzig Hattie B -- 1875 Mar 21 - 1960 Sep 05

Herzig John F -- 1883 Jan 07 - 1961 Mar 01

Heyssel Family Stone

Heyssel Fred E E -- 1881 May 16 - 1942 Jul 05

Heyssel Phoebe M -- 1889 Jun 28 - 1947 Feb 07

Hibdon John Andrew -- 1924 May 21 - 2002 Jul 29 -- m 1945 Jul 24; Mom M3 US Navy WWII Korea -- Pic 1:

Pic 2:

Hibdon Patricia E -- 1927 - 1982 -- m 1945 Jul 24

Hickam Barbara A -- 1894 - 1987 -- Pic 1:

Pic 2:

Hickam Mabel G -- 1914 Oct 02 - 1993 May 12

Hickam William O -- 1892 - 1986 -- Pic 1:

Pic 2:

Hickcox Family Stone

Hickcox Clara S -- 1885 Sep 06 - 1970 Nov 19

Hickcox Elmer B -- 1883 - 1959

Hickcox Genevive -- 1900 - 1985

Hickcox Malcolm E -- 1886 Jan 15 - 1963 Jun 12

Hickman Carolyn E -- 1947 Mar 16 -

Hickman Earl E -- 1940 Sep 15 - 2001 Oct 19

Hickman Kathryn F -- 1943 Jul 14 -

Hickman Richard -- 1940 Apr 27 - 2005 Mar 04 -- m 1983 Jul 09 to Kathryn Hodges; s/o R & I Hickman

Hicks Thomas William -- 1982 Sep 02 - 1991 Sep 06

Higgins Charley -- 1891 Jan 26 - 1979 Apr 22 -- m 1924 to Clara Koch; m 1950 to Daisy Bunch

Higgins Earl Rogers -- 1925 May 02 - 1987 Nov 12 -- Sgt US Army WWII

Higgins F LaVerne -- 1937 Jul 21 - 2001 May 04

Higgins Herbert -- 1897 - 1963

Higgins M Ruth -- 1896 - 1986

Higgins Margaret Ellen -- 1865 Nov 16 - 1950 Oct 05

Higgins Martin Luther -- 1890 Jul 15 - 1983 Mar 27 -- m 1917 Feb 18 to Ruth Hughes

Higgins Richard Darwin -- 1929 Nov 04 - 1981 Jan 24 -- Cpl US Army

Higgins Samuel F -- 1867 - 1949 Aug 26

Hill Bernice S -- 1922 Apr 06 - -- m 1947 Mar 22

Hill Bryse R -- 1890 - 1963

Hill Chester G -- 1910 May 01 - 1989 Jun 19 -- m 1932 Sep 11 to Jewell Lachner

Hill Claude T -- 1909 Aug 19 - 1975 Oct 05

Hill Cora J -- 1893 Apr 10 - 1953 May 20 -- m 1911 Apr 12 to Bryse Hilll; maiden name Irey

Hill Elsie V -- 1921 Jun 27 - 2003 Mar 05

Hill Eugene B -- 1916 Feb 27 - 1983 Oct 23 -- m 1939 Mar 22 to Elsie Ziehmer

Hill Frances G -- 1913 Feb 21 - 2004 Feb 20 -- d/o John & Bertha Workover Huning; m 1934 Feb 24 to Irvin Hill

Hill Hugh D -- 1901 Jun 03 - 1979 Mar 06 -- m 1948 to Vera Quincy

Hill Irvin H -- 1911 Mar 21 - 1992 Sep 10 -- m 1934 Feb 24

Hill John Frank -- 1870 Oct 09 - 1955 Feb 01 -- h/o Laura Bishop

Hill L Guy -- 1907 Oct 07 - 1993 Jun 25 -- Pic 1:

Pic 2:

Hill Laura -- 1892 Mar 02 - 1981 Mar 30 -- w/o John Hill; d/o J & B Bishop

Hill Leslie C -- 1922 Dec 03 - 1944 Feb 12 -- Mo 395th Combat Crew

Hill Letha -- 1907 Jun 27 - 1984 May 31 -- m 25 Feb 1931 -- Pic 1:

Pic 2:

Hill M Jewell -- 1911 Mar 09 - 1986 Jul 27 -- m 1932 Sep 11 to Chester Hill; d/o H & M Lachner

Hill Martha E -- 1908 Apr 11 - 1995 Feb 17

Hill Paul I -- 1920 Jun 14 - 2002 Oct 03 -- m 1947 Mar 22; S Sgt US Army WWII -- Pic 1:

Pic 2:

Hill Vera M -- 1914 Sep 09 - 2001 Feb 24 -- m 1946 Oct 04 to Hugh Hill; d/o R & M Quincy

Hilligoss Lois E -- 1907 Oct 17 - 1995 Mar 20 -- m 1929 Jul 06 to Robert Hilligoss; d/o C & M Aldrich

Hilligoss Robert R -- 1905 - 1986 Dec 22 -- m 1929 Jul 06 to Lois Aldrich

Hinken Olen I -- 1908 Jan 21 - 1996 Feb 24

Hinken Zelma M -- 1912 Oct 20 - 2004 Jul 11

Hise Myrtle M -- 1932 Feb 22 - 1999 Dec 19 -- m 1955 Mar 22

Hise S T -- 1925 Nov 22 - 1998 Sep 20 -- m 1955 Mar 22

Hodges Hettie -- 1920 Nov 20 - 1942 Sep 21

Hodges Kathryn F -- 1943 Jul 14 -
Hodges Ralph N -- 1923 Apr 01 - 1981 Oct 04

Hoffman Eugene H -- 1907 Apr 12 - 1992 Nov 03

Hoffman Wilma N -- 1907 Jun 29 - 1978 Jul 30

Hofstetter Ira V -- 1906 - 1974

Hofstetter Lela K -- 1908 - 1990

Hogge Family Stone

Hogge Gail Beth -- 1947 Aug 14 -

Hohman Mabel D -- 1900 - 1976 -- m 27 Mar 1921

Hohman Ronnie Dean -- 1961 Apr 03 - 1961 Oct 01

Hohman Rudolph W -- 1895 Nov 06 - 1977 Jun 17 -- m 1921 Mar 27; PFC US Army WWI -- Pic 1:

Pic 2:

Holland Sophia -- 1879 Aug 05 - 1972 Aug 11

Hollering Alma -- 1921 Oct 10 -

Hollering Earl -- 1923 Jan 16 - 2004 May 08

Holloway Belle -- 1857 - 1944

Hoose Charles Leonard -- 1928 Jan 28 - 1993 Dec 24 -- S1 US Navy WWII

Hoose Clarence E -- 1920 Sep 03 - 1956 Oct 13 -- TEC 4 US Army WWII -- Pic 1:

Pic 2:

Hoose Helen L -- 1921 -

Hoose Ida M -- 1908 - 1987

Hoose Leonard Carl -- 1906 Feb 26 - 1970 Mar 31 -- m 1927 Aug 20 to Ida Heather

Hoskins Marjorie H -- 1918 Jan 24 - 1995 Dec 03 -- Pic 1:

Pic 2:

Hoskins Roy R -- 1913 May 10 - 1993 Apr 09 -- Pic 1:

Pic 2:

Hoskins Wade B -- 1959 - 1988

Hossman Carl M -- 1916 Dec 12 - 1974 Oct 09 -- Sgt US Army -- Pic 1:

Pic 2:

Hossman Dessie E -- 1895 Sep 21 - 1992 Dec 11

-- m 1921 Jan 19 to Otto A Hossman; m 1971 Dec 05 to Scott Kelling; maiden name Murphy
Hossman Dixie D -- 1924 Apr 24 - 2003 Mar 12

Hossman Frank A -- 1865 Jan 08 - 1951 Oct 24

Hossman Fred -- 1877 Jan 07 - 1969 Apr 08

Hossman Laura W L -- 1870 - 1960

Hossman Mary -- 1887 - 1959 Jan 30

Hossman Otto A -- 1892 Jan 19 - 1959 Sep 11 -- Mo Pvt Co D 11th Inf WWI PH -- Pic 1:

Pic 2:

Houser Family Stone

Houser Bernard F -- 1891 Dec 13 - 1973 Sep 27 -- Mo Wagoner US Army WWI

Houser Martha M -- 1900 - 1976

Howard Family Stone

Howard Benjamin Franklin -- 1872 Dec 15 - 1940 Mar 29 -- m 1903 Dec 02 to Nellie Parkes

Howard Connie V -- 1947 Apr 30 -

Howard Docia O -- 1871 - 1965

Howard Elma M -- 1914 Oct 31 - 2002 Jan 10 -- m 1930 Dec 22 to Virgil M Howard -- Pic 1:

Pic 2:

Howard Elva -- 1873 - 1941

Howard Emma Ida -- 1868 May 05 - 1955 Nov 23 -- d/o James & Mary Howard

Howard Hughie Golder -- 1874 Jan 28 - 1961 Aug 07 -- m 1900 Oct to Elva Atkinson

Howard James Andrew Jackson -- 1843 May 29 - 1933 Jan 18 -- m 1868 Jan 12 to Mary Crum

Howard James Jackson -- 1871 Jan 12 - 1943 Jan 18 -- m 1901 Jun 12 to Docia Howard

Howard Kenneth F -- 1942 Aug 03 - 2001 Mar 23 -- Cpl US Marine Corps -- Pic 1:

Pic 2:

Howard Leon D -- 1929 Nov 12 - 1990 Apr 20

Howard Marvin G -- 1926 Aug 20 - 1981 Jan 16 -- US Army WWII -- Pic 1:

Pic 2:

Howard Mary Elizabeth -- 1843 Feb 01 - 1933 Feb 17 -- m 1868 Jan 12 to James Howard; d/o A & L Crum

Howard Maryland D -- 1926 Jul 06 - 2000 Nov 21 -- U S Army WWII

Howard Maxine E -- 1912 Jan 30 - 2004 Dec 13 -- m 1930 Nov 01 to Willard Howard; d/o J & T Zimmerman

Howard Nellie L -- 1873 Aug 12 - 1947 Jan 11 -- m 1903 Dec 02 to B F Howard; d/o W & J Parkes

Howard Virgil M -- 1906 Feb 04 - 1983 Oct 21 -- m 22 Dec 1930 -- Pic 1:

Pic 2:

Howard Willard E -- 1911 Apr 09 - 1998 Jan 27 -- m 1930 Nov 01 to Maxine Zimmerman; s/o C & M Howard

Howe Alex -- 1878 - 1956

Howe Annie Lanora -- 1880 Feb 15 - 1946 Oct 31

Howe Hattie -- 1882 - 1973

Howe Henry -- 1880 - 1965

Howlett John S -- 1871 Apr 02 - 1936 May 11

Howlett Martha B -- 1872 Aug 04 - 1954 Jan 12

Huddleston Dova -- 1893 Jul 02 - 1981 Feb 14 -- Pic 1:

Pic 2:

Huddleston Ora -- 1905 Sep 28 - 1970 Nov 16 -- Pic 1:

Pic 2:

Hudson A S -- 1853 - 1931 -- Pic 1:

Pic 2:

Huning Family Stone

Huning Bertha Elizabeth -- 1887 Jan 26 - 1975 Feb 27 -- m 1912 Feb 15 to John Huning; d/o A & C Workover

Huning John Herman -- 1880 Dec 27 - 1936 Dec 27 -- m 1912 Feb 15 to Bertha Workover

Huning Lena M -- 1891 Dec 29 - 1977 Jan 10

Huning Lucille Catherine -- 1915 Jul 23 - 2004 Feb 05 -- d/o John & Bertha Workover Huning

Huning William F -- 1881 Feb 05 - 1959 Apr 16

Hunter Minnie Roberts -- 1894 May 03 - 1988 Jul 26

Hunziker Benjamin -- 1901 Jan 03 - 1992 Oct 20 -- Pvt US Army WWII -- Pic 1:

Pic 2:

Hunziker Bertha L -- 1897 Jun 29 - 1990 Dec 01

Hunziker John -- 1893 Jan 31 - 1980 Dec 01 -- Pic 1:

Pic 2:

Hunziker Mary K -- 1875 Nov 23 - 1960 Mar 23 -- Pic 1:

Pic 2:

Hunziker Norman W -- 1902 Jan 17 - 1969 Dec 14

Hunziker Truman P -- 1911 Apr 06 - 1954 Oct 14 -- PFC 301 Base Unit AAF WWII

Hunziker Virginia J -- 1907 Aug 16 - 1967 Aug 30

Hunziker William -- 1873 Aug 08 - 1958 Aug 22 -- Pic 1:

Pic 2:

Hurt Emmette Clayton -- 1901 Jan 03 - 1970 Apr 16 -- m 1944 Sep 03 to Mary Heisler -- Pic 1:

Pic 2:

Hurt Evelyn June -- 1934 Feb 21 -

Hurt Joel V -- 1930 Apr 01 - 1996 Oct 20 -- Cpl US Army Korea -- Pic 1:

Pic 2:

Hurt Mary V -- 1906 Jul 11 - 1982 Oct 28 -- m 1944 Sep 03 to Emmette Hurt; d/o L & A Strickfaden -- Pic 1:

Pic 2:

Hutchison Alfred H -- 1880 Jun 20 - 1975 Feb 03 -- m 1904 Aug to Lena Boillot

Hutchison Elizabeth Evelyn -- 1919 Dec 20 - 1991 Dec 03 -- m 1939 Jan 22 to Floyd Hutchison; d/o G & P Shoemaker

Hutchison Elmer E -- 1904 Feb 15 - 1970 Sep 14 -- m 1925 to Eula Jackson -- Pic 1:

Pic 2:

Hutchison Eula A -- 1906 - -- Pic 1:

Pic 2:

Hutchison Floyd L -- 1915 Aug 29 - 1972 Nov 04 -- m 22 Jan 1939; PFC US Marine Corps WWII Korea -- Pic 1:

Pic 2:

Hutchison Jerry R -- 1928 Aug 15 - 1997 Dec 08

Hutchison John Stephen -- 1955 Feb 09 - 1975 Aug 22

Hutchison Lena A -- 1876 Nov 19 - 1956 May 06 -- m 1904 Aug to Alfred Hutchison; maiden name Boillot

Hutsell LuVon -- 1909 - 1959

Hutsell Michael Von -- 1963 Apr 09 - 1963 May 15

Ikard Faye Milburn -- 1902 Jul 09 - 1999 Jul 17 -- m 1934 Oct 13 to Samuel Ikard; d/o C & S Milburn

Ikard Samuel Byron -- 1903 - 1986

Iliff Bertha Elizabeth -- 1903 Feb 06 - 1965 Jan 26 -- m 1939 Aug 18 to Elmer Iliff; d/o A & P Phillips

Iliff Elmer Rev D -- 1907 - 1988 Feb 16 -- m 1965 Dec 23 to Pearl Pogue Hickman

Iliff Pearl E -- 1912 Aug 20 - 1992 Jun 09 -- m 1st to Emmitt Hickman; m 2nd 1965 Dec 23 to Elmer Iliff; d/o G & R Pogue

Inman Benjamin L -- 1922 Jul 17 - 1998 Oct 30 -- m 1946 Sep 08 to Florence Meister; Pvt US Army WWII -- Pic 1:

Pic 2:

Inman Florence -- 1916 - 1990 -- m 1946 Sep 08 to Benjamin Inman; maiden name Meister

Inman Hazel R -- 1926 - m 1947 Aug 29 to John Inman

Inman John L -- 1924 Apr 20 - 2001 Sep 09 -- Pic 1:

Pic 2:

-- m 1947 Aug 29 to Hazel Stark; US Army Air Force; MSG US Army WWII
Inman Lee J -- 1921 Mar 16 - 1999 Aug 09 -- PFC US Army Air Force WWII -- Pic 1:

Pic 2:

Inman Lottie E -- 1924 Jul 02 - 1996 Mar 08

Isenschmid Edward J -- 1903 Jul 26 - 1991 Sep 10 -- m 1925 Jul 26 to Justina Elliott

Isenschmid Justina Thelma -- 1902 May 14 - 1998 Apr 29 -- m 1925 Jul 26 to Edward Isenschmid; d/o A & C Elliott

Jackson Anna B -- 1887 Jan 08 - 1988 Jul 30 -- m 1909 Jan 27 to Wilbur Jackson; d/o T & M Jobe

Jackson Cephas H -- 1906 Mar 14 - 1984 May 01 -- Pic 1:

Pic 2:

Jackson Clarence E -- 1891 Aug 25 - 1958 Oct 03

Jackson Dennis Ray -- 1947 Aug 23 - 1947 Aug 24 -- s/o Roger & Peggy Jackson

Jackson Emma R -- 1891 Feb 28 - 1959 Feb 03

Jackson Florence E -- 1896 May 03 - 1972 Jun 09

Jackson Ida Mae -- 1921 Jun 09 - 1998 Apr 29 -- PFC US Army WWII -- Pic 1:

Pic 2:

Jackson Margaret L -- 1928 Aug 18 - 1996 Jan 24 -- d/o Joe & Josephine Melton (cremated)

Jackson Roger C -- 1923 Nov 14 - 1992 May 11 -- s/o Walter & Emma Jackson; Sgt US Army WWII

Jackson Walter -- 1887 Aug 24 - 1964 Sep 29

Jackson Wilber Russell -- 1879 Jul 02 - 1968 Feb 16 -- m 1909 Jan 27 to Annabell Jobe

Jahn Family Stone

Jahn Anna Pauline -- 1891 - 1966 Sep 05 -- m 1913 Aug 10 to Frank Jahn d/o F & M Boeckhaus -- Pic 1:

Pic 2:

Jahn Frank H -- 1891 - 1972 -- Pic 1:

Pic 2:

Jahn Mellie Meta -- 1886 Mar 25 - 1971 Aug 14 -- m 1909 Apr 14 to William Jahn; d/o F & L Rosenmiller

Jahn William G -- 1883 Apr 03 - 1957 Apr 26 -- m 1909 Apr 14 to Mellie Rosenmiller

Jefferson Esther F -- 1931 Oct 18 - 1992 Mar 17

Jenkins Eunice I -- 1934 Aug 03 - 2003 Apr 07 -- Pic 1:

Pic 2:

Jenkins George W -- 1930 Jul 03 - 1994 Jan 05 -- Pic 1:

Pic 2:

Jenkins Harold L -- 1918 Oct 06 - -- m 1948 Jun 28

Jenkins John Franklin -- 1920 Jul 28 - 1981 Apr 15 -- m 1947 Jan 07 to Iola Humphrey; TEC 5 US Army WWII -- Pic 1:

Pic 2:

Pic 3:

Jenkins Lily I -- 1922 Jan 25 - 2001 Jan 16 -- m 1947 Jan 07 to John Jenkins; d/o P & M Humphrey -- Pic 1:

Pic 2:

Jenkins Marian Earlene -- 1922 Aug 14 - 1999 May 03 -- m 1948 Jun 28 to Harold Jenkins

Jenkins Michael A -- 1998 Feb 20 - 1998 Jul 02

Jennison Denver -- 1898 - 1961 -- Pic 1:

Pic 2:

Jennison Stella -- 1897 Nov 28 - 1979 Jun -- m 1915 Oct 04 to Denver Jennison; d/o J & B Allee -- Pic 1:

Pic 2:

Jobe Belle -- 1884 Dec 26 - 1956 May 22 -- Pic 1:

Pic 2:

Jobe Blanche O -- 1900 Sep 08 - 1979 Feb 06 -- m 1924 Dec 24 to Harry Jobe d/o J & E Ratcliff

Jobe Charlzey Elmer -- 1880 Jul 28 - 1961 Dec 02 -- m 1919 Jan 10 to Mildred Vaughan

Jobe Dora L -- 1888 Feb 01 - 1985 Feb 01

Jobe Edward L -- 1913 - 1972

Jobe Edward N -- 1887 Mar 17 - 1963 Aug 25 -- Pic 1:

Pic 2:

Jobe Harry B -- 1898 - 1976 Sep 27 -- m 1924 Dec 24 to Blanche Ratcliff

Jobe Herschel L -- 1946 Mar 23 - 1946 Mar 25

Jobe Icle A -- 1918 -

Jobe Irene -- 1889 - 1966

Jobe J Edward -- 1886 Jan 10 - 1947 Jun 12

Jobe Joseph A -- 1869 May 23 - 1928 May 30

Jobe Julia Ann -- 1887 Apr 15 - 1967 Nov 04 -- m 1914 May 03 to William Jobe; d/o W & P Vaughn

Jobe Laura Stella -- 1874 Aug 27 - 1966 Jan 12 -- m 1893 Nov 09 to Joseph Jobe

Jobe Lloyd Kenneth -- 1922 Jun 13 - 1968 May 16 -- m 1940 Dec 24 to Icle Milligan

Jobe Lucille Loretta -- 1915 Feb 17 - 1961 Jan 20 -- m 1934 Mar 24 to Edward Jobe Jr; maiden name Relford; adopted by Jerry Renfrow

Jobe Luther M -- 1890 - 1957

Jobe M Mildred -- 1878 Jun 02 - 1953 Jan 17 -- m 1909 Jan 10 to Elmer Jobe; d/o W & P Vaughan

Jobe Sylvia L -- 1909 Nov 18 - 2005 Sep 24 -- d/o Chalzey & Mahala Jobe

Jobe William Wallace -- 1888 Jan 09 - 1966 Oct 14 -- m 1914 May 03 to Julia Vaughn

Johnson Carl E Sr -- 1918 Oct 01 - 2007 May 27 -- m 1946 to Ruth Coleman
Johnson Colleen Teresa -- 1955 Jan 04 - 2006 Jan 27

Johnson E Walker -- 1889 - 1972 -- m Maude R Johnson -- Pic 1:

Pic 2:

Johnson John M -- 1963 Jan 24 - 1986 Oct 12

Johnson Leon R -- 1922 - 1974

Johnson Mary -- 1920 Sep 28 - 2007 Sep 12 -- m 1941 Jul 04 to Ward Johnson; d/o V & M Scott -- Pic 1:

Pic 2:

Pic 3:

Johnson Maude B -- 1890 - 1973 -- m E Walker Johnson -- Pic 1:

Pic 2:

Johnson Sheila D -- 1953 Apr 17 - 1978 Jun 20

Johnson Timothy W -- 1960 Oct 06 - 1989 Dec 12

Johnson Ward -- 1922 May 22 - 1999 Aug 14 -- m 1941 Jul 04 -- Pic 1:

Pic 2:

Pic 3:

Jones Nancy L -- 1882 May 29 - 1982 Jun 21 -- m 1903 Feb to William Jones; d/o P & S Suggs

Jones William -- 1881 - 1962 Dec 23 -- m 1903 Feb to Nancy Suggs

Jones Winston R -- 1904 Dec 05 - 1993 Sep 06 -- s/o of William & Nancy Jones

Judd Emma L -- 1888 Aug 25 - 1971 Nov 10

Kaiser John William -- 1882 Jul 22 - 1955 Feb 10

Kaiser Laura L -- 1895 Jun 04 - 1988 Jun 22

Kasserman Mildred A -- 1900 Aug 18 - 1946 Mar 15 -- m 1922 Oct to John Kasserman; d/o J & C Thompson

Katschman Forrest Dean -- 1940 Mar 28 - 1940 Apr 02 -- s/o Pete Katschman

Katschman Forrest L -- 1910 Jul 15 - 1996 Oct 21 -- m 1941 Mar 22 to Iloine Dorman; PFC U S Army WWII -- Pic 1:

Pic 2:

Katschman Mary Iloine -- 1916 Aug 22 - 1988 Dec 19 -- m 1941 Mar 22 to Forest Katschman

Kay Flossie M -- 1896 Sep 11 - 1995 Apr 03 -- m 1914 to John Kay; m 1951 to T W Howard; d/o C & E Edwards

Kay John P -- 1888 - 1948

Keck Ephraim -- 1878 Jul 04 - 1960 Sep 02

Keck Fannie Atkinson -- 1876 Jan 03 - 1954 Nov 25

Keeran Donna Joan -- 1929 -

Keeran Mary V -- 1881 - 1969

Keeran Walter W -- 1875 - 1957

Keller Barbara Ann -- 1965 Jan 21 -

Kelly James -- 1756 Aug - 1843 Jan 03
-- m 1782 Feb 07 to Nancy Caperton; Rev War Veteran (Memorial Stone - original burial site unknown)
Kelly Nancy Agnes -- ca 1763 - 1843 Aug 01 -- m 1782 Feb 07 to James Kelly (Memorial Stone - original burial site unknown)
Kelly Patrick James -- 1945 Jun 13 - 1995 Feb 09

Kempfer Anna E -- 1888 - 1948

Kempfer John J -- 1882 - 1974

Kerr Hannah M -- 1914 Oct 04 - 1984 Apr 10

Kerr John H -- 1908 Aug 28 - 1988 Jun 26

Key Millie Ethel -- 1932 Feb 09 - 1995 Jul 09 -- w/o Donald Key; maiden name Bailey

Kilgore Eugene H -- 1923 Oct 05 - 2000 Oct 11 -- S1 US Navy WWII -- Pic 1:

Pic 2:

Kilgore Gary A -- 1954 Jun 15 - 1972 Dec 15

Kilgore Veatrice S -- 1921 Apr 22 -

Kinder Byron W -- 1913 Aug 08 - 1986 Mar 23 -- Pic 1:

Pic 2:

Kinder Ellen L -- 1914 Dec 28 - -- Pic 1:

Pic 2:

King Cecil L -- 1926 Jan 11 - 2000 Oct 23 -- m 1946 Sep 06; S1 US Navy WWII -- Pic 1:

Pic 2:

King Debra Cheryl -- 1954 Sep 05 - 2001 Nov 30

King Velma J -- 1928 Mar 15 - -- m 1946 Sep 06

Kirchhoff Amanda -- 1876 - 1938

Kirchhoff John Henry -- 1867 Dec 09 - 1958 Aug 07 -- m 1896 Feb 13 to Amanda Peters

Kirchhoff Lloyd -- 1899 - 1974

Kirchhoff Mae Ella -- 1898 Dec 19 - 1980 Nov 07 -- m 1921 Sep 04 to Lloyd Kirchoff; d/o M & N Wood

Kirchoff Alonzo J -- 1914 Apr 26 - 1982 Apr 19 -- Pvt US Army WWII

Kirchoff Fritzie James -- 1908 Feb 10 - 1979 Oct 20 -- s/o William & Nora Kirchoff -- Info from news obit
Kirchoff Geneva -- 1917 Mar 13 - 1968 May 18 -- m 1946 to Alonzo Kirchoff; d/o B & B King

Kirchoff Leonard -- 1902 - 1975 Nov 03 -- m 1924 Apr 20
Kirchoff Lon J -- 1914 - 1982 -- Cem rec states Bowlin marker
Kirchoff Nora M -- 1885 Sep 02 - 1941 Apr 12 -- w/o Will Kirchoff; d/o J & M Murray

Kirchoff Ruth -- 1903 Apr 08 - 1992 Nov 15 -- m 1924 Apr 24 to Leonard Kirchoff; d/o M & N Wood
Kirchoff Wiliam -- 1880 - 1948

Kiso Ethel M -- 1923 Jan 18 - -- Pic 1:

Pic 2:

Kiso Jerry F -- 1940 Nov 01 - -- Pic 1:

Pic 2:

Kiso Oscar L -- 1915 Sep 28 - 1980 Aug 03 -- Pic 1:

Pic 2:

Kitchen Sallie -- 1900 Jan 17 - 1964 Nov 18

Kleinhammer Letta M -- 1892 Jul 11 - 1987 Dec 16

Knaup John -- 1946 Mar 07 -

Knaup John D -- 1971 Jan 09 - 2005 May 05 -- s/o John & Linda Knaup

Knaup Linda R -- 1949 Nov 05 -

Knierim Ethel A -- 1898 Jan 06 - 1982 Feb 02

Knierim George G -- 1887 Dec 07 - 1959 Aug 22

Knierim John P -- 1888 - 1969 -- Pic 1:

Pic 2:

Knierim Louise -- 1893 - 1989 -- Pic 1:

Pic 2:

Knipker Anna Helena -- 1897 Jan 16 - 1970 Dec 27 -- Pic 1:

Pic 2:

Knipker Carl M -- 1897 Nov 02 - 1984 Feb 02 -- Pic 1:

Pic 2:

Knogge Henry Reinhold -- 1899 Dec 12 - 1973 Nov 26 -- m 1927 Oct 28 to Blanche Hutchison -- Pic 1:

Pic 2:

Knogge Nellie Blanche H -- 1906 Aug 18 - 1984 Aug 11 -- m 1927 to Henry Knogge; d/o J & V Hutchison -- Pic 1:

Pic 2:

Kocher Albert H -- 1901 - 1973

Kocher Bertha L -- 1897 - 1948

Kocher Emma -- 1867 - 1947

Kocher Fred -- 1862 May 22 - 1951 Dec 29

Koeppel Fred M -- 1904 - 1975 -- Pvt US Army WWII -- Pic 1:

Pic 2:

Koeppel Mary M -- 1907 Oct 17 - 1995 Oct 31 -- m 1928 to W T Osborn Jr; m 1944 Dec 06 to Fred Koeppel; d/o F & Bybee

Korte Betty Ann -- 1934 Jan 14 - 2001 Apr 19 -- Pic 1:

Pic 2:

Korte Walter L -- 1935 Sep 23 - 1999 Jun 16 -- Pic 1:

Pic 2:

Kratzchmar Bruno H -- 1877 Dec 17 - 1954 Mar 25

Kratzchmar Harry D -- 1911 Feb 14 - 1987 Sep 16

Kratzchmar Pauline -- 1885 Oct 23 - 1970 Aug 21

Kratzer Family Stone

Kratzer Bertha Louise -- 1871 Jan 16 - 1935 Dec 27

Kratzer Charles -- 1871 Aug 28 - 1956 May 19

Kratzer Lillian M -- 1910 Sep 20 - 1984 Jan 13 -- m 1930 Aug 02 to William Kratzer; d/o Henry Drewelis Sr

Kratzer William B -- 1905 - 1973 -- m 1930 Aug 02 to Lillian Drewelis

Kunze Ida M -- 1910 -

Kunze Walter H -- 1903 - 1976

Kurz Jacob R -- 1889 - 1964

Kusgen Tasha Jeanette -- 1981 Nov 09 - 1982 Jan 07

Lachner Anna Leona -- 1909 Apr 10 - 1986 May 31

Lademann Anna M -- 1919 Jan 06 - 1999 May 03 -- Pic 1:

Pic 2:

Pic 3:

Lademann Arthur O -- 1916 Nov 22 - 1990 Nov 29 -- Pic 1:

Pic 2:

Pic 3:

Lademann Catherine M -- 1926 Nov 29 - 2000 Dec 15 -- m 1944 Dec 02

Lademann Harold A -- 1923 Mar 24 - 1990 Jun 29 -- m 1944 Dec 02

Lademann Iola M -- 1923 Mar 28 -

Lademann Larry Dale -- 1947 Feb 24 - 2007 Jun 28 -- s/o Lawrence & Iola Lademann
Lademann Lawrence (Pope) -- 1917 Nov 23 - 1962 Apr 18 -- M/Sgt Co G 11th Inf BSM WWI PH & OLC -- Pic 1:

Pic 2:

Lademann Oscar M -- 1911 Jan 23 - 1991 Mar 30 -- m 1940 Jan 23 to Wilma Albin

Lademann Wilma N -- 1915 Mar 07 - 1993 Jan 21 -- m 1940 Jan 23 to Oscar Lademann; d/o W & S Albin

Laflen Family Stone

Laflen Margaret L -- 1919 - 1946

Lahman Dorothy J -- 1946 Mar 31 - 1998 Jun 09 -- m 1964 Aug 29

Lahman Joseph E -- 1942 Oct 10 - -- m 1964 Aug 29

Lahman Lester C -- 1908 Sep 05 - 1979 Oct 23 -- m 1931 Aug 29 to Velora Criger

Lahman Velora -- 1912 Oct 04 - 1985 Nov 04 -- m 1931 Aug 29 to Lester Lahman; d/o S & E Criger

Lamar Diana Sue -- 1951 Feb 19 - 1951 Sep 08

Lamar Dorothy M -- 1914 Sep 27 - 1985 Dec 17 -- m 02 Jun 1944 to William C Lamar

Lamar William G -- 1907 Aug 29 - 1973 Nov 15 -- m 02 Jun 1944 to Dorothy M Lamar

Lamm Clarence Dean -- 1920 Oct 15 - 2002 Sep 19

Lamm Wilma Lee -- 1924 Mar 01 - 1985 Apr 30

Lander Nancy -- 1905 Jul 12 - -- w/o J A Lander; maiden name Carpenter
Langkop Clara M -- 1875 - 1959

Langkop John H -- 1916 Oct 06 - 1999 Jul 12 -- m 1939 Nov 16

Langkop John H Sr -- 1884 Aug 06 - 1964 Mar 13

Langkop Marian M -- 1917 Sep 02 - 2000 Jun 22 -- m 1939 Nov 16

Langkop Martin H -- 1879 - 1959

Langkop Nora L -- 1877 Jul 03 - 1960 Aug 02

Laue Lucille -- 1909 Aug 02 - 1998 Apr 16 -- m 1927 Dec 07 to Willard Laue; d/o J & M Ackers

Laue Willard A -- 1907 - 1946

LaVallee Nancy Jo -- 1951 Oct 02 - 1957 May 27

Lawrence Marvin Lee -- 1906 Jun 27 - 1936 Sep 11 -- m 1933 Oct 03 to Katherine Meyer

Lawson Amanda Jane -- 1859 Sep 13 - 1952 Aug 22

Lawson Cora E -- 1881 Jan 25 - 1952 Nov 16 -- m 1903 to John Lawson; d/o G & S Dale

Lawson Corine -- 1913 Apr 21 - 1996 Aug 28 -- m 1935 Apr 21 to Norman Lawson; d/o W & A Gentzsch -- Info from news obit
Lawson James E -- 1948 Feb 17 - 2003 Jun 15 -- m 1971 Sep 04 -- Pic 1:

Pic 2:

Lawson John W -- 1880 - 1935

Lawson Katie E -- 1887 - 1978

Lawson Lana K -- 1950 Mar 02 - -- m 1971 Sep 04

Lawson Mary -- 1921 Feb 27 - 1997 Dec 16

Lawson Raymond -- 1916 Nov 24 -

Lawson Sidney E -- 1887 - 1972

Lee Vivian Irene -- 1913 Sep 27 - 1997 Jan 25 -- d/o Leonard & Laura Moore

Lehman Ada B -- 1900 - 1981

Lehman Austin H -- 1907 Jun 24 - 1994 Sep 27 -- PFC US Army WWII -- Pic 1:

Pic 2:

Lehman John -- 1901 - 1942

Lehman John S -- 1922 Aug 17 - -- m 1946 Sep 09

Lehman Mildred C -- 1911 Aug 27 - 1990 Jul 18

Lehman Ruby M -- 1923 Jun 10 - 2000 Oct 04 -- m 1946 Sep 09

Lehr George E -- 1867 Dec 04 - 1950 Sep 03

Less Albert C -- 1900 May 08 - 1956 May 28 -- Mo Pvt US Marine Corps WWI -- Pic 1:

Pic 2:

Less Bessie J -- 1908 Jul 28 - 1988 Dec 16 -- m 1927 Nov 22 to Albert Less; d/o I & M Brizendine

Less Jacob H -- 1922 May 11 - 1993 Mar 15 -- 2nd Lt US Army WWII

Less Neva M -- 1927 Jun 22 - 2002 Nov 05

Lewis Kaden Marcus -- 2005 Mar 18 - 2005 Mar 28

Linhardt Doris J -- 1940 Nov 24 -

Linhardt Jimmy W -- 1938 Nov 03 -

Linhardt Phyllis E -- 1946 Apr 17 -

Livingston Florence V -- 1920 Sep 17 - 1983 Jan 13 -- w/o Grayson Livingston; d/o W & Evans

Livingston Gladys M Hays -- 1909 - 1987

Livingston M Sharlene -- 1943 Apr 02 -

Livingston Robert M -- 1942 Nov 06 - 1996 Sep 23
Logan Infant -- 1949 Oct 17 - 1949 Oct 20 -- twin son of Fern Logan -- Info from news obit
Logsdon Earlene R -- 1926 Sep 06 - 1999 Dec 31

Logsdon Lee R -- 1926 May 03 -

Longan Family Stone

Longan C Maud -- 1882 Nov 25 - 1971 Jan 06

Longan Clara -- 1884 - 1964

Longan Eugene Howard -- 1905 Sep 12 - 1980 Mar 04

Longan John E -- 1878 Sep 14 - 1938 Mar 07

Longan Ruth E -- 1907 Aug 24 - 1995 Sep 16

Lord Cleason D -- 1917 Jun 04 - 1988 Apr 12

Lord Laura M -- 1916 Aug 06 -

Lott Pearl Kimball -- 1904 Aug 04 - 1950 Nov 22

Loughridge Lula J -- 1895 May 28 - 1963 Aug 15 -- Pic 1:

Pic 2:

Loughridge Mitchell J -- 1894 Oct 29 - 1978 Aug 06 -- Wagr US Army WWI -- Pic 1:

Pic 2:

Lovick Helena E -- 1918 Apr 06 - 2003 Sep 08

Lovick Janice L -- 1935 Feb 14 - 2006 Aug 15 -- m 1980 Nov 08 to Lewis Lovick Jr; m 1952 June 08 to Jackie Farmer; d/o D & E Fortner

Lovick Lewis W Jr -- 1935 Mar 07 - 2002 Nov 12 -- m 1980 Nov 08 to Janice Fortner Farmer -- Pic 1:

Pic 2:

Lovick Lewis W Sr -- 1913 Jul 16 -

Lovick Lydia B -- 1889 Apr 17 - 1980 Apr 30

Lovick William A -- 1887 Feb 18 - 1960 Feb 28 -- Mo Pvt Co L 365th Inf WWI -- Pic 1:

Pic 2:

Lowrey Virginia Calhoun -- 1849 - 1934

Lucas James Henry -- 1922 Jul 18 - 1973 Sep 11 -- Mo TEC 5 US Navy WWII PH

Lucas John James -- 1889 Apr 20 - 1960 Oct 15 -- Mo PFC Co C 130th Machine Gun Bn WWI

Luce Cecil H -- 1927 Mar 21 - 1978 Dec 28 -- PFC US Army WWII

Luce Claire M -- 1884 Dec 23 - 1975 Jan 16

Luce Doris Magnolia -- 1907 - 1973

Luce Gale Lavene -- 1924 Jun 19 - 1951 May 26

Luce Jennie V -- 1887 - 1945

Luce Lee -- 1866 - 1945

Luce Lloyd T -- 1905 May 31 - 1969 Oct 12 -- Pic 1:

Pic 2:

Luce Mildred W -- 1907 Feb 06 - 1993 May 23 -- Pic 1:

Pic 2:

Luce Theodore N -- 1869 Dec 29 - 1964 Jul 18

Luce William G -- 1871 - 1951

Luper Edna M -- 1938 Apr 24 -

Lusher Ruby M -- 1951 Mar 23 - 2004 Apr 27

MacDonnell Emma Ryker -- 1865 - 1948

MacDonnell John C -- 1904 - 1974

MacDonnell Thomas Meade (Rev) -- 1858 Aug 29 - 1946 Feb 11

Maharg Eva E -- 1906 Nov 29 - 1994 Apr 16 -- m 1924 Mar 29 to James Maharg; d/o J & E Stone

Maharg James Dewey -- 1903 - 1969 Nov 25 -- m 1924 Mar 29 to Eva Stone

Maharg Ora M -- 1890 - 1976

Maier Frieda J -- 1913 Oct 30 - 1984 Apr 10 -- m 1933 Dec 12 to Joseph Maier; d/o P & A Flessa

Maier Joseph William -- 1904 Dec 19 - 1983 Jun 05 -- m 1933 Dec 12 to Frieda Flessa; Mo Cpl US Marine Corps Reg WWI

Maier Lex William -- 1939 Sep 25 - 1957 Jul 28 -- s/o Joe Maier

Mallinson Hayley Dawn -- 1995 Aug 12 - -- d/o Billy & Patty Mallinson

Maltby Marion -- 1887 - 1975

Maples Arthur R -- 1914 Sep 23 - 1982 Sep 29

Maples Gladys P -- 1914 Sep 18 - 1992 Jan 12

Marriott Mary Francis -- 1868 Jan 18 - 1943 Oct 09 -- m 1910 Feb 13 to J W Marriott; maiden name Luce

Marshall Family Stone

Marshall Elsie J -- 1869 Jan 12 - 1960 Apr 02

Marshall Frank W -- 1900 Nov 09 - 1977 May 10

Marshall George K -- 1904 Feb 01 - 1981 Jun 15

Marshall Henry E -- 1902 Apr 14 - 1960 Oct 16

Marshall Lloyd -- 1896 May 06 - 1980 Feb 20

Marshall Robert W -- 1870 Feb 12 - 1956 May 26

Martie John E -- 1864 Dec 24 - 1950 Jan 07 -- m 1888 Jan 08 to Minnie Scherff

Martie Minnie N -- 1865 Sep 08 - 1950 Mar 30 -- m 1888 Jan 08 to John Martie; d/o W & M Scherff

Martin Curtis J -- 1918 Aug 10 - 2001 Sep 21 -- m 1947 Feb 24 to Melva Winebrenner; Sgt US Army WWII -- Pic 1:

Pic 2:

Martin Dana -- 1975 May 19 - 1975 May 19 -- d/o Robert Martin

Martin Deanna -- 1975 May 19 - 1975 May 19 -- d/o Robert Martin

Martin Edna W -- 1893 Dec 31 - 1966 Aug 13

Martin Edwin A -- 1923 Oct 05 - 1998 Dec 18 -- m 1943 Oct 09 to Ruby Bowlin; S Sgt US Army WWII -- Pic 1:

Pic 2:

Martin Harvey A -- 1868 - 1965 -- m Margaret Martin

Martin Jesse W -- 1891 Sep 03 - 1979 Oct 16 -- m 30 Jul 1913

Martin Lorene -- 1911 Mar 04 - 2005 Jan 29 -- m 1929 Dec 26 to Ralph Martin; d/o E & M Jobe
Martin Margaret -- 1868 Mar 03 - 1957 Jan 22 -- m 1889 Mar 03 to Harvey Martin; d/o D & M Crawford

Martin Melva D -- 1926 Nov 13 - 2005 Jun 30 -- m 1947 Feb 24 to Curtis Martin; maiden name Winebrenner

Martin Ralph D -- 1902 Jun 28 - 1979 Feb 24 -- m 1929 Dec 26 to Lorene Jobe
Martin Ruby Lee -- 1925 Dec 10 - -- m 1943 Oct 09 to Edwin Martin; maiden name Bowlin

Marvel Anderson -- 1901 Feb 08 -
Mason Carl R -- 1925 Apr 09 - 1997 Jan 17 -- m 1946 May 19 to Lucille Hackney; PFC US Army WWII -- Pic 1:

Pic 2:

Mason Elizabeth Ann -- 1953 Oct 28 - 1953 Oct 28 -- d/o Finley Mason -- Info from news obit
Mason Lucille C -- 1924 Sep 12 - -- m 1946 May 19 to Carl Mason; maiden name Hackney

Masters Chester Arthur -- 1900 - 1964 Sep 25 -- m 1923 Jan 14 to Emma Wittig

Masters Emma W -- 1904 Nov 11 - 1992 Dec 12 -- m 1923 Jan 14 to Chester Masters; d/o J & A Wittig

Mather Ruby E -- 1947 May 03 - 2002 May 15

Mathews Amy Moore -- 1948 Mar 22 - 1995 Dec 22

Matthews Clarence Ray -- 1953 Jun 18 -

Matthews Everett A -- 1901 Aug 30 - 1986 Sep 12

Matthews Leonard A -- 1874 Feb 21 - 1970 Jul 06 -- Pic 1:

Pic 2:

Matthews Maud R -- 1881 Jul 30 - 1963 Feb 25 -- Pic 1:

Pic 2:

Maupin Charles Herbert -- 1897 - 1962

Maupin John Wesley -- 1868 Mar 01 - 1955 Oct 23 -- m 1889 to Balzora Crum

Maupin Nannie L -- 1913 -

Maupin Urcell Lee -- 1901 Apr 22 - 1968 Aug 06 -- m 1943 Jun 08 to Nannie Ford

McBride Durward F -- 1921 May 26 - 1985 Sep 11 -- m 1946 Aug 16; T Sgt US Army WWII -- Pic 1:

Pic 2:

Pic 3:

McBride Rosemary -- 1930 May 01 - 1991 Aug 27 -- m 1946 Aug 16 -- Pic 1:

Pic 2:

McBroom Family Stone

McBroom Neil Pat -- 1932 Jul 11 - 2001 Jan 30 -- Sgt US Army Korea

McBroom Peggy Jean -- 1932 Aug 28 - 1956 Mar 06 -- m 1952 May 06 to Neil McBroom; d/o H & M Blaylock

McCammet Nancy E -- 1854 Mar 05 - 1950 Feb 12 -- m 1874 Oct 22 to Oscar McCammet; d/o C & M Moad

McCollester Family Stone

McCollester Esther J -- 1915 Apr 02 - 1998 Jul 11 -- w/o Evan McCollester

McCollester Ettie Lenora -- 1870 Jul 07 - 1951 Nov 22 -- m George A McCollester; maiden name Ansell

McCollester Evan A -- 1895 Nov 21 - 1982 Aug 18 -- Pvt US Army WWI

McCollester George Alfred -- 1870 Mar 13 - 1955 Dec 26 -- m Ettie L Ansell

McCollester Glover C -- 1897 Apr 16 - 1968 Jan 04 -- Mo Pvt US Marine Corps WWI

McCollester Infant -- 1900 Mar 10 - 1900 Apr 10 -- s/o George & Ettie McCollester

McCollester Larkin C -- 1908 Feb 16 - 1986 Nov 18 -- TEC 5 US Army WWII

McCollester Mary L -- 1902 Jun 12 - 1991 Oct 20

McCoy Lee Garland Jr -- 1937 Feb 22 - 1972 Nov 30

McDaniel A Marion -- 1916 May 22 - 1986 Jan 03 -- Maiden name Fulks

McDaniel Alma Ruth -- 1893 - 1982

McDaniel Andrew Ellard -- 1891 - 1974

McDaniel Anna Lee -- 1893 - 1976

McDaniel Barbara Alice -- 1902 Aug 24 - 1987 Sep 27

McDaniel Charles W Sr -- 1897 Feb 07 - 1965 Sep 21 -- Cpl Us Marine Corps Res WWI

McDaniel Eda L -- 1896 - 1959

McDaniel Henry S -- 1884 Jul 30 - 1983 Jun 16 -- Pic 1:

Pic 2:

McDaniel Jesse Floyd -- 1890 Feb 18 - 1966 Feb 12

McDaniel Jessie Edith -- 1891 Feb 08 - 1950 Jun 07

McDaniel Katherine Irene -- 1915 Sep 12 - 1998 Jan 15

McDaniel Lashley Treeman -- 1886 Jul 12 - 1961 May 08 -- m 1909 Feb 06 to Jessie Willett

McDaniel Lyndon D -- 1911 May 11 -