Moniteau County Missouri



Defoe Cemetery listings
---
Directions to cemetery: Located approximately 7 miles south of California. Take Hwy 87 south from California for approximately 4 miles. Turn left (east) on Rt T and go approximately 3 miles. Turn left (actually also east) on Clifty Spring Rd. Turn left (north) on Defoe cemetery road and the cemetery will be on the left.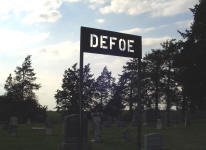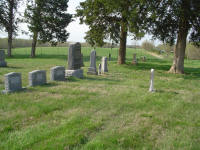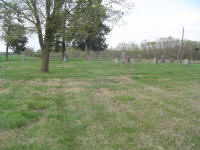 Above, the cemetery sign at the entrance. Middle and right, general views of the cemetery.
All photos and photos linked to from this page are Copyright © 1997- Alan Sparks - www.moniteau.net, All Rights Reserved.
Please do not use them on other websites (including Find-a-grave) without permission.
The Defoe cemetery is well maintained with repairs made to several broken stones in 2007. There are 96 known burials with the earliest being Thomas Ingram in 1847 and the latest in 2003. Alan Sparks visited this cemetery and took pictures April 26, 2009.
Located here: 38.541704,-92.524858
---
[A] [B] [C] [D] [F] [G] [H] [I] [K] [L] [M] [S] [V] [W]

---
* = Calculated Date based on age; d/o = daughter of; s/o = son of; w/o = wife of; m = married
Info from death certificate = the information is from a death certificate and no stone was found for the individual.
Info from news obit = the information is from a newspaper obituary and no stone was found for the individual.

= Click for picture

= Click for death certificate
Last Name, First Name, Middle, Birth Date, Death Date, Comments

Unknown Stone -- Appears to be a base or slab/mount for another stone -- Pic 1:


A

Alldredge Herbert D -- 1888 Oct * - 1889 Feb 02 -- Aged 3m 10d -- s/o S G & Mattie Allridge -- Pic 1:

Pic 2:


Alldredge Mattie -- 1854 Apr * - 1889 Feb 22 -- Aged 34y 10m 18d -- w/o S G Alldredge -- Pic 1:

Pic 2:


Alldredge Rachel -- 1814 - 1889 Apr 27 -- Aged 74y 8m -- Mother of Samuel Allredge; w/o Joseph Alldredge; maiden name Garner


Alldredge Samuel G -- 1857 Jul 27 - 1936 Sep 03 -- s/o Joseph & Rachel Garner Allredge




B

Berry Catherine H -- 1834 Oct 01 - 1870 Apr 21 -- w/o L C Berry -- Pic 1:

Pic 2:


Berry John -- 1859 Oct 23 - 1870 Nov 26 -- s/o L C & C H Berry -- Pic 1:

Pic 2:


Berry William M -- 1862 Jul 20 - 1873 Aug 05 -- s/o John & Elvar Berry -- Pic 1:

Pic 2:



Birdsong Mary J -- 1838 Nov 29 - 1858 Dec 11 -- w/o James Birdsong -- Pic 1:

Pic 2:



Burlingame Asa -- 1911 Aug 02 - 1942 Sep 20 -- 1st Lt US Army


Burlingame Cora E -- 1878 May 06 - 1959 Apr 08 -- w/o Hubert Burlingame; maiden name Defoe


Burlingame Emma Cornelia -- 1913 Apr 04 - 1913 Sep 03 -- d/o Hubert & Cora Defoe Burlingame -- Info from news obit

Burlingame Hubert Gwinn -- 1871 Jul 30 - 1944 Jun 16 -- Pic 1:

Pic 2:


-- Co B 6 Mo Vol Inf Spanish American War; s/o Asa & Elizabeth Elliott Burlingame
Burlingame Ruth E -- 1906 Jun 20 - 1929 Mar 21 -- d/o Hubert & Cora Defoe Burlingame




Bynon Ann Margaret -- 1805 Jun - 1893 Mar 14 -- Pic 1:

Pic 2:


Bynon William H -- 1838 - 1909 Dec 11 -- h/o Emily McClay -- Pic 1:

Pic 2:

C

Calhoun Annie May -- 1855 - 1856 -- Pic 1:

Pic 2:


Calhoun Jane -- 1826 Apr 05 - 1911 Aug 08 -- d/o David & Anna Morgan Bynon -- Pic 1:

Pic 2:



Calhoun John C -- 1859 Dec 31 - 1877 Sep 27 -- Pic 1:

Pic 2:



Campbell W J -- 1856 - 1905



Clark Elizabeth -- 1799 - 1869 -- Newer stone


Clark Elizabeth R -- 1844 Mar 24 - 1925 Jun 09 -- d/o John & Hannah James Harding; w/o Oscar Clark



Clark John -- 1794 - 1857 -- Newer stone


Clark Oscar -- 1837 Jul 09 - 1872 Nov 01 -- Stone says buried in United Baptist Cemetery High Point


Clark William Sylvester -- 1866 Jan 14 - 1956 Mar 13 -- s/o Oscar & Elizabeth Harden Clark




Coffman Cleburn Eugene -- 1910 Oct 07 - 1969 Nov 12



Cornell Julia -- 1824 Dec 26 - 1876 Dec 09 -- w/o H M Cornell -- Pic 1:

Pic 2:

D

Defoe Ella -- 1867 Dec 25 - 1870 Nov 22 -- d/o W B & E Defoe -- Pic 1:

Pic 2:


Defoe Emily C -- 1842 Mar 20 - 1911 Jun 20 -- d/o Charles & Eliza Drammon Hart; w/o William Defoe -- Pic 1:

Pic 2:



Defoe George Stansell D.D.S. -- 1885 * - 1911 Sep 29 -- Aged 26y -- s/o William Defoe -- Pic 1:

Pic 2:


Defoe James R F -- 1845 Oct 14 - 1862 Jul 30 -- Pic 1:

Pic 2:


Defoe John -- 1798 Dec 05 - 1852 Jan 21 -- Pic 1:

Pic 2:

Defoe Matilda -- 1807 Mar 01 - 1856 Jul 06 -- Pic 1:

Pic 2:


Defoe Onesime M Dr -- 1883 Dec 06 - 1905 Nov 20 -- Pic 1:

Pic 2:


Defoe William B -- 1838 Nov 11 - 1930 May 28 -- Pic 1:

Pic 2:

F

Frauchiger Andrew -- 1861 Mar 11 - 1940 Apr 12 -- Death date 1940 May 11 on death certificate



Frauchiger Anna Elizabeth -- 1859 Apr 27 - 1932 Nov 15 -- w/o Andrew Frauchiger




G

Gilbert Samuel P -- 1845 * - 1879 Mar 17 -- Aged 34y -- Pic 1:

Pic 2:



Groom Elizabeth -- 1855 Sep 29 - 1905 Aug 06 -- w/o Valentine Groom


Groom Emily -- 1821 Aug 22 - 1892 Dec 18 -- w/o William Groom -- Pic 1:

Pic 2:


Groom Valentine -- 1850 Oct 02 - 1922 Jan 13 -- s/o William & Emily Busch Groom



Groom William R -- 1814 Nov 20 - 1894 May 14 -- Stone nearly illegible except for dates -- Pic 1:

Pic 2:

H

Hardy Susan W -- 1828 Oct 25 - 1857 Jan 21 -- w/o Rev J M Hardy -- Pic 1:

Pic 2:

Henley Infant -- 1919 Dec 24 - 1919 Dec 26 -- d/o M O & Sophia Kubli Henley -- Info from death certificate


Hickcox Elma Ethel -- 1905 Jul 27 - 1922 Mar 13 -- d/o Elmer & Maude Bybee Hickcox



Hickcox Henry A -- 1875 Dec 13 - 1875 Dec 13 -- s/o J F & M E Hickcox -- Pic 1:

Pic 2:


Hickcox John F -- 1853 Mar 10 - 1895 Mar 01


Hickcox Mary Ella -- 1856 Jan 08 - 1950 Apr 27 -- w/o John Hickcox d/o Andrew & Adaline Knightly Hart



Hickcox Maude -- 1886 Aug 19 - 1925 Aug 06 -- d/o Lee & Margaret Sappington Bybee; w/o E B Hickcox



Hickcox Walter C -- 1888 Oct 05 - 1892 Jan 31 -- s/o J F & M E Hickcox -- Pic 1:

Pic 2:



Hickox Arristten -- 1858 May 20 - 1863 Jun 20 -- Pic 1:

Pic 2:

Hickox Henry C -- 1819 Oct 31 - 1892 Jan 24


Hickox Mary M -- 1827 Jul 07 - 1872 Sep 21 -- w/o H C Hickcox -- Pic 1:

Pic 2:

Hickox Mary E -- 1851 Jan 15 - 1863 Mar 14 -- Pic 1:

Pic 2:


Hickox Truman -- 1860 Mar 04 - 1863 Apr 02 -- Pic 1:

Pic 2:

Hickox Virginia H -- 1819 Dec 02 - 1872 Aug 09 -- Pic 1:

Pic 2:

Pic 3:

I

Ingram Thomas -- 1804 * - 1847 Jul 22 -- Aged 43y 7m 9d -- Home made stone nearly illegible -- Pic 1:

Pic 2:



Irelan Robert Lore -- 1924 Jan 09 - 1979 Dec 01 -- m 1946 Sep 20 to Lola Schaffner S2 U S Navy WWII -- Pic 1:

Pic 2:

Kocher Bonnie Jean -- 1928 Oct 28 - 1929 Jan 09 -- Aged 2m 12d -- d/o Oscar & Lucy Stoner Kocher -- Info from news obit & death certificate


Kubli Bertha -- 1910 Oct 26 - 1973 Sep 11 -- m 1929 Apr 15 to Truman Kubli


Kubli Ferdinand Frederick -- 1855 Nov 12 - 1937 Jan 19 -- s/o Manuel & Martha Early Kubli; m 1883 Oct 02 to Rosa Aeschlemann



Kubli Gene B -- 1932 Aug 25 - 2000 Feb 17 -- m 1971 Dec to Sharon Prior; Cpl US Army Korea -- Pic 1:

Pic 2:


Kubli Rosa -- 1860 Jul 30 - 1949 Feb 12 -- m 1883 Oct 02 to Ferdinand Kubli; d/o Chris Aeschelman



Kubli Truman E -- 1908 Mar 27 - 1983 Mar 03 -- m 1929 Apr 15 to Bertha Schwab



L

Link Jacob -- 1822 Oct 10 - 1892 Jan 31 -- Pic 1:

Pic 2:



Lockard John W -- 1831 Sep 19 - 1854 Sep 07 -- Pic 1:

Pic 2:


Lockart Mary -- 1797 * - 1872 Sep 02 -- Aged Abt 75y -- Pic 1:

Pic 2:

Pic 3:


Lockart William -- 1792 * - 1872 Feb 01 -- Aged Abt 80y -- Pic 1:

Pic 2:

M

McBroom Anna Laura -- 1878 Jul 18 - 1950 May 01 -- w/o Charles McBroom; d/o John & Mary Ella Hickcox



McBroom Charles Hale -- 1871 Oct 07 - 1947 Jun 05 -- s/o Peter & Mary McBroom; m 1905 May 31 to Anna Hickcox


S

Schaffner Florence -- 1867 - 1963


Schaffner George -- 1863 Aug 27 - 1948 Jan 19 -- s/o Barney & Lyda Spindler Schaffner



Schaffner George Bradley -- 1922 Sep 10 - 1988 Aug 21


Schaffner Hubbard -- 1895 Jan 29 - 1966 Feb 28 -- m 1921 Jun 03 to Dora Bradley; Missouri S 1 USNR WWI


Schaffner Walter Raymond -- 1892 Dec 21 - 1923 Feb 21 -- Pic 1:

Pic 2:


-- s/o George & Florence Clark Schaffner; South Dakota, Cook I M Corp
Schaffner Zora -- 1902 Jan 13 - 1988 Apr 06 -- w/o E B Schaffner

Swenehart George Robert -- 1877 Feb 19 - 1956 Feb 11

-- s/o George & Fannie Ogden Swenehart m 1916 May 17 to Nancy Vaughan -- Info from news obit & death certificate
Swenehart Nancy E -- 1880 Aug 16 - 1937 Oct 27 -- w/o Robert Swenehart; d/o William & Pernecia Vaughan -- Info from death certificate


Sybert Catherine -- 1847 Oct 08 - 1917 Mar 10 -- m 1870 Nov 03 to Michael Sybert; maiden name Groom



Sybert Hattie -- 1877 Nov * - 1900 Feb 23 -- Aged 22y 4m -- d/o M & C Sybert -- Pic 1:

Pic 2:


Sybert Letha Emily -- 1889 Mar 18 - 1970 Jan 02


Sybert Michael -- 1842 Feb 28 - 1919 Dec 13 -- s/o John Sybert; m 1870 Nov 03 to Catherine Groom -- Dates from death certificate



Sybert William H -- 1872 Jan 18 - 1875 Sep 24 -- s/o M & C Sybert -- Pic 1:

Pic 2:

V

Vaughn Alfred Y -- 1851 Aug 23 - 1858 Dec 24 -- s/o Andrew & Melissa Vaughn -- Pic 1:

Pic 2:



Volkart Alfred H -- 1899 Jul 07 - 1953 Jun 04 -- s/o Henry & Lizzie Walker Volkart



Volkart Emma -- 1908 Mar 20 - 2003 Oct 03


Volkart Henry -- 1864 Jul 21 - 1951 Nov 03 -- s/o Felix & Anna Thalman Volkart



Volkart Infant -- 1909 Oct 27 - 1909 Oct 27 -- s/o Henry & Lizzie Volkart


Volkart Infant -- 1932 Dec 29 - 1932 Dec 29 -- s/o M A & E Volkart


Volkart Katy -- 1892 Feb 28 - 1897 Dec 13 -- d/o Henry & Lizzie Volkart


Volkart Leonard Elwood -- 1906 Aug 31 - 1991 Jan 03 -- m 1933 Feb 26 to Lettie Ratcliff


Volkart Lizzie -- 1872 May 12 - 1918 Jul 04 -- d/o David & Lucy Hubert Walker; w/o Henry Volkart



Volkart Lottie Norma -- 1912 Apr 10 - 1990 Feb 26 -- m 1933 Feb 26 to Leonard Volkart; d/o F & F Ratcliff



W

Wooldridge Alice Mae -- 1875 Jun 06 - 1957 Feb 13 -- Pic 1:

Pic 2:


-- 2 stones w/same name & dates - 1 w/Woolridge and 1 w/ Wooldridge
-- m 1904 to Emett Bond; m 2nd to William Wooldridge; d/o Michael & Catherine Groom Sybert
---
---
Please go to the contact page with questions or comments about this web site
Copyright © 1997- Alan Sparks - Moniteau County MOGenWeb, All Rights Reserved.
Last modified: October 26, 2014