Moniteau County Missouri



Gilbert Family Cemetery listings
---
Benjamin Franklin Gilbert was the son of Charles and Jenny Haden Gilbert. He was born March 22, 1799 in Kentucky and died May 24, 1864 in Tipton, Missouri from Cholera. Benjamin Franklin Gilbert married Ann Harper on March 28, 1820 in Kentucky. In 1835 he bought the land southeast of present day Tipton on which he is buried. Ann Harper's family is from the famous Harper's Ferry in Virginia. Benjamin's land is still family owned and maintained by his great great grandson. The cemetery is located in the field behind the barn in the picture below.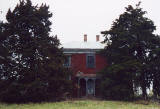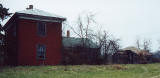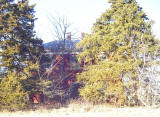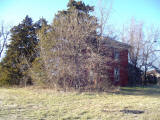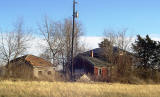 The old Gilbert house above, left 2 pictures were taken in November 2000. The 3 on the right are the house in January 2012.
The barn in 2000, first row far left above; other pictures include the barn and several outbuildings.
All photos and photos linked to from this page are Copyright © 1997- Alan Sparks - www.moniteau.net, All Rights Reserved.
Please do not use them on other websites (including Find-a-grave) without permission.
---
Directions to cemetery: Take US Highway 50 to MO Highway BB, located approximately 2 miles east of Tipton. Go south on Hwy BB for 2.6 miles to Gilbert Road. Turn west (right) and go approximately 1/4 mile to the house pictured above. The cemetery is located in a field behind the barn also pictured above. A Google map of it's location at 38

° 37.684 -92° 44.507

This cemetery is on private land. If anyone would like to visit the Gilbert cemetery please contact Renee Koechner at margretkoechner@hotmail.com. She is the one who graciously accompanied me to this cemetery in November 2000. Please always respect private property and ask permission to visit such cemeteries. This is a cemetery where "you have to know where it is" to find it.


---
* = Calculated Date based on age; d/o = daughter of; s/o = son of; w/o = wife of; m = married

= Click for picture
Last Name, First Name, Middle, Birth Date, Death Date, Comments
Burger A E -- 1856 Dec 21 - 1872 Aug 08 -- d/o M D & Mary Burger -- Pic 1:

Pic 2:

Pic 3:

Burger M D -- --- Jul 30 - 1861 Apr 17 -- Pic 1:

Pic 2:

Pic 3:

Gilbert Ann -- 1799 Sep 17 - 1879 Jun 05 -- w/o Benjamin Gilbert -- Pic 1:

Pic 2:

Pic 3:


Gilbert Benjamin -- 1799 Mar 22 - 1864 May 21 -- Aged 65y 2m 2d -- Pic 1:

Pic 2:


Gilbert Charles T -- Died 1868 Jul 27 -- Aged 10m 29d -- s/o C? T & H A Gilbert -- Pic 1:

Pic 2:

Pic 3:


Gilbert Green W -- 1839 Feb 04 - 1853 Sep 15 -- Pic 1:

Pic 2:

Pic 3:



Gist Sarah Ann -- 1832 Aug 28 - 1852 Oct 27 -- nee Gilbert; w/o Girren Gist -- Pic 1:

Pic 2:

McPherson John G -- 1821 Aug 18 - 1848 Sep 26

---
---
Please go to the contact page with questions or comments about this web site
Copyright © 1997- Alan Sparks - Moniteau County MOGenWeb, All Rights Reserved.
Last modified: October 28, 2014