Hutchison-Houchin Cemetery
---
Located at the southwest edge of California, Missouri, this small family cemetery has undergone major restoration and preservation efforts. There are recent stones showing names and dates of those buried here with the original stones in the back of the cemetery. One old and broken stone (Mary Ellen Harris) has been re-set in concrete. The cemetery now has a nice fence surrounding it and is very well kept.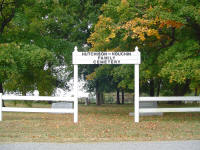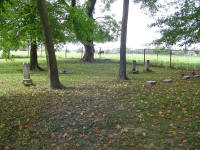 All photos and photos linked to from this page are Copyright © 1997- Alan Sparks - www.moniteau.net, All Rights Reserved.
Please do not use them on other websites (including Find-a-grave) without permission.
Directions to cemetery: From Hwy 50 in California, turn south on Latham Rd next to Nic Nac Cafe, travel 3/10s of a mile until the intersection of Latham Rd and Rice Blvd. Turn right (west - staying on Latham Rd) and the cemetery is about 3/10s of a mile on the right side of the road.
Located here: 38.624597,-92.58212

---
* = Calculated Date based on age; d/o = daughter of; s/o = son of; w/o = wife of; m = married


= Click for picture

= Click for death certificate

H

Her parents can be found here. She is grand daughter of Lucy Hutchison Popham
Harris Mary Ellen -- 1865 Feb 10 - 1870 Jul 10 -- d/o Christopher Columbus & Ellen M Walden Harris -- Pic 1:

Pic 2:

Pic 3:



Houchin Family Stone -- Pic 1:

Pic 2:


Houchin Carrie -- Died 1908 May 07 -- w/o Frank Houchin 1st marriage to a Blank


Houchin Cynthia -- 1832 - 1894


Houchin Sherman -- 1865 Mar 17 - 1945 Mar 22 -- s/o William & Cynthia Hutchison Houchin



Houchin William -- 1825 - 1879


Houchin William David -- 1863 Mar 30 - 1946 Jul 27 -- s/o William & Cynthia Hutchison Houchin; death certificate gives Mar 22 birth day




A genealogy of this Hutchison family can be found here.
Hutchison Lydia -- 1805 Apr 19 - 1887 Aug 24 -- Pic 1:

Pic 2:

Pic 3:


Hutchison Thomas -- 1796 Feb 20 - 1865 Mar 25 -- Pic 1:

Pic 2:

Pic 3:



P

According to this genealogy (part of the Hutchison genealogy above), Lucy Hutchison was married three times, the last being William Popham
Popham Lucy Ann -- 1825 Sep 23 - 1895 Apr 09 -- w/o W B Popham -- Pic 1:

Pic 2:

Pic 3:


Popham William B -- 1814 - 1910 Apr 25 -- Pic 1:

Pic 2:

Pic 3:


-- Old stone gives 1910 death date & new stone gives 1890 death date; death certificate issued in 1910
---
---
Please go to the contact page with questions or comments about this web site
Copyright © 1997- Alan Sparks - Moniteau County MOGenWeb, All Rights Reserved.
Last modified: October 28, 2014