Moniteau County Missouri



Kaserman Cemetery listings
---
Located in Township 46, Range 14, Section 26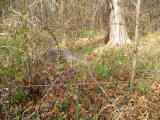 All photos and photos linked to from this page are Copyright © 1997- Alan Sparks - www.moniteau.net, All Rights Reserved.
Please do not use them on other websites (including Find-a-grave) without permission.
James Albin and Alan Sparks visited this cemetery November 20, 2010. It is located far off the nearest county roads and the stone is laying on the ground. Information from Dan Haldiman indicates the family home was a short distance from this site and a spring was nearby.
The stone is in very good shape and inscriptions easily read. At the bottom of the stone is inscribed: Father, mother, brother, sister and children possibly indicating six or more people are buried in this family cemetery.
---
* = Calculated Date based on age; d/o = daughter of; s/o = son of; w/o = wife of; m = married

= Click for picture

= Click for death certificate
Last Name, First Name, Middle, Birth Date, Death Date, Comments

Kaserman Jacob -- 1837 Oct 20 - 1916 Jan 16 -- Pic 1:

Pic 2:


At bottom of stone is inscribed: Father, mother, brother, sister and children

---
---
Please go to the contact page with questions or comments about this web site
Copyright © 1997- Alan Sparks - Moniteau County MOGenWeb, All Rights Reserved.
Last modified: October 29, 2014