Moniteau County Missouri



Karnes-Carney-Henderson Cemetery listings
---
Located: between Corticelli and Russellville in a private field approximately 3/4 mile south of Hwy C and east of Fahrni Road.
Located here: 38.499217,-92.500751

On page 67 of the Recordings of Burris Fork, Harrison and Pilot Grove Township Cemeteries it states:
This cemetery is located on the Gerald Steenbergen farm (1970), in a grove of trees some sixty to sixty-five feet tall. These trees are not native to this area. We were told by Mr Steenbergen they were tame pecan and do not bear fruit. Inscriptions were read by Gloria and Kay Bookout and Mr and Mrs F J Ketterlin in 1970.
Alan Sparks visited this cemetery and took pictures in 2004. James Albin and Alan Sparks returned to this cemetery July 19, 2011 when the high resolution pictures were taken. Sometime prior to 2005 this cemetery had been cleared of brush, stones cleaned and reset and a panel fence erected. On July 19, 2011, the cemetery had once again been overgrown with buck brush; numerous limbs and trees had fallen over; a couple falling on top of stones, knocking them over.
---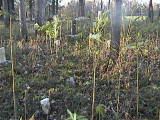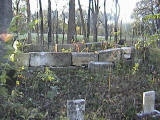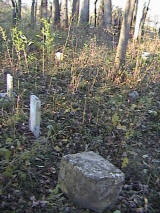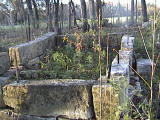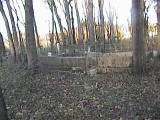 Above, 5 pictures, taken in 2004, of the cemetery set in a wooded area in southeastern Moniteau County. There were no stones found inside the rock enclosure.
Above, pictures of the same rock enclosure in July, 2011.
All photos and photos linked to from this page are Copyright © 1997- Alan Sparks - www.moniteau.net, All Rights Reserved.
Please do not use them on other websites (including Find-a-grave) without permission.
---
* = Calculated Date based on age; d/o = daughter of; s/o = son of; w/o = wife of; m = married

= Click for picture
Last Name, First Name, Middle, Birth Date, Death Date, Comments
Blackburn Rosa -- 1877 Sep 03 - 1879 Aug 03 -- d/o F M & M A Blackburn

Carney Valentine P -- 1799 Apr 29 - 1874 Jan 31 -- Aged 75y 1m 28d -- Pic 1:

Pic 2:

Pic 3:


Carney Zerilda -- 1836 Dec 03 - 1861 Dec 28 -- w/o C B Carney; Last name spelled Carnay on stone -- Pic 1:

Pic 2:

Henderson Fredonia -- 1869 Dec 07 - 1888 Dec 01 -- d/o J H & Isabella Henderson -- Pic 1:

Pic 2:


Henderson Harriet A -- 1863 Oct 04 - 1864 Jun 19 -- d/o J H & I W Henderson -- Pic 1:

Pic 2:


Henderson Isabella -- 1828 Sep 27 - 1883 Nov 03 -- w/o J H Henderson -- Pic 1:

Pic 2:

Pic 3:


Henderson Mary M -- 1868 Sep 25 - 1883 Nov 02 -- d/o J H & Isabella Henderson -- Pic 1:

Pic 2:

Pic 3:



K

Karnes Emiley -- 1863 Mar 06 - 1863 Jun 18 -- d/o R H & S Karns -- Pic 1:

Pic 2:

Pic 3:


Karnes James W -- 1864 Apr 26 - 1865 Sep 17 -- s/o R H & S Karns -- Pic 1:

Pic 2:

L

Loving John G -- 1864 Nov 30 - 1865 Oct 26 -- s/o J W & P I Loving

S

Son Georgia A -- 1858 Feb 24 - 1872 Jan 02 -- 13y 10m 8d -- d/o G F & C D Son -- Pic 1:

Pic 2:

---
---
Please go to the contact page with questions or comments about this web site
Copyright © 1997- Alan Sparks - Moniteau County MOGenWeb, All Rights Reserved.
Last modified: October 29, 2014