Moniteau County Missouri



Langley Family Cemetery listings
---
On page 55 of The Recordings of Walker Township Cemeteries published by the Moniteau County Historical Society, it states:
Located on the old Moses Langley homestead in the NE 1/4 of SW 1/4 of Section 20, Range 15, Township 46.
Located near here: 38.729933,-92.591305
In addition to the below listings, there are two stones with no names and two sandstone markers with no names.
James Martin wrote in 1983: The quarter mile walk on the old road was worth the time to this quiet place. The cemetery is well kept with an iron fence around it. It is located on a high spot in site of the spring and old double log house that once had a large central chimney with fireplaces. Several of the old home made markers were done with better than average craftsmanship.
In the February 9, 1928 California Democrat:
CREATES CEMETERY FUND
Miss Jane Langley Leaves $1,000 In Trust For Maintenance
The will of Miss Jane Langley, which has been filed for probate here, provides that $1,000 shall be held in trust, invested in good securities and the proceeds therefrom used to maintain the fence and monuments and keep generally the Langley cemetery north of town where she and other members of the Langley family are buried. The remainder of her estate is to go to her sister-in-law, Mrs. Maud C. Langley, for her lifetime and then added to the cemetery fund above mentioned and subjected to the same provisions. Mrs. Maud C. Langley is to have charge of the cemetery fund for her lifetime and at her death is to be succeeded by Leon P. Embry. The fund is to be under the supervision of the circuit court of Moniteau County.
R. M. Embry is named as executor of the will, which is dated May 25, 1927, F. E. Eberhardt and Edward Hickam are witnesses.
---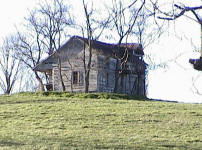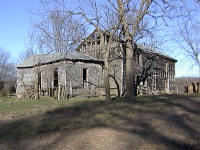 This cemetery is in site of not one, but 2 log houses. The one on the right is nearest the cemetery, while the one on the left is across a small creek and up a hill from the cemetery. For more detailed pictures click here. This page may be slow to load with several large file size pictures.
James Albin and Alan Sparks visited this cemetery March 31, 2006 when the pictures were taken. The cemetery is in about the same condition as stated above, with 3 or 4 of the markers just outside the wrought iron fence.
All photos and photos linked to from this page are Copyright © 1997- Alan Sparks - www.moniteau.net, All Rights Reserved.
Please do not use them on other websites (including Find-a-grave) without permission.
---
* = Calculated Date based on age; d/o = daughter of; s/o = son of; w/o = wife of; m = married

= Click for picture

= Click for death certificate
Last Name, First Name, Middle, Birth Date, Death Date, Comments

C

Corn Samuel Thomas -- 1839 Apr 25 - 1864 Dec 31 -- Pic 1:

Pic 2:

-- s/o Richard & Nancy Jane Hightower Corn; Given names & parents according to this source; Stone states "In memory of our dead comrades"

L

A genealogy of this family can be found here and another here.
Langley Jesse/John W -- 1854 Apr 11 - 1854 May 03 -- Given name from above source -- Pic 1:

Pic 2:

Pic 3:

Pic 4:


Langley M S E -- Pic 1:

Pic 2:


Langley Mary -- 1818 Jul 07 - 1904 Feb 01 -- Pic 1:

Pic 2:

Pic 3:

Pic 4:

-- According to this source maiden name Hightower; m 1841 Apr 08 to Moses Langley
Langley Maud C -- Pic 1:

Pic 2:

Pic 3:

Pic 4:

Pic 5:

Pic 6:

-- w/o Thomas Langley; Has another stone & is buried in California Masonic Cemetery
Langley Moses -- 1816 Dec 16 - 1888 Oct 31 -- obit gives Nov 03 death date -- Pic 1:

Pic 2:

Pic 3:

Pic 4:


Langley Nancy Jane -- 1847 Mar 06 - 1928 Jan 06 -- d/o Moses & Mary Hightower Langley -- Pic 1:

Pic 2:

Pic 3:

Pic 4:



Langley Thomas W -- 1850 Aug 06 - 1917 Sep 06 -- s/o Moses & Mary Hightower Langley -- Pic 1:

Pic 2:

Pic 3:

Pic 4:



Langley Wiley -- Died 1856 Aug -- Pic 1:

Pic 2:

-- Possibly father of Moses Langley; Homemade stone very difficult to read; Wyley Langley appears on the 1850 census age 64
---
---
Please go to the contact page with questions or comments about this web site
Copyright © 1997- Alan Sparks - Moniteau County MOGenWeb, All Rights Reserved.
Last modified: January 07, 2017