Moniteau County Missouri



Rock Enon / Bruce-Lewis-McGahan Cemetery listings
---
---
Located near Enon, in far southeastern Moniteau County, on Rt V. The Moniteau County Historical Society's cemetery books list this as the Bruce-Lewis-McGahan Cemetery. Alan Sparks visited and took pictures in July, 2001 and March, 2006. The white with black lettering Rock Enon Cemetery sign was erected sometime between these dates as well as the roof of the church, pictured above, collapsing.
It is reported that two different cemeteries are/were in this area. The one listed and pictured here (Bruce-Lewis-McGahan as listed in the Moniteau County Historical Society cemetery book) and another one that is called Rock Enon. The second one has not been located in recent years and it's unknown where or who put up the Rock Enon Cemetery sign at this location.
Directions to cemetery: From California, take Hwy 87 south, past High Point to the intersection with Rt A. Turn left (east) toward Enon. Before getting to Enon, turn left (north) on Rt V and the cemetery will be at the edge of the woods/highway right-of-way after passing the Rock Enon church and surrounding rock buildings.
Located here: 38.46675,-92.517201
---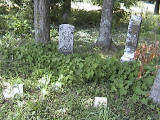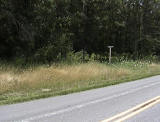 Above, left and right: Pictures of cemetery location looking south and north.
Middle: Picture inside cemetery showing two of the remaining stones.
All photos and photos linked to from this page are Copyright © 1997- Alan Sparks - www.moniteau.net, All Rights Reserved.
Please do not use them on other websites (including Find-a-grave) without permission.
---
* = Calculated Date based on age; d/o = daughter of; s/o = son of; w/o = wife of; m = married

= Click for picture
Last Name, First Name, Middle, Birth Date, Death Date, Comments

B

Bruce Mary -- 1820 Sep 26 - 1903 Nov 19 -- w/o Lewis Bruce -- Pic 1:

Pic 2:

L

Lewis Margaret -- 1797 * - 1872 Jan 15 -- Aged 75y -- Pic 1:

Pic 2:

Long Infant -- No dates; s/o Charlie & Florence Long
M

McGahan Annetta -- No dates -- Pic 1:

Pic 2:


McGahan Luther -- 1884 May * - 1897 Jun 22 -- Aged 13y 1m 18d -- s/o Fred & Annie McGahan -- Pic 1:

Pic 2:

Pic 3:

Pic 4:

---
---
Please go to the contact page with questions or comments about this web site
Copyright © 1997- Alan Sparks - Moniteau County MOGenWeb, All Rights Reserved.
Last modified: November 09, 2014