Moniteau County Missouri



Shiloh Cemetery listings
---
Directions to cemetery: The Shiloh Cemetery contains approximately 185 burials and is located northeast of California on Rt N. Take Highway 87 north from California approximately 5 miles to Rt N (Salem Baptist Church is at this intersection). Turn right (east) on Rt N and the cemetery is approximately 3 1/4 miles on the right side of the road.
GPS Location: 38.694839,-92.450253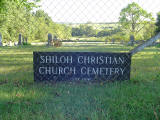 The cemetery and church are in the south part of Section 33, Township 45, Range 14.
All photos and photos linked to from this page are Copyright © 1997- Alan Sparks - www.moniteau.net, All Rights Reserved.
Please do not use them on other websites (including Find-a-grave) without permission.
On page 143 of the Recordings of Walker Township Cemeteries published by the Moniteau County Historical Society, it states:
The cemetery was started soon after the organization of the Shiloh Christian Church. This organization was a reorganization of and an outgrowth from the old Sweetwater Church. In 1939 the people of the community met to clean and do necessary work at the church and cemetery. At this meeting a loosely knit organization was formed. Each person present contributed one dollar towards a fund for cemetery maintenance. Additional contributions were received from time to time. In 1953, a basket dinner and homecoming were held at the church and a formal cemetery organization was formed. John W Inglish was directed to prepare and file necessary papers to incorporate the association. Pledges and contributions were made and a fund of sufficient amount was eventually obtained so that perpetual maintenance is assured.
Information was originally compiled by Hugh J and Mary M Inglish in August 1967.

Alan Sparks re-inventoried this cemetery in 2000. The pictures were taken in May 2006.
---
[Unknown] [A] [B] [C] [D] [E] [F] [G] [H] [I] [J] [K] [L] [M] [N]

[O] [P] [Q] [R] [S] [T] [U] [V] [W] [X] [Y] [Z]
---
* = Calculated Date based on age; d/o = daughter of; s/o = son of; w/o = wife of; m = married
Info from death certificate = the information is from a death certificate and no stone was found for the individual.
Info from news obit = the information is from a newspaper obituary and no stone was found for the individual.
Info from 1883-1894 Moniteau Co Birth & Death Rec = the information is from the county death records and no stone was found for the individual.

= Click for picture

= Click for death certificate
Last Name, First Name, Middle, Birth Date, Death Date, Comments

Unknown

? Tammy -- single name on stone; no dates

A number of what appears to be footstones were found when pictures were taken in May 2006.
Pic 1:

Pic 2:

Pic 3:

Pic 4:

Pic 5:

Pic 6:

Pic 7:

Pic 8:

Pic 9:

Pic 10:

Pic 11:

These may mark some of the graves listed below or simply be footstones for some of the burials below.
Also found were a few of what appear to be old green metal funeral home markers:
And some unidentified/unknown markers:

B

Boillot Mary A -- 1854 Apr 08 - 1912 Jul 02 -- Pic 1:

Pic 2:




Boyd Joseph -- Died 1908 Jan 03
Boyd Missouri -- 1867 Aug * - 1900 Oct 27 -- Aged 33y 2m 17d -- w/o Joseph Boyd -- Pic 1:

Pic 2:



Bukaty Carmen -- 1907 Sep 18 - 2000 Nov 08 -- m 1940 Sep 13 to Leon Bukaty d/o L & E Hickam

Bukaty Leon -- 1913 Jan 17 - 1988 Sep 13 -- m 1940 Sep 13 to Carmen Hickam



Butcher Infant -- Died 1901 Jul 05 -- c/o John & Abbie Butcher
Butcher John Tillman -- 1885 Jun 05 - 1927 Jan 26 -- dates from death certificate; m 1904 Feb 07 to Josephine Albers -- Pic 1:

Pic 2:


2 rough concrete markers with Clark inscribed were found: Pic 1:

Pic 2:

Clark Ellen -- 1842 Aug 12 - 1916 Jan 01 -- w/o Robert Clark; d/o Thomas Heather

Clark Robert P -- 1832 Feb 16 - 1910 Jun 18 -- Info from death certificate



Connell Infant -- Died 1940 Jul 14 -- c/o Richard & Myrtle Connell



Connell Richard E -- 1912 May 27 - 1990 Jul 15



Crank Florida -- 1865 Dec 31 - 1910 Feb 15 -- w/o James Crank; d/o J & C Hayter -- dates from death certificate




Crum Emma C -- 1872 Mar 04 - 1913 Jul 22 -- w/o R L Crum; d/o C G & Caroline Wegener



Crum Robert L -- 1866 Oct 20 - 1923 Jun 26 -- s/o Nathaniel & Jane Dunham Crum


D

Day Grace M -- 1944 Apr 17 - 1987 Feb 23

E

Edwards Mae Bell -- 1893 Jan 21 - 1937 Jul 11 -- w/o Gus Edwards; d/o John H & Mary Higgins




Enloe Calpernia -- 1887 Feb 19 - 1928 Feb 16 -- w/o Bernard Enloe; d/o J P & Mary Miller; dates from death certificate


F

Fletcher Lee -- 1889 - 1898 -- Pic 1:

Pic 2:


Fletcher Mary -- 1864 - 1903 -- Pic 1:

Pic 2:


Fletcher William -- Died 1902 -- No birth date listed -- Pic 1:

Pic 2:



Foley Virginia M -- 1890 May 27 - 1925 Jun 07




Fuget Charles R -- 1885 Feb 07 - 1908 Jan 05 -- Pic 1:

Pic 2:


Fuget Charles W -- 1863 Apr 28 - 1904 Aug 22 -- Pic 1:

Pic 2:


Fuget Charlotte -- 1818 Jan 09 - 1899 Sep 06 -- Pic 1:

Pic 2:


Fuget John R -- 1857 Mar 07 - 1899 Mar 02 -- h/o Laura Bruce -- Pic 1:

Pic 2:


Fuget Sarah Orpha -- 1894 Sep 03 - 1938 Feb 26 -- d/o Will & Laura Sartain Fuget -- Death certificate gives 1881 Sep 03 birth date


G

Gouge Henry O -- 1889 - 1973


Gouge Lorine M -- 1911 May 08 - 1990 Apr 25 -- m 1940 Sep 28 to Norman Gouge; d/o H & C Hofmann


Gouge Lorn H -- 1950 Sep 05 - 1995 Sep 28 -- SP4 US Army Vietnam -- Pic 1:

Pic 2:


Gouge Mary F -- 1890 - 1965

Gouge Norman A -- 1909 - 1973 Dec 23 -- m 1940 Sep 28 to Lorine Hofmann

H

Harper Robert -- 1820 * - 1898 Mar 10 -- Aged 78y

Hayter Margaret J -- 1858 Jul 31 - 1918 Apr 15 -- w/o Patton Hayter -- Pic 1:

Pic 2:


Hayter Oscar -- 1885 Feb 19 - 1902 Sep 27 -- s/o P & M J Hayter -- Pic 1:

Pic 2:


Hayter Patton -- 1846 Oct 31 - 1927 Mar 24 -- m 1872 to Nancy King; m 1875 to Margaret Sartain -- Pic 1:

Pic 2:



Unknown Heather Stone

Heather Edna Mae -- Died 1920 Mar 04 -- No birth date listed
Heather Grace -- 1932 Apr 24 - 1978 Jul 06 -- m 1954 to Floyd Shirley; m 1975 Nov 27 to Homer Heather; d/o E & J Smotherman


Heather Herbert Clayton -- 1917 Oct 08 - 1930 Aug 07 -- s/o Joseph & Mollie Fletcher Heather -- Birth date from death certificate

Heather Homer H -- 1912 Nov 27 - 1980 Jan 29 -- Pic 1:

Pic 2:

-- m 1975 Nov 27 to Grace Smotherman; m 1978 Dec 07 to Nadine Gouge Allen; Pvt US Army WWII
Heather Infant -- No dates listed
Heather Jackie William -- 1938 Feb 16 - 1938 Feb 16 -- s/o Jack & Dessie Ray Heather -- Info from death certificate

Heather Joseph W -- 1885 - 1975


Heather Katharine -- 1919 Apr 06 - 1920 Apr 03 -- d/o Tom & Ivia Murry Heather -- Info from death certificate

Heather Levi Jackson -- 1883 Dec 13 - 1939 Oct 16 -- s/o Hill & Marilda Thompson Heather -- Info from news obit & death certificate

Heather Marilda Jane -- 1846 Nov 29 - 1922 Sep 07 -- Aged 75y -- Birth date from death certificate

Heather Nancy -- 1894 Sep 02 - 1934 Feb 21 -- d/o Hill & Marilda Thompson Heather -- Info from death certificate

Heather Nellie Mae -- 1897 May 09 - 1919 Nov 22 -- w/o Joseph Heather



Heather Nora -- 1883 Jan 13 - 1965 Aug 15 -- d/o Hill & Marilda Heather
Heather Tom -- Died 1920 Feb 11 -- No birth date listed

Heim Ernest Otto -- 1880 Mar 18 - 1945 Mar 20 -- s/o Max & Helen Heim; Birth year 1882 on death certificate



Heim Mae W -- 1892 May 20 - 1942 Sep 13 -- w/o Ernest Heim; d/o Carl G & Caroline Knipker Wegener




Hickam Elsie -- 1883 Aug 12 - 1965 Nov 24 -- d/o Edward E & Thursey Powell Hickam


Hickam John -- 1911 Aug 09 - 1911 Aug 10 -- d/o Luther & Elsie Powell Hickam -- Pic 1:

Pic 2:



Hickam Luther -- 1879 Jan 24 - 1920 Apr 10 -- s/o James & Frankie Taylor Hickam


Higgins Amanda -- 1870 Feb 19 - 1950 Jan 13


-- 1871 Feb 19 birth date on death certificate; Last name Richardson on death certificate; w/o Thomas Higgins & John Richardson; d/o Charles & Susan Butcher
Higgins Billy -- 1936 Jan 23 - 1936 Nov 03 -- s/o Curtis & Effie Huddleston Higgins


Higgins Curtis -- 1906 * - 1971 Jun 21 -- Aged 65y
Higgins Emmett -- 1895 May 08 - 1912 Apr 24 -- s/o Tom & Mandy Higgins -- 1896-1913 dates on stone



Higgins Infant -- Died 1898 May 28 -- c/o Thomas Higgins; No birth date listed
Higgins Infant -- Died 1899 Aug 01 -- c/o Thomas Higgins; No birth date listed
Higgins John H -- 1859 Sep 23 - 1945 Dec 24 -- m 1883 Nov 05 to Mary Dagley


Higgins John Nicholas -- 1899 Mar 15 - 1918 Dec 11 -- s/o J H & Mary Higgins



Higgins Mary E -- 1863 Jun 17 - 1950 Dec 31 -- m 1883 Nov 05 to John Higgins; d/o Will Dagley



Higgins Otto Thurman -- 1902 Mar 09 - 1918 Dec 10 -- s/o J H & Mary Higgins



Higgins Rosa Lee -- 1894 Apr 07 - 1920 Feb 08 -- w/o Marshall Higgins



Higgins Thomas -- 1856 Sep 03 - 1931 Sep 26 -- s/o Phillip Higgins




Hobbs Anna Laura -- 1861 May 06 - 1938 Oct 31 -- w/o Daniel Hobbs; d/o Daniel & Mary Sartain; Birth year 1862 on death certificate




Hursey Martha Miller -- 1893 - 1942 Apr -- d/o William & Martha Miller

Inglish Abram A -- 1906 Nov 28 - 1987 Feb 25


Inglish Alexander Brown -- 1870 Aug 05 - 1960 Oct 18 -- s/o John E & Sarah Alexander Inglish



Inglish Arna M -- 1880 - 1966 -- w/o Nero Inglish; d/o J P & M Miller


Inglish Bertha Margaret -- 1878 Oct 22 - 1944 Oct 28 -- m 1904 May 11 to A V Inglish; d/o John J & Anna Stiner Scheurer



Inglish Bessie Lee -- 1884 Oct 07 - 1958 Jan 12 -- m 1903 Sep 24 to John Inglish; d/o C A & Nancy Meredith Longan



Inglish Boyd -- 1839 Apr 15 - 1920 Sep 11 -- s/o James & Mary Vivian Inglish



Inglish Cecil -- 1908 Apr 02 - 1908 Apr 28 -- Pic 1:

Pic 2:


Inglish Claude R -- 1910 Jul 05 - 1991 Jun 20 -- m 1942 May 03 to Cleo Cook; T Sgt US Army WWII -- Pic 1:

Pic 2:


Inglish Cleo Nadine -- 1919 Jun 10 - 2009 Jul 31 -- m 1942 May 03 to Claude Inglish; d/o W & R Cook


Inglish Clyde -- 1909 Sep 25 - 1909 Sep 29 -- s/o N J & Arna Inglish -- Pic 1:

Pic 2:


Inglish George Longan -- 1904 Oct 26 - 1913 Jan 10 -- s/o John & Bessie Lee Longan Inglish -- Pic 1:

Pic 2:



Inglish Harley Alexander -- 1900 Jan 02 - 1918 Dec 19 -- s/o Alexander B & Mary Shear Inglish



Inglish Hazel Lucille -- 1907 Sep 26 - 1908 Dec 07 -- d/o A V & Bertha M Inglish -- Pic 1:

Pic 2:


Inglish Hester J -- 1909 Apr 26 - 1979 Apr 13


Inglish Hugh J -- 1905 Jun 01 - 1980 Oct 02


Inglish Jane -- 1927 Dec 11 -

Inglish John -- 1880 Dec 04 - 1959 Mar 10 -- s/o John & Martha Crum Inglish



Inglish John W -- 1921 May 08 - 2008 Aug 03 -- m 1947 Jun 15 to Jane Jacobs

Inglish John E Dr -- 1843 May 16 - 1921 Mar 26 -- s/o James Inglish


Inglish Joseph P -- 1850 - 1907 Dec 20 -- s/o Joseph Inglish; m 1868 Apr 28 to Susan Jordan -- Pic 1:

Pic 2:

Inglish Judy -- No dates; Metal funeral home marker


Inglish Mary E -- 1876 Dec 01 - 1946 Apr 19 -- w/o A B Inglish; d/o Jacob J & Elizabeth Stiner Scheurer



Inglish Mary Margaret -- 1908 Feb 19 - 1970 Jul 07 -- m 1932 Aug 01 to Hugh Inglish


Inglish Milton A V -- 1876 Feb 06 - 1947 Jul 31 -- s/o Jonathan P & Henrietta Acres Inglish



Inglish Milton Anderson -- 1868 Jul 04 - 1942 Apr 10 -- s/o John E & Sarah Alexander Inglish



Inglish Nero J -- 1877 Oct 22 - 1948 Mar 02 -- s/o John E & Sarah Alexander Inglish



Inglish Sarah Jane -- 1841 Dec 13 - 1915 May 19 -- w/o Dr J E Inglish; d/o Ripley Alexander Inglish


J

Johnson Doris J -- 1949 Dec 27 - 2002 Nov 01

Jones Bernice B -- 1915 Nov 27 - 1982 Apr 24 -- m 1933 Jun 10 to Leon Jones; d/o J & N Heather


Jones Leon -- 1910 Apr 06 - 1984 Sep 30



K

Keeran Gerald David -- 1940 Feb 16 - 1940 Mar 16 -- c/o P & Lucille Cofer Keeran



Keeran James E -- 1944 Sep 07 -

Keeran Layton Edward -- 1942 May 23 - 2011 Mar 08 -- m 1987 Dec 31 to Sharon Evans -- Pic 1:

Pic 2:

Keeran Louisa Jeanette -- 1933 Mar 02 - -- m 1955 Oct 15

Keeran Lucille Ruth -- 1911 Nov 30 - 2002 Mar 24 -- m 1927 Apr 23 to Pyrelle Keeran; d/o R & M Cofer -- Pic 1:

Pic 2:


Keeran Mildred Ann -- 1946 Feb 25 - 1989 Mar 05 -- m 1967 Sep 08 to Raymond Keeran; d/o R & E Vaughan


Keeran Pyrelle Noel -- 1905 Mar 29 - 1994 Dec 30 -- m 1927 Apr 23 to Lucille Cofer -- Pic 1:

Pic 2:


Keeran Richard Kenneth -- 1946 Sep 28 - 1987 Jun 10 -- m 1983 Jul 30 to Jenny Ulasien; SP4 US Army Vietnam

Keeran Robert Walter -- 1927 Nov 06 - 2004 May 17 -- m 1955 Oct 15


Keeran Sharon Michelle -- 1954 Mar 12 - 2012 Jan 21 -- m 1987 Dec 31 to Layton Keeran Sr; d/o J & S Evans

Keeran Steven Lynn -- 1954 Dec 31 - 2011 Jan 14 -- Pic 1:

Pic 2:

L

Lambeth Joseph I -- 1915 Sep 01 - 2003 Jun 26 -- m 1941 to Violet Inglish; s/o E & L Lambeth


Lambeth Violet M -- 1914 May 30 - 2005 Mar 11 -- m 1941 to Joseph Lambeth; d/o A & B Inglish

Lee Beverly R -- 1928 Jul 20 - 2004 Dec 24 -- m 1946 Feb 21 to Claude Lee; d/o E & C Lesten


Longan Lawrence -- 1922 Jan 02 - 1922 Feb 09 -- Pic 1:

Pic 2:


-- s/o Edgar & Clara Longan; Last name spelled Longdan & 1921 year on stone -- Info from death certificate
M

Miller Family Stone

Miller Bernice Elvira -- 1917 May 04 - 1917 Oct 21


-- d/o Young E & Emma Gabert Miller; died as result of tragic fire--buried in same grave as their mother
Miller Emma Louise -- 1887 Feb 27 - 1917 Oct 21 -- w/o Y E Miller; d/o Henry & Catharine Eckerle Gabert



Miller Ethel A -- 1892 Feb 14 - 1971 Sep 20 -- w/o Y E Miller


Miller Grace Lina -- 1891 Sep 08 - 1917 Jul 24 -- d/o William & Mary Harmon Miller



Miller Helen Francis -- 1919 Jun 01 - -- m 22 Jun 1941 to Roger Miller; Maiden name Burris


Miller Jacqueline Keener -- no dates on stone -- m 1973 May 05 to William Dale Miller


Miller John Edward (Ed) -- 1872 Jan 18 - 1959 Dec 23 -- s/o Marion & Mary Miller



Miller John Henry -- 1921 Oct 31 - 1999 Nov 18 -- Pic 1:

Pic 2:

-- m 1951 Aug 05 to Lois Wallenmeyer; T Sgt US Army Air Force WWII
Miller Jonathan Paris -- 1846 Nov 11 - 1915 Jan 29 -- m 1873 Jan 03 to Mary Hayter



Miller Julia Ann -- 1888 - 1970 -- w/o W E Miller; maiden name Crum -- Pic 1:

Pic 2:

Miller Margaret Lois -- 1929 Apr 14 - -- m 1951 Aug 05; maiden name Wallenmeyer -- Pic 1:

Pic 2:


Miller Marion -- Died 1920 Jan 08 -- Aged 69y -- Age on death certificate


Miller Mary Jane -- 1854 Aug 30 - 1951 Dec 10 -- d/o Madison & Synthia Powell Hayter; w/o J P Miller



Miller Mary Louise -- 1914 Jan 19 - 1917 Oct 20


-- d/o Young E & Emma Gabert Miller; died as result of tragic fire--buried in same grave as their mother
Miller Mayme -- 1889 Jan 29 - 1950 Jan 26 -- d/o J P & Mary Miller



Miller Robert Nelson -- 1954 Jan 27 1993 May 05


Miller Roger Lee -- 1914 Jan 02 - 1999 Jan 22 -- m 22 Jun 1941 to Helen Miller


Miller Virginia Dale -- 1925 Sep 23 - 2003 May 13 -- m 1948 Oct 07


Miller William Dale -- 1949 Oct 29 - -- no dates on stone -- m 1973 May 05 to Jacqueline Keener


Miller William Eldridge -- 1881 Dec 01 - 1967 Jan 22 -- "Elgie"; s/o William & Martha Harmon Miller; h/o Julia Ann Crum


Miller William Floyd -- 1916 Jul 08 - 1996 Mar 04 -- m 1948 Oct 07


Miller Young E -- 1884 Sep 25 - 1963 Sep 16 -- "Bake", s/o J P & Mary Miller

Pickett William Howard -- 1945 Nov 13 - 2009 Aug 03


Powell Cora Mae -- 1893 Jan 26 - 1976 Apr 28


Powell Earl Edward -- 1896 Jul 29 - 1960 Jan 26


-- s/o Edward & Theresa Powell; m 1918 Oct 06 to Lillian Baushausen; m 1929 Aug 29 to Mae Cofer Hutchison
Powell Edward E -- 1858 Dec 18 - 1938 May 06 -- s/o John M & Mary Spencer Powell



Powell Emmett -- 1881 May 04 - 1909 Oct 03 -- s/o E E & T A Powell


Powell Lillian -- 1897 Jul 02 - 1926 Mar 26 -- w/o Earl Powell; d/o Henry Baushausen



Powell Minnie -- 1889 Dec 06 - 1974 Aug 22 -- 2d Lt Army Nurse Corps -- Pic 1:

Pic 2:


Powell Thursey A -- 1858 Dec 11 - 1944 Oct 05 -- w/o Ed E Powell; d/o William Miller




Proctor Laura L -- 1901 Jun 15 - 1991 Feb 18 -- m 1920 Aug 25 to Lloyd Proctor; d/o A & M Inglish


Proctor Lloyd G -- 1897 Sep 18 - 1935 Oct 14 -- s/o R N & Osie Enloe Proctor


R

Reves Lem -- 1895 Jan 20 - 1918 Oct 19 -- Died of wounds received in France in WWI



Roll Amanda -- 1863 - 1904 Jun 23


Roll Charles -- 1904 - 1905 -- s/o Amanda Roll

Roll Ethel -- 1901 - 1923

Roll Infant -- Died 1904 -- c/o C Roll

Rooney Patrick Francis -- 1926 Aug 08 - 1992 Dec 04 -- EM1 US Navy Korea

S

Sanders Jasper L -- 1903 Nov 11 - 1962 Nov 21 -- s/o Oliver W & L Sanders -- Pic 1:

Pic 2:

Pic 3:

Pic 4:



Sanders Luella B -- 1877 Feb 26 - 1948 Jan 07 -- w/o Oliver W Sanders; d/o Jasper & Sarah File Starkey



Sanders Oliver Wendel -- 1877 Nov 18 - 1957 Aug 06 -- Aged 79y 8m 18d -- s/o John & Acxia (sp?) Parmer Sanders


Sartain David -- 1829 Mar 08 - 1897 Apr 13 -- Pic 1:

Pic 2:

Pic 3:

-- Aged 68y 1m 5d -- m 1856 to Mary Miller; obit states first person buried in Shiloh cemetery
Sartain Harley Melton -- 1893 Feb 20 - 1948 Nov 22 -- s/o Joshua & Mary Pebley Sartain; Mo PFC Trans Corps WWI



Sartain Mary -- 1832 Jun 30 - 1898 Nov 17 -- w/o David Sartain -- Pic 1:

Pic 2:

Pic 3:

Scheurer Charles -- 1890 Aug 01 - 1949 Nov 09 -- s/o John & Anna Elizabeth Scheurer; m 1914 Mar 01 to Eunice Miller


Scheurer Eunice -- 1891 Dec 14 - 1972 Feb 08 -- m 1914 to Charles T Scheurer


Scheurer Herbert O -- 1897 Oct 14 - 1918 Oct 24 -- s/o John & Anna Elizabeth Scheurer; b/o Mrs A V Inglish & Mrs A B Inglish


Scheurer John -- 1882 - 1948 Oct 25 -- s/o John & Elizabeth Scheurer -- Pic 1:

Pic 2:

Shannon Andrew S -- 1877 Mar 28 - 1954 Jul 08



Shannon Elizabeth -- 1878 Oct 09 - 1950 Jul 17 -- d/o Jacob & Rosa Resser Siebert; w/o Andrew Shannon



Shannon Helen -- 1913 May 29 - 1914 Oct 07 -- d/o A S & Elizabeth Shannon -- Pic 1:

Pic 2:


Shannon J D -- 1848 Oct 10 - 1903 Jul 16 -- Pic 1:

Pic 2:


Shannon Nancy Sartain -- 1856 May 02 - 1919 Jun 14 -- d/o David & Mary Sartain -- Pic 1:

Pic 2:


Shelley Haldine M -- 1914 Apr 19 - 2000 Mar 08 -- Maj USAR


Smith James C Commodore -- 1880 Jun 26 - 1942 Nov 08 -- Dates from death certificate -- Pic 1:

Pic 2:



Smith Herbert -- Died 1902 May 05 -- No birth date listed
Smith Leona Virginia -- 1876 * - 1931 Dec 16 -- Aged 55y -- Pic 1:

Pic 2:


-- d/o James & Josephine Redmond Berger; w/o James Smith; Age from death certificate
Smith Thomas -- 1833 Jun 07 - 1912 Mar 28 -- Death cert gives dates of 1833 Mar 24 - 1912 Mar 16 -- Pic 1:

Pic 2:


T

Thompson Etha Opel -- Died 1921 Jan 14 -- w/o Robert Thompson; d/o J & G Bradley -- Info from death certificate


Thompson James -- 1920 Jun 05 - 1920 Jun 26 -- c/o Etha Thompson

Tierney Katherine Rielly -- 2007 Jun 14 - 2007 Jun 14 -- d/o Brent & Kelli Tierney

Isabelle Renee -- 2007 Jun 14 - 2007 Jun 14 -- d/o Brent & Kelli Tierney


W

Wegener Carl P -- 1874 Feb 02 - 1898 Jun 26 -- Aged 23y 11m 26d -- s/o C G & C J Wegener -- Pic 1:

Pic 2:


Wegener Caroline J -- 1849 Aug 18 - 1917 Oct 12 -- w/o C G Wegener -- Death date from death certificate



Wegener Charles G -- 1846 Sep 13 - 1928 Jun 16



Wegener Gerald C -- 1911 Nov 09 - 1913 Nov 05 s/o O W & Lela Wegener -- Pic 1:

Pic 2:



Wegener Helen Louise -- 1918 Mar 17 - 1923 Nov 22 d/o O W & Lela Wegener -- Pic 1:

Pic 2:



Wegener Lela M -- 1889 - 1973


Wegener Oscar W -- 1886 Aug 24 - 1960 Apr 04 -- s/o Charley & Catherine Knipker Wegener; m 1908 Oct 28 to Lela Crum




Wooldridge Don -- 1923 Nov 21 - 1977 Dec 09 -- S Sgt US Army WWII -- Pic 1:

Pic 2:



Worley Infant -- No dates listed; c/o Ed Worley
---
---
Please go to the contact page with questions or comments about this web site
Copyright © 1997- Alan Sparks - Moniteau County MOGenWeb, All Rights Reserved.
Last modified: November 13, 2014