Prairie Grove Baptist Church (1866-Present)
Tipton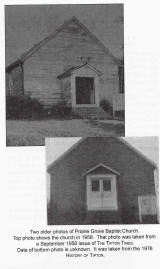 From 1866-1966 Centennial History Prairie Grove Baptist Church Tipton, Missouri:
Compiled by Galveston Lee Roy Shipley
(Booklet in the Moniteau County Historical Society Genealogy Library)
During the period of slavery, some slaves learned to reverence God and depend on Him.
For the most part the slaves in this area were well treated, although there were some exceptions. A few were sold South and lost to their families here. One was hanged in this county for killing his master.
Many slaves attended church with their Masters and enjoyed a degree of religious freedom.
Most of the slaves here came into this region with their owners from Virginia, Carolina and Kentucky and settled in the region around Clarksburg, Vermont, Round Hill and the present day Tipton area.
After freedom these Christian slaves assembled for worship, coming from miles around, riding in wagons, riding on horseback and some even walking.
A central assembly place was a grove of trees in what is now northeast Tipton. Here they would spread their dinners, sing, pray and exhort one another.
This spot later became the site of the original Prairie Grove Baptist Church. The original site of one acre was given by Mr William Tipton Seely, the founder of Tipton, Mo. Prairie Grove Baptist Church was named after the grove of trees in the prairie where they met for social and religious observance.
This little group of believers was organized into a church by Rev W P Brooks of Moberly, Mo. [in 1866] Some families in the founding were the Howards, Shackelfords, Owens, Maupins, and a few years later, Davis, Redmon, Hunter,and Shellcrays joined.
There have been three building sites. First the extreme northeast corner of Tipton, the second about 30 feet west of the present (1966) site on Howard Street. The reasons for the new locations were, first to be near the center of Negro population, second the need for a church basement. Two efforts have been made to provide a parsonage for our pastors, first a building was purchased in the south part of town for $450 and moved west of the church, second after this building became worn it was torn down and sold. The proceeds made a portion of the purchase price of the old Harrison School (pictured above) building, which sold for $1,000.
During the 100 years we have had 20 pastors namely, The Reverands Cheneworth, Diggs, Cushon, Nelson, Wiggins, Veulman, Saunders, Burton, Mudd, Ratliff, Knott, Hardiman, Halley, Pollard, Harris, Steward, Jacobs, Watts, Cooper and in 1944 our present (1966) pastor Rev N H Coleman.
Three of our pastors have been moderators of the Central District Association. They were Rev H J Burton, Rev L D Hardiman and Rev G W Watts. There are no living former pastors or no living original members. The oldest living former member is now a member of Washington Tabernacle Baptist Church in St Louis. She is Sister Bertha Tolbert, a daughter of one of the first deacons, past 90 years old and a shut-in.
The Shipley, Meachum, Hogan and Shinault families all descended from the first deacon, Brother Silas Howard, are now working in the church.
Our auxiliary leaders in 1966 are: Sunday School, Bro James Shipley; Supt. WMU, Sis. Arvenia Shipley; Pres. Choir, Sis. Ruth Shinault; Pres. Usher Board, Sis. Mildred Shipley; Pres. Junior Mission, Sis. Sadie Hogan, Sponsor.
Great revivals have been held from time to time. Rev J P McDaniel conducted the largest one for Rev L T Veulman. 35 were added to the church. A few other evangelists were Reverands: R W Emerson, L Shepherd, R E Lee, C Miller, W Shoemake, John Coleman and D Clater.
Our peak enrollment was in 1890 when there were 110 women and 57 men. Now (1966) our total enrollment of 70 includes several children. We have been host to the District Association, the Sunday School Convention and several board meetings.
Some of our members, through the years, have been active in Central District holding many major and minor offices. The church in addition to maintaining the church building, dining room and parsonage has now taken control of the Negro Cemetery.
Some records worthy of note are: first choir president and organist, Sister Ida Shackelford; first supt. of Sunday School, Brother Robert Shackelford; first president of WMU, Sister Emily Maupins.
The present (1966) church pianist has served over 30 years. She is Sister Ruth Shinault. Three generations of men in one family active in church work are Brother Galveston Shipley, Deacon and S. S. Teacher; Brother James Shipley, S. S. Supt. and Deacon; Brother Kenneth Shipley, Pres. Brotherhood and member of the choir.
Sunday School boys of yester-years who are now preaching are: Rev David O Shipley, Rev O W Lacy, Rev E D Johnson, Rev Dan Washington, Rev George Bowles, Rev Wm Jackson.
Some of the families who have given their country soldiers, sailors, airmen and marines are Webb, Jackson, Shipley, Johnson, Maupins, Hale, Burris, and Kaiser.
Starring as church soloist we have had Sister America Wright, Brother Frank Redmon and Sister Mary Webb.
History compiled by Galveston Lee Roy Shipley, oldest member in church (1966); sources: History of Moniteau County, church records 1888-1891, Laura Johnson, oldest negro woman in Tipton and Marion Howard, grandfather.
From The Illustrated History of Tipton, Missouri 1858-2008:
The Prairie Grove Baptist Church was formally organized in 1866 by the Rev. W. P. Brooks of Moberly, Missouri. The original church was built in northwest Tipton on an acre of land donated by William Tipton Seely. Today, the Prairie Grove Cemetery is at the original site.
Many slaves came to this area with their masters from Virginia, Carolina, and Kentucky. Those families were scattered around the present Tipton area, including at Round Hill, Clarksburg and Vermont, as well as to the south. The slaves often attended church with their masters, but had some religious freedom.
Once freed, the former slaves often traveled a great distance to assemble for singing and worship near a grove of trees in northeast Tipton. It was from these gatherings that the Prairie Grove church was organized. The first church building was erected near the grove of trees and Prairie Grove was used as the name for the church.
Some of the early families in the church were the Howards, Shacklefords, Owens and Maupins.Within a few years, they had been joined by the Davis, Redmon, Hunter and Shellcray families.
November 4, 1884, a site on Howard Street was purchased by the Nickel Mites Club for $75. The second Prairie Grove church building was built there to be near the center of the Negro population. The first deacon of that church was Silas Howard, whose descendants include the Shipley, Meachum, Hogan and Shinault families.
In September 1886, the North Missouri Colored Baptist Association of the 2nd District convened at the Prairie Grove Baptist Church. The September 23, 1886 Times had this to say about the meeting, "The colored Baptist association closed its session in this city on Monday and the trains left here loaded with the sable brothers and sisters. From all we can learn the meeting was highly successful and perfectly harmonious. As mentioned in last week's paper the pulpits of this city were given up to the use of the ministers on Sunday. All the preachers acquitted themselves with honor and the colored people of this community should be encouraged by the examples they had here to strive to become good and respected citizens."
In the February 3, 1887 Times the results of a revival were noted "The ice was cut on Rosenhahn's pond Sunday, for the purpose of baptizing 14 colored converts, the results of a protracted meeting that has been in progress at the colored Baptist Church in this city for the past month. Rev. Veulemans or "Uncle Larry" as he is more generally known, administered the ordinance."
Under the religious heading, the November 20, 1890 Tipton Times carried a brief article about a baptism for Prairie Grove, "Four candidates for membership in the colored Baptist church of this city received the ordinance of baptism at the fair grounds on Sunday last."
In 1892, the Nickel Mites Club purchased additional land 30 feet east of the first lot, also for $75. The need for a church basement prompted the erection of a new building. It was dedicated in July 1900. A notice in the July 19, 1900 Tipton Times invited all to attend. That building served until 1973.
The 88th anniversary of the church was celebrated April 14-18, 1954. Rev. N. Coleman was the pastor. Wednesday night featured Rev. J. P. Washington and the New Salem Choir. Thursday night guests were Rev. Warren and the choir from Speed, Missouri. Friday night, Rev. J. S. Washington gave the sermon and the Pilot Grove Choir provided music. On Sunday afternoon, Rev. Burns and the Versailles Choir were guests as were Elder Jones and the Sedalia Choir.
Groundbreaking for the present building was held in August 1973, with the youngest member of the church, 12-year-old Lloyd Maupins, turning over the first spadeful of earth. Rev. George Igo of the Tipton Christian Church gave the address at the groundbreaking ceremony.
The new structure was built just to the side of the old church by Bill Snow Construction Company of Boonville at a cost of $35,000. The building was dedicated January 20, 1974. Deacon Herb Jackson was chairman of the building committee. Other deacons were Galveston Shipley and Jack Maupins. The pastor was Rev. N. H. Coleman.
In the church's 142-year (as of 2008) history, there have been a total of 28 pastors. During the first 100 years, there were 20 pastors:
| | |
| --- | --- |
| Rev. Cheneworth | Rev. Harris |
| Rev. Digs | Rev. Steward |
| Rev. Cushon | Rev. Jacobs |
| Rev. Nelson | Rev. G W Watts |
| Rev. Wiggins | Rev. Cooper |
| Rev. L T Veulemans | Rev. Cole |
| Rev. Saunders | Rev. N H Coleman (1944-1978) |
| Rev. H J Burton | Rev. Clifton Parker (Sept 1980-Jan 1984) |
| Rev. Mudd | Rev. Henry Pace (Nov 1984-Mar 1987) |
| Rev. Ratcliff | Rev. Delaware Laney (Jul 1987-Oct 1992) |
| Rev. Knott | Rev. John Williams (Jan 1993-Sep 2001) |
| Rev. L D Hardiman | Rev. Walter Foster (Dec 2002-Present) |
| Rev. Halley | |
| Rev. Pollard | |
At least six men from Prairie Grove have gone on to becom pastors themselves: the Reverands David O Shipley, O W Lacy, E D Johnson, Dan Washington, George Bowles and William Jackson.
Three Prairie Grove pastors have also served as moderators of the Central District Association: Rev. H J Burton, Rev. L D Hardiman, and Rev. G W Watts.
The peak membership was in 1890 when there were 110 women and 57 men. Evangelist J P McDaniel conducted the largest revival for the Rev. L T Veulemans, during which time 35 members were added to the church.
---
---
Please go to the contact page with questions or comments about this web site
Copyright © 1997- Alan Sparks - Moniteau County MOGenWeb, All Rights Reserved.
Last modified: February 20, 2013